Mid-season merry-go-round: Beware of NBC's Are You There, Chelsea?
12/31/11 09:22 AM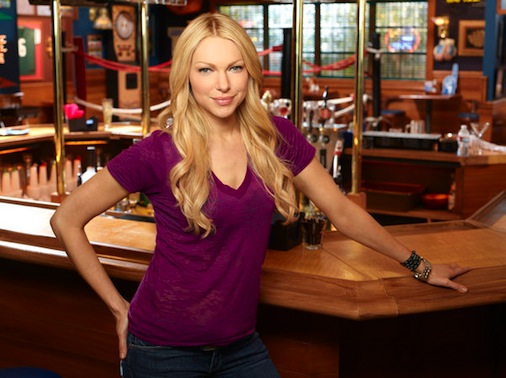 Laura Prepon fronts the new Are You There, Chelsea? NBC photo
Premiering:
Wednesday, Jan. 11th at 7:30 p.m. (central) on NBC
Starring:
Laura Prepon. Chelsea Handler, Lenny Clarke, Lauren Lapkus, Ali Wong, Jake McDorman, Mark Povinelli
Produced by:
Dottie Dartland Zicklin, Julie Larson, Chelsea Handler, Tom Werner, Mike Clements, Tom Brunelle
By ED BARK
Apparently wary of condoning heavy drinking -- at least in the title -- NBC has watered down the originally announced
Are You There Vodka? It's Me, Chelsea
to
Are You There, Chelsea?
No matter. The first two episodes have more heavy drinking and sex jokes than any new broadcast network series in recent memory. Or possibly any series ever, beginning with Chelsea's (Laura Prepon) narrative brag that "I finally power-slurped the worm out of a high-end bottle of tequila."
This whole show pretty much sucks if not power-slurps. The laugh track keeps roaring its approval when it should be periodically dry-heaving. What a clumsy, drunken sot of a sitcom this is. It's based on the best-seller by the E! network's late night talk show star, Chelsea Handler.
There were bad signs all around when NBC said last May that
Chelsea
would be a mid-season entry. Besides the title change, three members of the original pilot's cast have also hit the road.
Jo Koy as Mark the "charming" bartender has been replaced by Jake McDorman as Rick the "handsome" bartender. Plus, Chelsea's "smart and sassy" African-American waitress pal (Angel Laketa Moore as Shoniqua) has given way to Ali Wong's Olivia, an Asian-American waitress pal. Natalie Morales, as Chelsea's overall "feisty" best friend, Ivory, has simply been written out in the interests of cast downsizing.
Chelsea Handler herself remains, in the recurring role of Chelsea's "judgy, super-Christian sister," named Sloane. And Lenny Clarke has another of his trademark loudmouth parts, as the sisters' boozehound dad, Melvin.
Lauren Lapkus likewise remains as a ding-a-ling named Dee Dee, who accepts Chelsea and Olivia as her new roommates. In Episode 2, she makes light of a sister who died of smallpox, cheerily noting that dad had the power of attorney and pulled the plug. Wow, that's supposed to be funny? The laff track sure thinks so.
Everything in
Chelsea
seems painfully forced, including the intercourse between the title character and whatever guy she beds. That includes bartender Rick, who didn't like the idea of Chelsea being on top -- and vice-versa. Ergo, the top-and-bottom jokes provide a tiresome running gag throughout the Wednesday, Jan. 11th premiere, which follows NBC's transplanted
Whitney
.
Prepon looks a little dissipated from her
That '70s Show
days while Handler looks worse in a black wig. Her character is pregnant and her husband's in Afghanistan. But can she depend on the alcohol-swilling Chelsea to take her to the hospital?
Chelsea suggests a taxi, but "cabs can take up to a half an hour," Sloane protests.
"I know," Chelsea retorts. "That's why everyone drives drunk." Double wow at the thought that this joke actually made the cut.
Oh, but the comic artistry is non-stop. As when Olivia asks Chelsea, "Are you going to quit drinking?" And Chelsea scoffs, "Yeah. Right after I quit dry-humping."
Episode 2 offers no respite. At one point Chelsea wonders aloud if "that stick up her ass is an implant." She's referring to the bartender's ex-girlfriend, who in Chelsea's view "wants to put Rick's chicken wing back in her bleu cheese dip."
All concerned had better cash their checks fast and furiously. It's a wonder they got paid at all. But the joke's on NBC -- as usual these days.
GRADE:
D