Laughter still an option on CBS
05/14/08 09:08 AM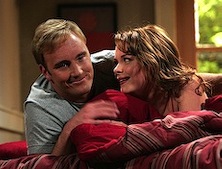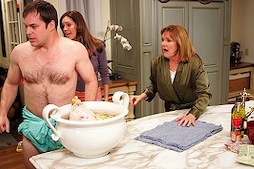 New comedies Project Gary and Worst Week are coming to CBS.
By ED BARK
CBS is going cuckoo for comedy, at least compared to its two longest standing rivals.
The network's new fall schedule, announced Wednesday, will include two new sitcoms for a grand total of six.
ABC's announced autumn look is without any new comedies, and just one overall -- the returning
Samantha Who?
NBC, which unfurled a 52-week schedule in early April, has four comedies set for fall, including lone newcomer
Kath & Kim
.
CBS also is adding three new drama series and giving
The Unit
a reprieve after furloughing it for much of this season. The military drama will move to Sunday nights at 9 (central), following
Cold Case
.
Benched until midseason is
Rules of Engagement
, which had been performing well as part of CBS' longrunning Monday night comedy bloc. The network also will re-open Wednesday for laughs, but just during the night's first hour.
Canceled are
Shark, Moonlight, Welcome to the Captain, Kid Nation, Cane and Viva Laughlin.

Here are CBS' five new fall series:

Worst Week (comedy) -- An entertainment magazine editor named Sam Briggs (Kyle Bornheimer) aims to please his girlfriend's parents, but "instead becomes a one-man wrecking crew whenever he's around them." Veteran Kurtwood Smith segues from sourball dad "Red" Foreman on That '70s Show to sourball dad Dick Clayton.

Project Gary (comedy) -- Jay Mohr forsakes a throwaway recurring role on CBS' Ghost Whisperer to star as a recently divorced painting contractor with a controlling ex-wife. Their 15-year-marriage has yielded two kids, one politically correct and the other socially awkward. More trouble ensues -- and perhaps laughter, too -- when Gary Barnes (Mohr) begins dating a single mom while former spouse Allison (Paula Marshall) hooks up with their mutual shrink.

The Mentalist (drama) -- Simon Baker, featured in two previous CBS dramas (The Guardian, Smith), returns to the fold as detective Patrick Jane, who solves crimes by using his "razor sharp skills of observation." But a prototypical "no-nonsense" senior female agent (Robin Tunney from Prison Break) bristles at his "theatrics, narcissism and dangerous lack of boundaries."

Eleventh Hour (drama) -- Producer Jerry Bruckheimer, whose string of CBS hits includes Without A Trace and all three CSI series, strikes again with the saga of a "brilliant biophysicist and special science advisor" who investigates various crises and oddities. His name is Dr. Jacob Hood, he's played by Rufus Sewell (The Illusionist) and the show is adapted from a British miniseries.

The Ex List ("comedic drama") -- A single, 30-something business owner named Bella Bloom (Elizabeth Reaser from Grey's Anatomy) learns from a psychic that she's already dated her eventual hubby. Shades of Fox's New Amsterdam, she'll have to find him in a year or be doomed -- yawn -- to live alone forever.

CBS also has ordered a midseason drama, Harper's Island. Premise: a murder mystery is hatched during week-long wedding festivities on a remote, picturesque island made infamous by a homicidal rampage seven years earlier. In other words, the perfect getaway spot.

NBC's new fall lineup looks like this, with new series in boldface in case you've already forgotten them:

MONDAY
The Big Bang Theory
How I Met Your Mother
Two and a Half Men
Worst Week
CSI: Miami

TUESDAY
NCIS
The Mentalist
Without A Trace

WEDNESDAY
The New Adventures of Old Christine
Project Gary
Criminal Minds
CSI: NY

THURSDAY
Survivor
CSI: Crime Scene Investigation
Eleventh Hour

FRIDAY
Ghost Whisperer
The Ex List
Numb3rs

Saturday
Crimetime Saturday
Crimetime Saturday
48 Hours Mystery

SUNDAY
60 Minutes
The Amazing Race
Cold Case
The Unit