"Event" fever: it's going to be an epidemic after success of Sound of Music Live
12/11/13 12:59 PM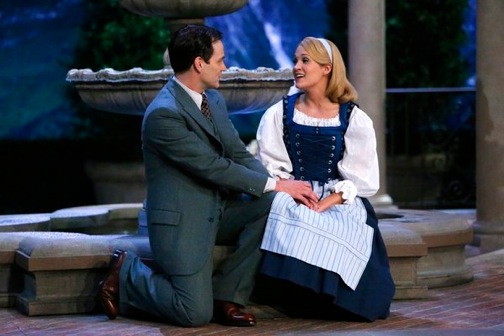 Stephen Moyer, Carrie Underwood emote in The Sound of Music Live.
NBC photo
By ED BARK
@unclebarkycom on Twitter
"Event" programming, once epitomized by elongated miniseries such as
Shogun
and
The Winds of War
, is getting a second wind on the Big Four broadcast networks.
These wheels were already in motion before NBC's
The Sound of Music Live
went dough re mi in the national Nielsen ratings with 18.6 million viewers. NBC, which will repeat
Sound of Music
this Saturday (Dec. 14th), is now "circling a couple of titles" in preparation for another holiday presentation of a Broadway musical classic, according to an
article in Tuesday's New York Times
.
Quickly on those heels, the Peacock announced Wednesday that it will air a four-hour
Rosemary's Baby
miniseries, with a cast soon to be announced for a January production start in Paris. Earlier this year, NBC snagged the sequel to History channel's 10-hour
The Bible
, which like
Hatfields & McCoys
was a ratings smash for the advertiser-supported cable network.
NBC's followup will be titled
A.D.: The Bible
. During the glory years of multi-part network miniseries, NBC aired the 12-hour
A.D.
in 1985. Its star-driven cast included Ava Gardner, James Mason, Susan Sarandon, John Houseman and Anthony Andrews.
Fox also is event-minded of late, with M. Night Shyamalan's eight-hour "intense mind-bending thriller,"
Wayward Pines
, due next year. The network additionally has
24: Live Another Day
coming this summer at a two-for-one length of 12 hours.
The
24
"Event" presentation is an answer to CBS' major success last summer with Stephen King's
Under the Dome
. It's getting a second season in summer 2014 along with CBS' new hot weather companion "Event," the 13-hour
Extant
. The producer is Steven Spielberg and the star is Halle Berry in what CBS bills as a "futuristic thriller about a female astronaut trying to reconnect with her family when she returns after a year in outer space."
ABC has been slower on the "Event" draw so far, but expect some announcements soon. This is, after all, the network that pioneered the miniseries genre with mega-hits such as
Rich Man, Poor Man, Roots, The Thorn Birds
and the aforementioned
Winds
, a mega-expensive 18-hour production that led to the even longer
War and Remembrance
.
Those lengths are still very much in the past. But in times of Twitter, Facebook, Netflix and myriad conventional TV channel choices, it's increasingly vital to stand out in a crowd while also getting those crowds buzzing.
Sound of Music
triggered the expected snark-fest on Twitter, with star Carrie Underwood absorbing much of the punishment for her less than sparkling acting skills. But Underwood gave the production its needed star power. And whatever was said about her, people were "engaged."
"Social media played a pivotal role in the success of the show,"
Sound of Music
co-executive producer Craig Zadan told
The Times
. Twitter and Facebook traffic "lasted the entire performance and beyond," he said.
Live productions are rich in social media appeal, whether it's NBC's risk-taking presentation of
Sound of Music
, NFL/college football, awards shows or talent competition series such as NBC's
The Voice
, Fox's
American Idol
or ABC's
Dancing with the Stars
.
Real-time sniping can be brutal, but the end result is often far prettier. In NBC's case,
Sound of Music
was its most-watched non-sports program on a Thursday night since May 13, 2004, when
Frasier
had its series finale.
Underwood's feelings may have been bruised in the process. "Plain and simple: Mean people need Jesus. They will be in my prayers tonight," she tweeted.
But hey, the Peacock is crowing thrice -- and no doubt will give Underwood a big role in
A.D.: The Bible
if she wants one. Snark the herald angels sing. Hallelujah.
Email comments or questions to:
unclebarky@verizon.net