Stewart shines as Oscar host on a night when most of the winners are great unknowns
02/24/08 11:53 PM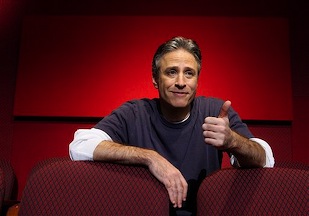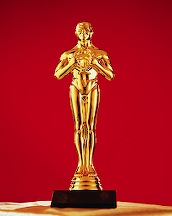 By ED BARK
Host Jon Stewart had a splendid night. Other born-in-the-USA performers didn't on an Oscar-cast with more international flavor than
Cirque du Soleil
.
All four acting winners -- Daniel Day-Lewis, Marion Cotillard, Javier Bardem, Tilda Swinton -- are happy to
hail from abroad
. A combing of Oscar's past says that hasn't happened since 1964, when Julie Andrews, Rex Harrison, Peter Ustinov and Lila Kedrova respectively won for
Mary Poppins, My Fair Lady, Topkapi
and
Zorba the Greek
.
Nor did Sunday's 80th annual ceremony on ABC have any nominated blockbusters or movies with much kid appeal, save for
Juno
. That likely had most advertiser-craved younger eyes in Stewart's corner. And the Comedy Central kingpin delivered with a straight-up and crisply funny opening monologue in which he mercifully steered clear of any singing, dancing or incorporating himself into a collection of clips.
Given comparatively little time to prepare after the recent end of the writers' strike, Stewart predictably broke the ice with a little post-settlement humor.
"The fight is over," he said. "So tonight, welcome to the makeup sex."
He kept rolling, mixing show biz and politics with few if any missteps. (Well, OK, the standard-issue joke about Dennis Hopper not knowing where he is easily could have taken the night off.)
"All I can say is thank God for teen pregnancy," Stewart said after referencing the year's "slate of psychopathic killer movies (
No Country For Old Men, There Will Be Blood, Sweeney Todd
)."
Another less than upbeat film,
Away From Her
, told a "moving story of a woman who forgets her own husband," Stewart noted. "Hillary Clinton called it the feel-good movie of the year."
That one got the first big belly laugh of the night from the glammed-up crowd of winners and mostly losers. Stewart then nailed
Norbit
, the Eddie Murphy bomb that had a lone Oscar nomination for makeup after recently racking up multiple "Razzies" honoring Hollywood's worst.
"Too often," he said, "the Academy ignores movies that aren't good."
Stewart closed by flexing his
Daily Show
deltoids with a trio of well-aimed political jokes. Oscar at age 80 is "automatically the frontrunner for the Republican nomination," he said.
The Democratic showdown between Clinton and Barack Obama is kind of unusual. Because, "normally when you see a black man or a woman president, an asteroid is about to hit the Statue of Liberty."
Obama, a consonant away from Osama, also has the middle name Hussein, Stewart said. "That's not easy to overcome. I think we all remember the ill-fated 1944 presidential campaign of 'Gaydolf Titler.' "
Stewart kept the patter coming, but never too much of it, in a relatively trim Oscar production that ran 3 hours and 21 minutes, including closing credits. That's a saving of eight minutes over last year's show.
Presenters mostly came and went with alacrity, none more so than Owen Wilson. Making his first public appearance since a suicide attempt last year, Wilson entered to polite applause and quickly introduced the nominees for Best Live Action Short Film.
Oscar wisely underscored the historic nature of the ceremony with entertaining and informative commemorations. Barbra Streisand, Sidney Poitier, Steven Spielberg and others recalled the experience of winning their first Oscars. Jack Nicholson introduced a quick, chronological show-and-tell of all 79 previous Best Picture winners, from
Wings
to
The Departed
.
Another good idea: having six soldiers stationed in Iraq present the Best Documentary Short Subject Oscar after being introduced by Tom Hanks.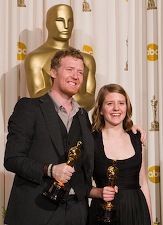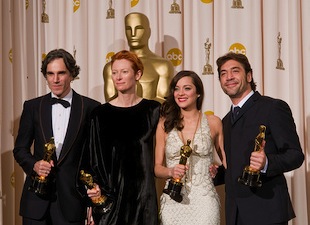 "Best Song" winners Glen Hansard, Marketa Irglova; overseas quartet Daniel Day-Lewis, Tilda Swinton, Marion Cotillard, Javier Bardem.
None of the winning speeches will go in a time capsule. But no one was more blown away than Glen Hansard, winner of the Best Original Song statue with Marketa Irglova for the ultra-low budget movie
Once
.
"This is mad," he said in part. "We made this film two years ago. We shot on two Handycams. It took us three weeks to make. We made it for a hundred grand. We never thought we would come into a room like this and be in front of you people . . . This is amazing. Make art. Make art."
Stewart then got off his best ad lib of the night -- "Wow, that guy is so arrogant!" -- before graciously inviting Irglova back onstage after a commercial break. She hadn't had a chance to say anything within Oscar's time constraints. Give a second life, Irglova spoke movingly about daring to dream against all odds.
In contrast, production designer Robert Boyle, given an honorary Oscar, has lived much of his 98-year life in Hollywood's dream factory, initially collaborating with Alfred Hitchcock. His speech provided another highlight, even if few people of any age had ever heard of him until Sunday night.
Odds are that this Oscar-cast, with so many unfamiliar winners and films, will have a hard time measuring up to most other ceremonies in the unforgiving Nielsen ratings. Still, it was a damned fine, funny and classy effort, with Stewart showing the way. Invite him back. Again and again.