Sawyer stepping down, Muir stepping in as new anchor of ABC's World News
06/25/14 10:03 AM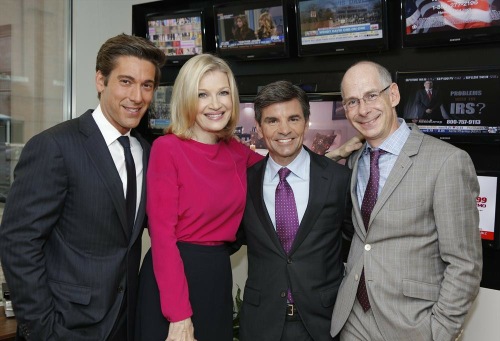 New arrangements coming for David Muir, Diane Sawyer and George Stephanpoulos. At far right is ABC News president James Goldston.
ABC photo
By ED BARK
@unclebarkycom on Twitter
It's going to be a man's world anew at the anchor desks of the flagship network newscasts.
Not so long ago,
NBC Nightly News
anchor Brian Williams was the last of his gender, competing against Katie Couric on the
CBS Evening News
and Diane Sawyer on ABC's
World News
.
But Couric gave way to Scott Pelley in June 2011. And now Sawyer "has decided to step aside from anchoring a daily program to concentrate full time on new programming," ABC announced Wednesday.
Her replacement, beginning on Sept. 2nd, will be David Muir, who has been anchoring ABC's weekend newscasts since 2011. Muir will give up that job but remain as co-anchor of
20/20
with Elizabeth Vargas.
ABC also announced that George Stephanopoulous has been given the additional title of Chief Anchor while remaining with
Good Morning America
and continuing to host Sunday's
This Week
public affairs program. He'll also be handling "special reports and breaking news," the network said.
Sawyer, whose
World News
won the May "sweeps" ratings period among 25-to-54-year-olds (the main advertiser target audience for news programming), began anchoring that broadcast on Dec. 21, 2009, replacing Charles Gibson.
"After wonderful years at
World News
, I decided it is time to move to a new full time role at ABC News," Sawyer, 68, said in a statement. "I'll be joined by an incredible team of journalists dedicated to enterprise reporting, innovative approaches to breaking news and new ways of thinking about big issues and events around the world."
ABC News president James Goldston said that "for many years to come Diane will be a driving force at ABC News with her exceptional storytelling genius."
Muir called it an "incredibly humbling day" that prompted him to "think of the 12-year-old boy with a dream of being a reporter and seeing the world . . . I cannot wait to begin this new adventure."
The boyish looking Muir is 40 years old, making him the youngest weekday network evening news anchor since Peter Jennings' first of two tenures. He was just 26 years old upon first anchoring ABC's newscasts in 1965. After three years in that position, Jennings left to become a foreign correspondent before returning to the
World News
anchor desk in 1983 as a seasoned pro.
Williams was 45 when he replaced Tom Brokaw in 2004 as the
NBC Nightly News
anchor. Pelley was 53 when he took over for Couric in 2011.
Barbara Walters and Connie Chung are the only other women who have been full-time anchors of weekday network evening newscasts. But both shared the desk with men, respectively Harry Reasoner and Dan Rather.
In 2006, Couric became the first woman to solo in that position. But the
CBS Evening News
remained in third place, leading to her departure five years later. After a daytime syndicated talk show that lasted just two years, Couric early this year became "global news anchor" for Yahoo News.
Email comments or questions to:
unclebarky@verizon.net