Hammy and ham-handed: NBC's geezer-centric Better Late Than Never
08/18/16 01:04 PM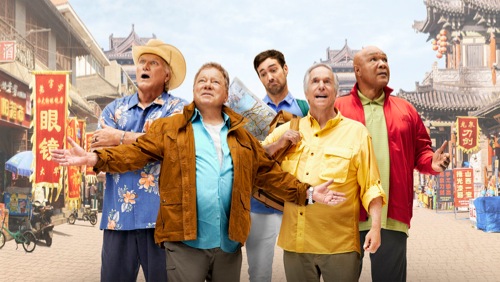 Astray in Tokyo on Better Late Than Never. NBC photo
Premiering:
Tuesday, Aug. 23rd at 9 p.m. (central) on NBC
Starring:
Henry Winkler, William Shatner, George Foreman, Terry Bradshaw, Jeff Dye
Produced by:
Henry Winkler, Jason Ehrlich, Tim Crescenti, Craig Zadan, Neil Meron, Carol Leifer, Stephanie Chambers, Alex Katz
By ED BARK
@unclebarkycom on Twitter
"All the world's a stage," a dude named William Shakespeare famously wrote.
But The Bard surely wouldn't have envisioned or countenanced NBC's depositing of Henry Winkler, William Shatner, George Foreman and Terry Bradshaw in Tokyo for "an adventure for all ages." Or as Shatner asks in the premiere episode, "How do you say Ugly American?"
He's referring to Bradshaw, who of course is the quartet's designated yahoo in NBC's unfortunate
Better Late Than Never
. Not that his three fellow senior citizen companions are much more rarefied in this clumsily edited romp and stomp through Japan's most populated metropolis, where 24 million chopsticks are used annually, according to the show's recurring printed tidbits.
Premiering on the heels of NBC's Rio Olympics telecasts, the four-episode series is adapted from South Korea's
Grandpas Over Flowers
, which so far has lasted four seasons. Shatner is the quartet's senior member at age 85, followed by Winkler (70), Foreman (67) and Bradshaw (also 67). That would make this the oldest-skewing series in NBC history had the network not added
Last Comic Standing
finalist Jeff Dye, 33, as "The Sidekick."
In the show's early minutes, viewers are supposed to believe that Winkler spontaneously cold-called Shatner, Foreman and Bradshaw all at once to propose a trip to Asia. He then adds Dye. And within seconds the quintet is all aboard a plane to an exotic land where there are "more pets than children."
On paper this seemed as though it could be a bit of fun. In execution, it's labored and way over-cooked -- even when the guys learn they've just had pork and chicken vaginas on skewers after Bradshaw asks if he can have fries with whatever awaits them. Foreman brings along his barbecue sauce.
First, though, they all check into The Capsule Hotel, where the "rooms" are mattresses in very small compartments. "It looks like a kennel," Shatner cracks.
Viewers are supposed to believe they spent several nights at this place while going to bed fully dressed. Far more likely they spent a few hours filming some gag footage before checking into off-camera accommodations in a luxury hotel. While at The Capsule, a nude Japanese man keeps walking to and from his compartment. This prompts another Shatner aside: "Funny, I didn't know he was Jewish." He does, however, get off an amusing Price Line rejoinder after Winkler feeds him a line.
The boys also visit Tokyo's
Pon!
TV show, during which Bradshaw observes, "These people are nuts over here." Other activities include a more traditional meal at an expensive restaurant and a huff-puff climb to a spot where they can get a picturesque view of Mount Fuji.
Talk-to-the-camera moments are frequent and no doubt in large part scripted. As is a fuzzy wuzzy ending that seems about as authentic as Shatner's still fulsome head of hair.
Unless there's an unexpected appetite for more of this,
Better Late Than Never
will have run its course by the time the new fall season gets underway in earnest on NBC and rival broadcast networks. So this likely will be a mere Drop in the Bucket List -- which come to think of it might have made for a better title.
GRADE:
C-minus
Email comments or questions to:
unclebarky@verizon.net