Fall TV: To be Somebodies is not a bad thing
09/09/08 11:40 AM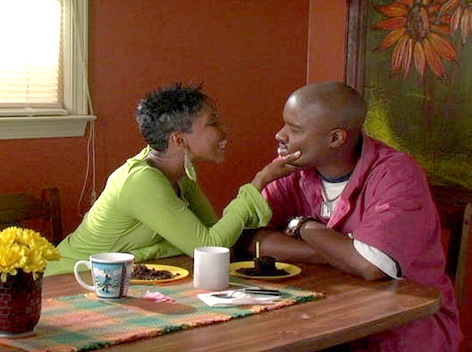 Spice and sugar: single-named Somebodies Diva and Scottie.
Premiering:
Tuesday, Sept. 9th at 9 p.m. (central) on BET
Starring:
, Hadjii, Kaira, Quante Strickland, Corey Redding, Anthony Hyatt, Pat Brown, Carlos Davis, Nard Holston, Tyler Craig, Eric Register
Created, written and directed by:
Hadjii
By ED BARK
It took a while. But after nearly 28 years of existence, BET has its first scripted weekly series.
Somebodies
, a continuation of the same-named 2006 independent feature, isn't
quite
worth that long a wait. It's pretty good, though, and deserves a look by black and white audiences alike.
The single-named Hadjii pretty much does everything here, probably even the off-camera catering. He stars, writes, directs and is the series' co-executive producer.
In his on-camera role, he's Scottie, a passive, soft-spoken African-American Charlie Brown who pretty much absorbs life's punches while more or less advancing through college.
Somebodies
is shot entirely in Athens, GA, home of both the University of Georgia and R.E.M. -- not necessarily in that order.
There's no laugh track here, but there are some laugh-out-loud moments in the first two episodes.
"I'm gonna shock the world this year. I'm gonna get my act together," Scottie vows to his pals in Tuesday's premiere.
But one of them says he's got sperm that will graduate ahead of him. No one necessarily disagrees, even Scottie.
His ex-girlfriend Diva (Kaira) serves as Scottie's only bosom buddy. She fancies herself a stellar interior decorator, transforming Scottie's latest crib into something less than a manly abode in a subsequent episode.
Scottie thinks he's got it made after spotting a pair of lush next door neighbors who alluringly wash their car in halter tops and invite him to watch TV with them -- as long as he doesn't mind porn.
They quickly move on and out, though, leaving Scottie to deal with a loud, intrusive freeloader named Trigger. Can a brother borrow your cell phone just this once? Of course it never stops.
Somebodies
also is populated by opinionated Uncle Skeeter (Carlos Davis), who runs Skeet's Eats with his salty wife, Agnes (Pat Brown).
They'd like Scottie to shape up. His core group of young male running mates -- Six, Jelly, Tory and Marlo (Quante Strickland, Corey Redding, Anthony Hyatt, Nard Holston) -- would just as soon rag on him, although Scottie can be pretty good at ragging back.
Funnier, savvier and quieter than TBS' bellowing
House of Payne
, here's a series that nonetheless slices these lives thick and juicy. Episodes tend to end rather abruptly, as if Hadjii or BET didn't pay the electric bill. But it's at least a good thing that you don't really
want
them to end. They've been too much fun -- or at least far more so than expected given the obviously low, Youtube-ian budgets with which Hadjii is working.
A footnote: One of
Somebodies
' co-executive producers, Jordan Levin, is the former CEO of The WB, from which he resigned in 2004. I always liked him as a programming executive, and it's nice to see his name on something again.
Maybe it's not a step up for him. But this is bright comedy copper -- if not quite gold --- on a network that's done damned near nothing to distinguish itself creatively since launching in January 1980. See for yourself. I think you might want to come back.
Grade:
B