A Dave and a Don say their goodbyes
05/26/15 03:17 PM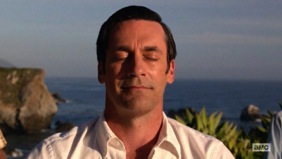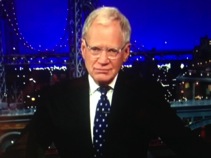 Closing images of Don and Dave on their respective finales.
By ED BARK
@unclebarkycom on Twitter
Don said "Om" while Dave opted for the more conventional "Thank you and good night."
The respective finales of AMC's
Mad Men
and CBS'
Late Show with David Letterman
came during vacation time for your friendly content provider. I was on a small cruise ship in a remote area of Alaska with no phone or Internet service when Don Draper had his last word on Sunday, May 17th. Back in Seattle just in time for Letterman's final show, I watched it two hours later than most of the country. Lousy planning, I guess. But damn, those up-close looks at Orcas, Humpbacks, glaciers and the Dale Chihuly glass exhibit were well worth being AWOL.
Meanwhile, both shows went out on top -- but not really.
Letterman's farewell even included a brief graphic in which longtime adversary Jay Leno had a "#1" next to his picture while
Late Show
made do with "#3." But for his last appointed hour -- which was extended by about 15 minutes -- Letterman's
Late Show
drew 13.76 million viewers, its largest audience since Feb. 25, 1994 following CBS' Winter Olympics coverage. That overwhelmed all competing programming.
Mad Men
put AMC on the map as a provider of quality TV series with its July 2007 premiere. Still, it became a virtual cult show compared to the bigger splashes made by two subsequent AMC dramas --
Breaking Bad
and
The Walking Dead
. The
Mad Men
finale pulled in 4.6 million viewers after factoring in three days of time-shifted viewing. That was its largest audience ever, but not so big a deal when compared to the 10.3 million viewers for
Breaking Bad
's finale (based on only same-night viewing). And
Walking Dead
, which still has miles to go, wrapped up its most recent season with 15.8 million viewers and an overall average of 14.2 million viewers for the entire 5th season.
These won't be lengthy postmortems. But upon further review, these are my impressions of both finales.
Letterman remained firm of voice throughout, unlike his idol, Johnny Carson, and his nemesis, Leno. He laughed at himself and at his 11-year-old son, Harry, seen in the audience with Letterman's wife, Regina Lasko, down the homestretch of his lengthy closing remarks. Harry looked as though he'd rather be anywhere else. In fact he looked almost insolent until Dad made good on a promise to introduce his best friend, Tommy Roboto, who was seated to his left. Only then did Harry crack a somewhat winning smile.
One of the great unknowns of the Letterman finale was whether Harry would be shown on camera at all. The other up-in-the-air mystery was if Leno, who'd been invited, would be a part of Dave's last stand after making numerous guest appearances on his old NBC
Late Night
show.
The best spot for Leno seemed to be during the star-studded "Things I've Always Wanted to Say to Dave" Top Ten List. But from 10 to 1, the guests in order of appearance were Alec Baldwin, Barbara Walters, Steve Martin, Jerry Seinfeld, Jim Carrey, Chris Rock, Julia Louis-Dreyfus, Peyton Manning, Tina Fey and Bill Murray. So no Leno, who forfeited the chance to say something like, "I beat your ass like a drum and now I get to play taps, too."
The line of the night instead came not from Leno or Letterman, but from Louis-Dreyfus. "Thanks for letting me take part in another hugely disappointing series finale," she deadpanned while Seinfeld fake-grimaced. Beautiful.
Letterman graciously made a point of saying how happy he is that Stephen Colbert will be the new
Late Show
host, starting on Sept. 8th. And he did so without an ounce of mockery or irony. Dave also thanked his writers, previous and current CBS executive bosses, and of course, bandleader Paul Shaffer after individually acknowledging each member of the "CBS Orchestra."
Letterman joked that he'll now devote himself to "Social Media" after resisting Facebook and Twitter throughout his entire 33-year late night tenure while younger rivals such as Conan O'Brien, Jimmy Kimmel and Jimmy Fallon made it an important and increasingly indispensable part of their audience recruitments.
It's unknown what he'll do next, despite riffs on being the "new face of Scientology" and opening a Vegas show with Paul and their white tigers. He's always been something of a hermit crab, and it wouldn't be totally surprising if he emulated Carson by essentially fading from public view.
In the beginning, Letterman liberally borrowed sight gags from inaugural
Tonight Show
host Steve Allen, who was a human teabag among other things and also brought in people off the streets to help host the show. In the end, Letterman became possibly the last bastion of "intelligent" talk show conversation, digging deep when he felt the need and sparring without the aid of blue note cards or other prompters. Latter day hosts such as Fallon, Kimmel and new
Late Late Show
dude James Corden increasingly are hail fellows who steer clear of "offending" a guest or "boring" the audience with substantive give-and-take. They'd rather be pals and party-facilitators, doing bits and playing games with the celebrities filling their couches.
Letterman signed off without any guests at all, but with a musical act, Foo Fighters, who had played his favorite song ("Everlong") for him after he returned to the show in 2000 after heart bypass surgery. Wearing tuxes, they did the same honors for the May 20th finale, with a stupendous video and still shot montage as visual accompaniment. Simply put, it was a great way to go out. And in retrospect, after several more viewings, it's getting better all the time.
***
Now on to
Mad Men
, which ended with a blissed-out Don Draper chanting "Om" at Big Sur, California's Esalen Institute before a contented mini-Mona Lisa smile crossed his face. It apparently was the light bulb moment that led him to return to Manhattan and write Coca-Cola's famed "I'd like to buy the world a Coke" commercial, which played in part before the closing credits hit.
Had Don found enlightenment? Or had he just deduced a more fulfilling and uplifting way to peddle sugar water?
Just before this cathartic means to an end, he had grown increasingly emotional during a group session in which a middle-aged nebbish talked of no one noticing or appreciating him. Draper, born in poverty as Dick Whitman, shed any further inhibitions as he moved toward the man, hugged him and wept with him. Sorry, but it didn't seem like the "Real Thing" to me." Not quite soapy and sappy, but not a fully earned redemptive moment either. Creator Matt Weiner took Don far and wide during this late-breaking sojourn while his old transplanted colleagues back at McCann-Erickson wondered about his disappearance without unduly worrying about it. "He does that," said longtime running mate Roger Sterling (John Slattery).
What Don did was run from what seemed to be an increasingly subservient role at the agency that had swallowed up his old place. He had the money to remain on the lam, be a Good Samaritan if he chose and pay for sex on his terms -- which meant voluntarily. He wound up at Esalen after Stephanie, the niece of the deceased Anna Draper, coaxed him into accompanying her and later ran off. If you haven't been watching
Mad Men
, it's virtually impossible to explain all these entanglements. And even if you have, it's easy to forget.
Taking Don out of Manhattan unfortunately took the Manhattan out of the series. Absent the show's central figure, its supporting cast at times seemed almost superfluous. And
Mad Men
itself, even if Weiner really knew exactly where he was going, did not rise to the occasion enough in its prolonged, two-part closing season. Letter-perfect gave way to an alphabet soup. Not always, but to the overall detriment of what nonetheless will remain one of television's landmark dramas.
While Don pursued the meaning of life, most of the pivotal characters achieved a measure of satisfaction, save for the fatally cancer-stricken Betty (January Jones), whose place in
Mad Men
never really took hold again after she and Don divorced.
Pete Campbell (Vincent Kartheiser) sold estranged wife Trudy (Allison Brie) on a new start in Wichita, Kansas, where he'd finally get to be a perks-showered big wheel.
Joan Holloway (Christina Hendricks) formed a production company of her own after deciding that being the kept woman of a multi-millionaire wouldn't make her happy.
Peggy Olson (Elisabeth Moss) very belatedly discovered that ad agency colleague Stan Rizzo (Jay R. Ferguson) loves her. And it turned out the feeling was mutual.
And Roger finally seemed content to hook up with the tart, strong-willed Maria Calvet (Julia Ormond), mother of another of Don's exes, Megan Calvet (Jessica Pare).
The concluding season's seven-episode arc began and ended with the old Peggy Lee torch song, "Is That All There Is?" It probably isn't.
Mad Men
, more than most TV series, cries out for a followup film or two in due time. There are still so many ways this could go. For now, I'm only halfway content with the way it all ended. A big, ballsy New York state of mind movie could put Don back in his place. And put the series back where it began -- and where it really and truly belongs.
GRADES:
Letterman finale -- A
Mad Men
finale -- B
Email comments or questions to:
unclebarky@verizon.net