Showtime's Happyish is sadly excessive
04/22/15 02:16 PM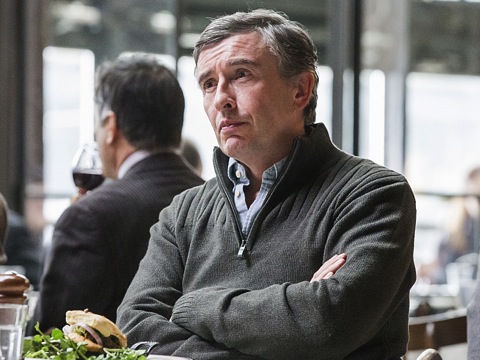 Happyish star Steve Coogan between f-bombs. Showtime photo
Premiering:
Sunday, April 26th at 8:30 p.m. (central) on Showtime
Starring:
Steve Coogan, Kathryn Hahn, Bradley Whitford, Sawyer Shipman
Produced by:
Shalom Auslander, Ken Kwapis, Alex Beattie
By ED BARK
@unclebarkycom on Twitter
More tasteless than your basic Comedy Central celebrity roast.
Less joyful than a Christian Bale meet 'n' greet.
Enough f-bombs and other assorted expletives to make
Glengarry Glen Ross
seem like
The Sound of Music
.
Fewer bright moments than a total eclipse of the sun.
Here's a comedy series that sequentially begins its first three episodes with full-blown f*&k you's -- verbally and digitally -- to Thomas Jefferson, Carol Brady and God.
Having a good time yet?
Showtime's
Happyish
originally starred Philip Seymour Hoffman as an advertising agency creative director named Thom Payne. The network filmed a pilot episode before Hoffman died and seemingly took
Happyish
with him. Instead Showtime decided to back a new version starring Britisher Steve Coogan as its supremely morbid lead character. We pause now to ponder whether saying "f*&k you" to
Happyish
would be taken as a considerable compliment. Even Louis C.K. might look at the first three episodes and say, "Holy shit, I'm suddenly Ozzie Nelson!"
Thom and his equally profane, sardonic wife, Lee (Kathryn Hahn), live in Woodstock, NY, which once upon a time hosted a music festival built around peace, love, happiness and hallucinogens. The Paynes, who also have a still innocent pre-teen son named Julius (Sawyer Shipman), don't at all subscribe to the first and third vibes. Life its ownself is a basic piece of shit. And then you die -- if you're lucky.
The premiere episode also includes one of the most horrid jokes in TV or movie history. It has to do with a woman's lower-region privates and it's tied to the still famously heartrending image of a Napalm-burned little Vietnamese girl running naked and screaming in horror. Creator Shalom Auslander should be ashamed. Very ashamed.
Thom disconsolately catches a train every weekday morning to the MGT ad agency ("I work for Satan"), where one of his senior colleagues is super-cynical Jonathan (the now well-traveled Bradley Whitford).
"You test poorly, Thom," Jonathan informs him. "You taste great but it's a less-filling world. Your clothes suck, you're out of shape, you're 44."
Both men lately are at the mercy of a new, young Swedish boss named Gottfrid (Nils Lawton). Topping his list of new wave ideas is the jettisoning of the Keebler Elves, who are deemed desperately antiquated. One of the surprises of
Happyish
is that so many real-life brands allow themselves to be twitted or flat-out degraded in the first three episodes sent for review. They also include Coca Cola, MetLife, New York Life and the Geico gecko, who in Episode 3 winds up in a motorized wheelchair and in a neck brace and body cast after Thom repeatedly physically abuses him. OK, this is fairly amusing. And pretty tame when compared to what happens to the Keebler Elves in a dream sequence.
Guest stars in these episodes include Ellen Barkin as the sourball head hunter Dani and Rob Reiner as himself. He's not that good.
On the home front, Lee hates the woman who brought her into this bitter pill of a world. Taking it out on Carol Brady, she begins Episode 2 with this narrative: "Watching
The Brady Bunch
only made me feel worse about my own shitty mother . . . So f*&k you, Carol Brady."
It gets worse for Lee when her mom sends an oversized box containing a gift for little Julius. The box talks to Lee in her mother's harpy voice while she mulls whether to send it back unopened. Let's just say that Lee ends up a sexually satisfied woman via the simple act of stamping several "Return to Sender" symbols.
Even the Showtime media booklet is a turnoff. It quotes Lee saying in large letters, "I'd Rather My Child Be An Asshole Than A Pussy. It's a Tough World Out There."
Happyish
has a few genuinely imaginative moments amid its many, many excesses. But in the end, it's too much of a one-note Hell-On-Earth "Greatest Hits" album whose principal characters have the overall appeal of vinegar-drenched cotton candy.
"I'm more of a misery guy," Thom says when asked how to make Coke a happier product in the "Age of Disillusionment."
Believe me, he's looking on his bright side.
GRADE:
C-minus
Email comments or questions to:
unclebarky@verizon.net