NEW SEASON: CBS sends Shatner into over-kill with $#*! My Dad Says
09/23/10 09:24 AM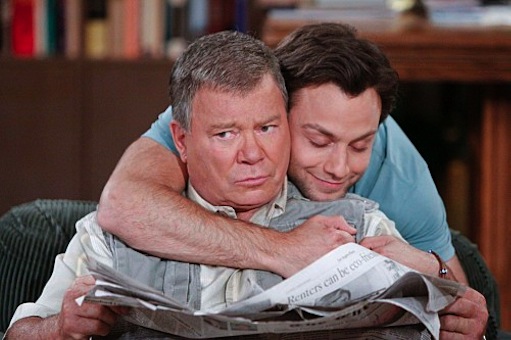 William Shatner, Jonathan Sadowski of $#*! My Dad Says. CBS photo
Premiering:
Thursday, Sept. 23rd at 7:30 p.m. (central) on CBS
Starring:
William Shatner, Jonathan Sadowski, Nicole Sullivan, Will Sasso
Produced by:
David Kohan, Max Mutchnick, Justin Halpern, Patrick Schmacker
By ED BARK
It really is a pain in the ass to correctly type the title of
$#*! My Dad Says
, which just as easily could be
&%@! My Dad Says
or even
*&!$ My Dad Says
.
CBS also notes that some DVR search functions are "perplexed" by the title. The network encourages viewers to instead go directly to their programming guides if they'd like to record this new sitcom rather than watch it live. Or as my late old man used to say, "Grease your fanny and slide on the ice."
Anyway, I'm going to eliminate the hieroglyphics and hereafter call this thing
My Dad Says
. Adapted from Justin Halpern's much more profane
Twitter feed
and a resultant bestselling book, it stars William Shatner in his first sitcom as the immensely cranky Ed (hey, no fair!!!). Living alone and marinating in his own bile, he's visited one night by youngest son Henry (Jonathan Sadowski), whom he hasn't seen in two years.
Ed cocks his shotgun in hopes it's an intruder. It is, but at least he recognizes him.
"I almost decorated my Buick with your balls," Ed bellows.
"C'mon, dad, you wouldn't do that to your Buick."
That's pretty much the tenor of Thursday's opener, in which Shatner labors through the rhythms of the live studio audience sitcom format while coughing up a steady stream of pointed and oft-blue insults that would make him a fine nursing home partner for Archie Bunker.
Henry, who's been laid off and is down to his last nickel, is looking for a way to ask Dad for money. But he also occasionally joins in the
double entendre
festivities, sensing an opening after complimenting Ed on the health of his garden.
"You should see my zucchini," Dad crows.
"I think I did last night when you answered the door in your jammies."
Older son Vince (Will Sasso) also drops by. He's married to domineering Bonnie (Nicole Sullivan). Both actors are former members of Fox's
MADtv
ensemble, so at least they know how to play off one another.
My Dad Says
, which will follow CBS' transplanted
The Big Bang Theory
, loads up on coarse jokes the way the network's
Mike & Molly
dished out fat jokes in its Monday premiere. Future episodes of both series are likely to dial it down some. But broad wrecking ball humor is initially slung in abundance.
"Son, if it looks like manure and smells like manure, it's either Wolf Blitzer or manure," Dad declares.
CNN's Blitzer might be pleased with any mention at this point. So maybe he'll be DVR-ing this episode -- providing he can figure out how to do it -- with an eye toward showing it to his grandkids.
Shatner on the other hand is already enshrined as Capt. James T. Kirk on
Star Trek
and Denny Crane on
Boston Legal
. This latest TV outing likely won't be making the cut in his personal time capsule. That is unless he really enjoys watching himself exclaiming "It's shotgun time!" when a Girl Scout knocks on his door trying to sell him cookies.
GRADE:
C