Smithsonian Channel's Sports Detectives hits some sweet spots in searches for famed memorabilia
04/24/16 12:56 PM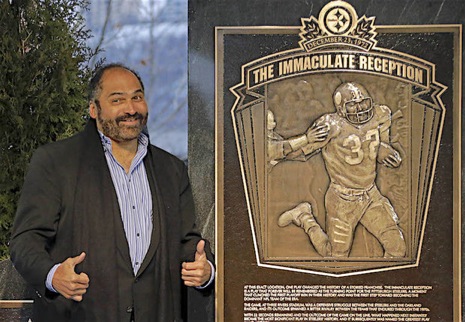 Hall of Famer Franco Harris & his most famous football moment.
Smithsonian Channel photo
Premiering:
Sunday, April 24th at 8 p.m. (central) on Smithsonian Channel
Hosted by:
Kevin Barrows, Lauren Gardner
Produced by:
Brian Biegel, John Marks, Robert Harris, Banks Tarver, Ken Druckerman, David Royle, Charles Poe
By ED BARK
@unclebarkycom on Twitter
The disappearances of youthful Barky's 1950s and '60s Topps baseball cards very likely will remain an unsolved mystery.
Did mom really join the many moms of her generation in throwing them all out, thereby increasing both scarcity and monetary value? Or did her oldest son bend, spindle and mutilate or dog-ear most of them in bicycle spokes or card-flipping matches?
Some puzzlements are more easily answered, as the winning new Smithsonian Channel series
Sports Detectives
shows in its earnest track-downs of iconic memorabilia. The six-part series begins by uncovering the whereabouts of the frayed and partially torn king-sized American flag draped over goalie Jim Craig after the U.S. hockey team's totally unexpected march to the gold medal at the 1980 Winter Olympics in Lake Placid, NY.
Sports Detectives
spends its entire opening hour on this search, which results in more than a little repetition and overstatement. Sports reporter Mary Pilon says for starters, "It's like the Shroud of Turin for hockey."
Co-host/detective Kevin Barrows, a private investigator and former FBI agent, later tells viewers that "there's really no way to over-estimate how valuable this flag is." Well, yeah, there is. What if I said it has to be worth at least a billion dollars? It's not.
Even so, this is an engaging and thorough series, based on the two episodes I've seen. Even non-sports fans could find themselves sucked in by the sleuthing abilities of Barrows and co-host Lauren Gardner, who's currently otherwise employed by cable's CBS Sports Network. They ask precise questions while making seemingly every effort to find the most knowledgeable sources of information.
In Episode One, that's goalie Craig himself, prompting Barrows to conclude, "Jim was, without a doubt, the missing link."
Four of the subsequent five episodes are more successfully divided into two searches, thereby cutting down on the padding. Hour 2 revisits the Dec. 23, 1972 "Immaculate Reception" by Pittsburgh Steelers running back Franco Harris while also trying to determine whether Cleveland Browns Hall of Fame rusher Jim Brown has any basis for claiming that his 1964 NFL Championship ring was stolen. Harris plays ball with
Sports Detectives
. Brown, who's suing the current owner of the ring, deflects questions to his attorneys.
Barrows handles the "Immaculate Reception" while Gardner dives into the controversy over Brown's ring. The answers aren't completely definitive in the end, but both gumshoes exhaust all reasonable efforts to determine the truth. It's all very compelling. And that includes the current location of the "Immaculate Reception" ball that fan Jim Baker claims to have scooped up after Pittsburgh kicked the extra point following a lengthy delay.
Here's the menu for the rest of the series:
Sunday, May 8th
-- The late Dale Earnhardt Sr.'s original pink race car and the saddle worn by eventual Triple Crown winner Secretariat in the 1973 Kentucky Derby.
Sunday, May 22nd (after skipping a week)
-- Kirk Gibson's walk-off home run ball in Game One of the 1988 World Series and an actual game-used Lou Gehrig bat.
Sunday, May 29th
-- Wilt Chamberlain's 100-point game ball from March 2, 1962 and the authenticity of a War Admiral trophy on display in the Kentucky Derby Museum.
Sunday, June 5th
-- Muhammad Ali's missing 1960 Summer Olympics gold medal.
The city of Cleveland hasn't had another pro sports champion since the Browns blasted the Baltimore Colts 27-0 back in 1964. In contrast, Pittsburgh lost the 1972 AFC Championship game to the Miami Dolphins a week after the last-second "Immaculate Reception" win over the Oakland Raiders. But by 1975, the Steelers had their first Super Bowl win and would have three more by 1980. As Harris says, "That was the start of something great."
Sports Detectives
is the start of something very good on a cable channel that could use some punching power. And if it proves itself in the ratings, there should be a lot more missing balls, bats, helmets and other memorabilia to keep this show on the scent.
GRADE:
B
Email comments or questions to:
unclebarky@verizon.net