The CW's Life Sentence merits a quick death knell
03/06/18 02:11 PM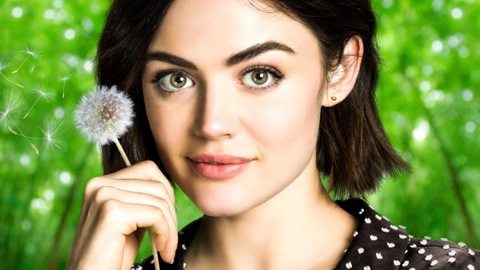 Stella (Lucy Hale) was ready to die of cancer until -- no. The CW photo
Premiering:
Wednesday, March 7th at 8 p.m. (central) on The CW
Starring:
Lucy Hale, Elliot Knight, Dylan Walsh, Gillian Vigman, Jayson Blair, Brooke Lyons, Carlos PenaVega, Claudia Rocafort, Nadej k Bailey, Riley Grant
Produced by:
Erin Cardillo, Richard Keith, Bill Lawrence, Jeff Ingold, Oliver Goldstick, Lee Toland Krieger
By ED BARK
@unclebarkycom on Twitter
Next time The CW thinks of doing something like this, well, just plug in another superhero hour, would ya?
Life Sentence
instead proves to be super-treacly with its overwrought, underwhelming tale of young Stella Abbott (Lucy Hale), who for the past eight years had steeled herself for death by cancer. But then her doctor suddenly proclaims "You're cured!" Which leaves Stella tearfully happy and then tearfully sad after learning how much her family had secretly sacrificed on her behalf.
During her planned dying days, Stella also had journeyed to Paris in hopes of meeting Mr. Right. Which she did. He's black Britisher Wes Charles (Elliot Knight), and they've been married for the past six months. But now she wonders if he might have just been humoring her by pretending to like all the things she does -- when he really doesn't. Letting her use his arm as a pillow, for instance. Blimey, a guy could suffer permanent nerve damage now that Stella's not going to die as planned.
On the surface, this premise might seem somewhat promising. But Stella's newfound needs quickly wear thin during the course of three episodes made available for review. Soft-serve acoustic mood music drops in to the point of madness whenever the series' center of attention isn't supplying an abundance of fretful narration. Stella!!! Please stop!!!
Let's meet the Oregon-based family. Mom Ida (Gillian Vigman) and Dad Peter (Dylan Walsh) had been hiding their growing disaffection for one another in order to keep Stella from being further traumatized. But now that she's got a reprieve, Ida is quickly in the arms of her daughter's godmother Poppy (Claudia Rocafort) -- "I'm coming out as a bi-" -- while college professor Peter wonders what hit him. He's also saddled with a big pile of debt that endangers the family home.
Stella's brother Aiden (Jayson Blair) is a layabout who enjoys the company of older married women and is seldom seen without a beer in hand. Their sister, Lizzy (Brooke Lyons), is married to nice guy Diego (Carlos PenaVega), with whom she has three children. But Lizzy gave up a budding writing career to stay by Stella's side while she presumably would die. Now she's feeling kind of unfulfilled.
Newly guilt-ridden, Stella gets work as a barista before later also volunteering in a hospital cancer ward. She quickly befriends and champions a young girl named Sadie (Nadej k Bailey) while of course also coming upon a hunky doc named Will (Riley Smith).
All of this proves to be more aggravating than involving.
Life Sentence
has an off-putting preciousness to it while grinding through one "crisis" after another. It doesn't earn any sympathies because its principal characters don't merit much more than one big "Oh, shaddup!" With the exception, perhaps, of poor Wes, who soldiers on amiably while asking only that reprieved Stella spank him every once in a while.
It's temping to conclude by saying that
Life Sentence
is an argument for capital punishment. Maybe that's going a little too far. But solitary confinement indeed would be a better fate than having to watch this on a continuous loop.
GRADE:
D
Email comments or questions to:
unclebarky@verizon.net