Da bomb: HBO's The Brink follows smartly in step with Dr. Strangelove
06/19/15 12:48 PM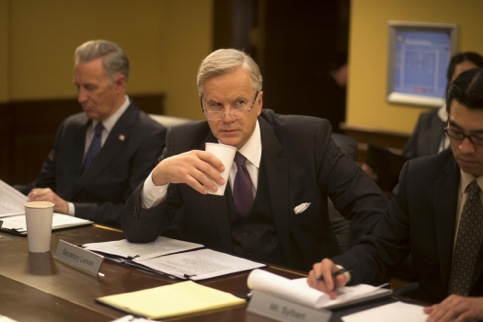 Tim Robbins is a cocksure Secretary of State in The Brink. HBO photo
Premiering:
Sunday, June 21st at 9:30 p.m. (central) on HBO
Starring:
Tim Robbins, Jack Black, Pablo Schreiber, Aasif Mandvi, Maribeth Monroe, Eric Ladin, Esai Morales, Geoff Pierson, Carla Gugino, John Larroquette
Produced by:
Jerry Weintraub, Roberto Benabib, Jay Roach
By ED BARK
@unclebarkycom on Twitter
Inspired lunacy on an international scale is a tough nutty to crack.
HBO's
The Brink
pulls it off despite being in the long shadow of
Dr. Strangelove
, the 1964 classic on which it's very much modeled.
Armageddon again looms after a crazed rogue general heists Pakistan and its nuclear weaponry from the country's democratically elected leader. He's convinced himself that U.S. drones have been spreading electro-magnetic energy that will make his people sterile. In
Dr. Strangelove
, an unhinged U.S. general believed that the Soviets were behind a plot to fluoridate America's water system and thereby contaminate the citizenry's bodily fluids.
George C. Scott and Peter Sellers (in multiple roles) headed the cast of
Dr. Strangelove
. In
The Brink
, it's a threesome of Tim Robbins, Jack Black and Pablo Schreiber, each of whom play one part apiece.
Robbins is Secretary of State Walter Larson, a profane, short-tempered womanizer with the lone redeeming quality of trying to prevent nuclear annilhation by any scheme necessary. His avowed nemesis is Secretary of Defense Pierce Gray (Geoff Pierson), a war monger who vies for the ear of President Julian Navarro (Esai Morales).
Caught in the middle is low-level foreign service officer Alex Talbot (Black), who's stationed in Islamabad, Pakistan when the military coup occurs. He's soon off on a series of manic misadventures, often in the company of fellow embassy underling Rafiq Massoud (Aasif Mandvi).
Schreiber, best known for his Season 1 portrayal of crooked corrections officer "Porn Stache" in Netflix's
Orange is the New Black
, is high in the sky -- and often on the ground, too -- as drug-smuggling bomber pilot Zeke "Z-Pak" Tilson. His secret missions are subject to change while commanders cover up the messes he's made in tandem with co-pilot Glenn "Jammer" Taylor (Eric Ladin).
The Brink
is studiously and deliciously nonsensical through the first five half-hour episodes made available for review. It takes a little time for the show to get its bearings. But both Robbins and Black are soon up to speed and off the rails. At the height of his circuitous efforts, Larson's bout with a kidney stone is low comedy at a high level. Maribeth Monroe also excels in these sequences as devoted aide Kendra Peterson, who's become expert at cleaning up her boss's messes on a daily basis -- even when his urinary tract is A-OK.
Black's Talbot can be a bit too cartoonish in the early going, even for the purposes of this storyline. But his quips and demeanor quickly kick in, with some nice thrust and parry from the oft-exasperated Massoud.
John Larroquette drops in as the ineffectual U.S. Ambassador to Pakistan, whose Bible-belting belief system bedevils both Talbot and Larson. And Carla Gugino continues what's been a very gainful year for her as Larson's savvy, sexy wife, Joanne. Fox's ongoing
Wayward Pines
and the smash feature film
San Andreas
are also on Gugino's resumé this summer.
Closing credits for the initial five episodes are rich with rock classics. Sequentially listen for Creedence Clearwater's "Fortunate Son"; John Lennon's "Instant Karma"; Jimi Hendrix's "Purple Haze"; Buffalo Springfield's "For What It's Worth"; and The Rolling Stones' "Paint It Black."
The Brink
's Father Day premiere is the caboose following debuts of HBO's
True Detective 2
and the comedy series,
Ballers
, starring Dwayne "The Rock" Johnson.
"The Rock's" solid gold star power makes it the favorite to be the most-watched of the three while the second coming of
True Detective
is sure to be sampled if not eventually savored. But
The Brink
gets my highest grade as an explosively funny satirical descendant that can hit home without being even slightly preachy about it. Mostly, though, have fun with both the madcap characters and the notion that one of the Pakistani demands in play is a full membership with the Augusta National Golf Club.
GRADE:
A-minus
Email comments or questions to:
unclebarky@verizon.net