FX's Sex & Drugs & Rock & Roll blasts off, fizzles, re-ignites (and has a title that's a pain to type in full)
07/15/15 12:45 PM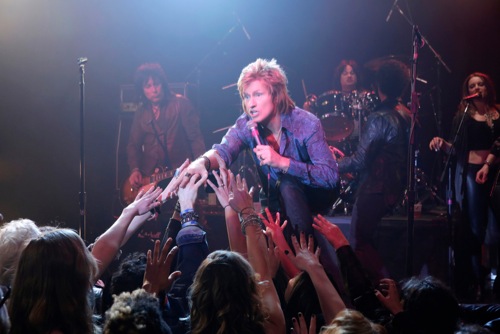 A youthified Denis Leary in earlier daze as Johnny Rock. FX photo
Premiering:
Thursday, July 16th at 9 p.m. (central) on FX
Starring:
Denis Leary, John Corbett, Elizabeth Gillies, Elaine Hendrix, Robert Kelly, John Ales, Josh Pais
Produced by:
Denis Leary, Kerry Orent, Jim Serpico, Tom Sellitti
By ED BARK
@unclebarkycom on Twitter
Fox's smash hit
Empire
is the ebony. Now here comes a second ivory to join prime-time TV's latter day depictions of a dysfunctional/destructive music business.
ABC's
Nashville
is a syrupy ballad, though, compared to FX's wildly untamed and uneven
Sex & Drugs & Rock & Roll
. Creator/star Denis Leary doesn't mess around when it comes to naming names during the course of disparaging some of rock's and pop's biggest stars. FX bills it as a comedy series -- and it at least fits the genre's half-hour format. But some of the show's targets almost certainly won't be laughing. This is shock, not a-w-w-w-w, from the comedian-actor and former
Rescue Me
star who also wrote and hosted 2005's
Merry F#%$in' Christmas
.
As rocker Johnny Rock, 25 years removed from stardom as lead singer of The Heathens, Leary warms up in Thursday's opener with a diatribe aimed at two easy targets -- Kim Kardashian and her half-brother, Brody Jenner. Railing against their
faux
fame, he also offers to suck a certain something attached to the then Bruce Jenner. Perhaps the series' TV-MA rating, which FX attaches to almost all of its original productions, should be up-ticked in this case to TV-XXX.
The really heavy artillery fire is saved for next week's withering Episode 2. Shakily reunited with a daughter he'd long left behind (Elizabeth Gilles as Gigi), Johnny warns her that any songs he composes for her will be strictly by his book. "I'm not writing some auto tune, pop shlocky Katy Perry bullshit, OK?" he says. "I'm not sellin' my soul."
But 25-year-old Gigi, who just so happens to have killer pipes, a formidable bosom and plenty of ready cash, wants to wail her way through "authentic" songs. That's why she's used her money to put Dad and Heathens' lead guitarist Flash (John Corbett) back together again along with drummer Hector "Bam Bam" Jiminez (Robert Kelly) and bassist Sonny "Rehab" Silversteen.
Gigi's also got a mouth on her, and not only when behind a mike. Terming Keith Richards "a fossil," she says of his ad campaign for Louis Vuitton luggage, "Put a handle on his head, he could've been one of the bags."
Ol' Keith might have a hoarse chuckle at that one. But it's very doubtful that Yoko Ono would react kindly to Johnny's horrid joke at her and John Lennon's expense. Contending that all great bands and songwriters have done their best work while high, he notes that a sober Lennon ended up writing a song about baking a loaf of bread. "He'd gotten so boring if Mark David Chapman hadn't of shot him, Yoko probably would've," Johnny adds.
Comedy isn't pretty, it's been said. And political correctness is running amuck these days. Still, by all that is holy, FX and Leary should reconsider and excise this whole riff before the episode airs on July 23rd.
The second episode also includes a broadside at Pat Benatar and her guitarist/musical partner Neil Giraldo; Johnny's deft mocking of a typical Morrissey song (by all means leave that in); and Gigi's dart at a tune written by Johnny after everyone insisted he get clean and sober. "Dad," she says, "that song sounded like something Sting would write if he was living inside Sarah McLachlan's vagina." So it's back to the bottle and weed for Johnny -- but no blow.
S&D&R&R
begins faltering in Episode 3, when the band's mercenary manager, Ira Feinbaum (Josh Pais), suggests that "for business purposes" Johnny should stay dead for a short while after false Internet reports had him choking on a chicken bone. This allows Gigi to take the stage and be showcased in her dad's memory while sales of old Heathens albums enjoy a brief resurgence.
None of this plays all that well, story-wise or otherwise. But the real Joan Jett does just fine with a cameo. And Johnny's still devoted longtime girlfriend, Ava (Elaine Hendrix), gets to say, "Honey, nobody reads
Rolling Stone
anymore." That might put a real-life cover out of reach in the immediate future. Or maybe not.
Episode 4 has The Heathens doing a sold-out performance in Belgium, where they're still big and can command outrageous dressing room "riders." Episode 5, the last one made available for review, comes closest to being a full-out homage to
Spinal Tap
. At Gigi's insistence, the fractious band undergoes a series of sessions with a music therapist who claims to be "deeply trained in the art of soul retrieval."
Guest star Griffin Dunne turns out to be perfect for the role of long-haired guru while band members get to spill out their hangups and neuroses in what amount to a series of mini-comedy sketches. Bassist Rehab has always seen himself as an afterthought, drummer Bam Bam has father issues and Flash is mostly concerned with how young he still looks.
Johnny and daughter Gigi have the best bit, though. She misidentifies Lee Marvin as Johnny Carson in a therapeutic exercise dubbed "The Fame Game."
The musical performances are mostly just OK for now, with the best of show performance going to Gigi for her full-throated performance of "Animal" at the close of Episode 1. The Heathens' vintage anthem, "Sex & Drugs & Rock & Roll," doesn't seem destined for the top of the charts, although stranger things have happened.
FX has ordered 10 episodes for Season 1, and it's still hard to tell halfway through whether
S&D&R&R
will end up being a lark, a dark comedy or a drama at its core. Will Johnny's dependence on booze and pot take a bad turn? What if Flash fulfills his initial revenge-motivated desire to sleep with Gigi? And where does the show go next if The Heathens, rechristened as The Assassins, become a big arena band with Gigi as the star vocalist?
The biggest worry going forward is that Leary has already shot his wad in the early episodes as a profane burnout with no tolerance for today's celebrity culture. Johnny Rock can't be turned into a pudding pop who gazes fondly upon his daughter's increasingly assured stage performances. But any flaming, jealousy-fueled rift between the two of them could turn the series into a painful viewing experience on every level.
It promises to be quite a juggling act, with Leary as balls-out as ever in the early going of his latest daring enterprise. Even so, he really should care about what many people may think of those Yoko Ono-John Lennon low blows. Sometimes you really can be too flat-out distasteful for your own good.
GRADE:
B+
Email comments or questions to:
unclebarky@verizon.net