Miniseries review: The Bronx is Burning (ESPN)
07/08/07 12:40 PM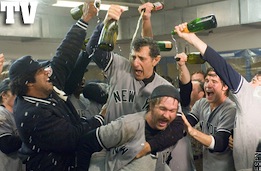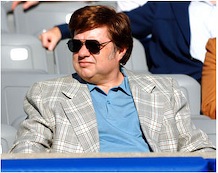 The Yanks celebrate; Oliver Platt does a George Steinbrenner.
By ED BARK
Damn Yankees. Down and already seemingly out of the race for post-season play, they're being resurrected this month and next in ESPN's terrifically made
The Bronx Is Burning
Anchored by John Turturro's dead-on evocation of the late Billy Martin, the eight-part miniseries premieres Monday, July 9th at 9 p.m. (central) after the All-Star game's home run derby. Subsequent one-hour episodes then line up on Tuesdays at the same hour through Aug. 28th.
Judging from the first three episodes sent for review, this easily is the finest baseball miniseries ever made. It's also the only one, but let's not quibble.
ESPN has done a superb job of dramatizing both a turbulent 1977 Yankees season and a hellish summer for New York City. The Yanks' march to another World Series appearance shared a not-so-grand stage with the "Son of Sam" serial killings, a heated mayoral race and a power blackout during scorching summer temperatures.
Bronx Is Burning
recaptures it all in sharp focus: the turmoil, the excitement, the godawful clothing.
The principal Yankee protagonists are Martin; volcanic Yankees owner George Steinbrenner (Oliver Platt); flamboyant, newly signed slugger Reggie Jackson (Daniel Sunjata) and no-nonsense team leader Thurman Munson (Eric Jensen).
Bronx Is Burning
also characterizes several New York City cops, most notably Dan Lauria as police captain Joseph Borelli. Famed New York newspaper columnist Jimmy Breslin (Michael Rispoli) is in the mix, too. Thirty summers ago, "Son of Sam" David Berkowitz (shown only in darkness or from afar) chose Breslin as the recipient of his demented communiques.
Archival footage of mayor Abe Beam and opponents Ed Koch, Bella Abzug and Mario Cuomo is layered in on occasion. This might seem like too broad and sprawling a canvas, but director/producer Jeremiah Chechik and editor Jerry Greenberg stitch it all together while still keeping the Yankees as their prime focus.
Bronx Is Burning
has a semi-documentary feel without ever seeming either too dry or overly turgid.
The story begins on June 18, 1977, when Martin and Jackson had their storied on-field confrontation during a nationally televised game against the Boston Red Sox. After this brief appetizer, the filmmakers rewind to two years earlier.
Martin, recently fired as manager by the Texas Rangers, is courted on the telephone by Steinbrenner against the advice of team president Gabe Paul (very nice work by Kevin Conway).
"You and me, we'll knock 'em dead together," Steinbrenner enthuses.
Martin, whose glory days as a player were with the Yankees, takes the bait and leads the team to the 1976 World Series, where they're swept by the powerful Cincinnati Reds. While Martin weeps in the locker room, Steinbrenner thunders, "This is my team now, Billy Martin. And nobody is ever going to humiliate me like this again."
As proof, he signs Jackson against Martin's wishes, creating a volatile three-way dynamic that never really smooths out.
Platt and Sunjata play their roles convincingly but Turturro's Martin is a wonderment. He gives the standout TV performance of the year as the volatile, insecure and sometimes petty Yankees field general.
Turturro's been affixed with Mr. Spock-sized ear appendages that sometimes look a little too cartoonish. But his acting is completely in character, not caricature. Here's a guy who also pulled off Howard Cosell in the 2002 TV movie
Monday Night Mayhem
. Obviously he can do anything.
Bronx Is Burning
is good enough to make even coach Yogi Berra a believable, multi-dimensional figure. Actor Joe Grifasi has the voice imitation down but is no clown. All of this is extremely tough to do right, but ESPN has stepped up to the plate and slugged one into the seats.
Damn Yankees. Even during a so far lousy season they luck into a stellar depiction of perhaps their most tattered championship year.
Grade:
A