Another masterly return by AMC's Breaking Bad
08/08/13 01:01 PM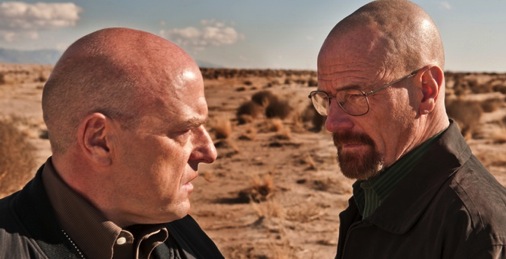 In-laws on opposite sides of the law. Breaking Bad's Dean Norris, Bryan Cranston are fated to heat up down the stretch. AMC photo
By ED BARK
@unclebarkycom
Incredible, indelible restarts have become the norm for
Breaking Bad
.
And you'll have seen another one after Sunday night's episode begins the eight-part final arc of Walter White's five-season journey from cancer-ridden Albuquerque chemistry teacher to a morally decayed drug lord with the street name Heisenberg.
Titled "Blood Money" and premiering Aug. 11th at
8 p.m. (central) on AMC
, the episode is dialogue-less until the 4 minute, 8 second mark, when a bearded, bespectacled White (Bryan Cranston) offers a simple greeting that prompts a stunned response.
Then it's on to the opening credits and back to where
Breaking Bad
left Walter's DEA agent brother-in-law, Hank Schrader (Dean Norris). As you must know by now, he found a dumbfounding piece of evidence while seated four-square on a commode at the home of Walter, his wife, Skyler (Anna Gunn) and their son, Walter Jr. (RJ Mitte). Hard to believe, but It's been close to a year since that episode first aired on Sept. 2, 2012.
Rest assured that no spoilers are forthcoming here. So let's just say that writer-creator Vince Gilligan does not dawdle in terms of shifting this tale into over-drive. A stun gun of a scene at the end of Sunday's hour sees to that. And with all filming completed, everyone involved knows exactly how
Breaking Bad
will end on the night of Sept. 29, 2013 (when as fate and scheduling idiocy now have it, Showtime plans to launch Season 3 of
Homeland
at the same hour).
Following a formal
interview session late last month
during the Television Critics Association summer "press tour," Cranston expressed supreme confidence in what Gilligan has wrought.
"I wanted this series to end exactly how Vince Gilligan wanted it to end," he said before being hustled off to a photo shoot. "And I can stand here now and say I'm really proud that it has. I think every fan will be satisfied, pleased, at the appropriate ending of this. It's unapologetic and very
Breaking Bad
."
Cranston's Walter White remains duplicitous as the second part of Season 5 begins unfolding Sunday night. He lies in a major way to his now guilt-ridden former partner, Jesse Pinkman (Aaron Paul), while also admonishing him to "stop focusing on the darkness behind you. The past is the past."
It's hard to envision any lights at the end of these tunnels.
Breaking Bad
, if its past is any prologue, will steadfastly refuse to absolve or cleanse itself. But can it deliver a denouement that will further cement it as one of the great TV series of our times, any time?
From Day One -- Jan. 20, 2008 -- it's been an inimitably deranged ride into ever darker corners. Maestro Gilligan has directed and written the 62nd and final episode (subtitled "Felina"). That's fitting, reassuring and the first time he's taken on both duties since Episode 46 at the close of Season 4.
Who better to take the throttles as reckonings finally come to roost while great expectations take flight? Hold on. They're coming. And Sunday's bold, declarative return gives every indication that
Breaking Bad
will know what to do and how to do it before "The End" of its days.
GRADE:
A
Email comments or questions to:
unclebarky@verizon.net