NBC's Mr. Robinson is a throwback that should have been thrown back
07/26/15 12:20 PM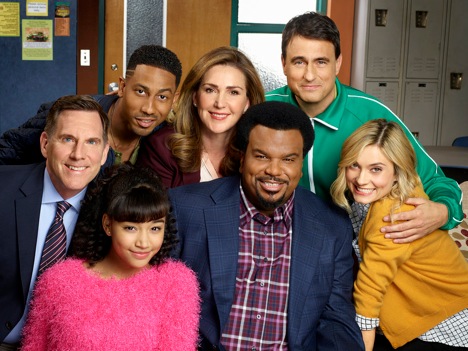 Craig Robinson (center) is singer/teacher in Mr. Robinson. NBC photo
Premiering:
Wednesday, Aug. 5th at 8 p.m. (central) with back-to-back episodes on NBC
Starring:
Craig Robinson, Peri Gilpin, Meagan Goode, Ben Koldyke, Brandon T. Jackson, Spencer Grammer, Amandla Stenberg, Tim Bagley
Produced by:
Mark Cullen, Robb Cullen, Howard Klein, Mark Schulman, Andy Ackerman
By ED BARK
@unclebarkycom on Twitter
While TV Land strives to get "edgier," NBC seems intent on becoming the new TV Land with its latest dated sitcom.
The Peacock's
Mr. Robinson
takes a broad, punch-in-the-face punchline approach and drenches it with an oft-unwarranted laugh track. It's the increasingly old-fashioned "multi-cam" format as opposed to "single-cam" shows that generally are subtler in tone and without canned or studio audience guffaws. TV Land lately has gone that route with its new trio of
Younger, The Jim Gaffigan Show
and
Impastor
.
Craig Robinson, who plays Craig Robinson in
Mr. Robinson
, has known the glory of NBC's single-cam
The Office
. In this reworked and recast version of the original
Mr. Robinson
pilot (which co-starred Jean Smart among others), he's still the lead singer and keyboardist of a funk bar band called Nasty Delicious. Robinson's also been subbing as a music teacher on the side, which ends up being the main focus of this six-episode, set-in-Chicago series.
Filling in at Studs Terkel High School in hopes of rekindling a dashed romance with English teacher Victoria Wavers (Meagan Good), Craig very predictably encounters a batch of wacky co-teachers and an abrasive principal named Christine Taylor (
Frasier
alum Peri Gilpin in place of Smart).
"In my class, we don't just listen to music. We make music," Craig tells his mostly pliable class before coaxing a quartet of kids to participate.
Doofus physical education teacher Jimmy Hooper (Ben Koldyke), who dubs himself "Magnum P.E.," is in constant full strut while Indian colleague Samir (Asif Ali) keeps trying to invent something to make him rich (such as "substitute beef" in Episode 2). Another teacher, Ashleigh Fellows (Kelsey Grammer's daughter, Spencer Grammer), moonlights as a pole dancer. There's also goofy school supervisor Dalton (Tim Bagley). For some reason he's super-impressed with Craig's band, which also includes his ambitious but awkward younger brother Ben (Brandon T. Jackson).
NBC initially planned to pair
Mr. Robinson
on Wednesday nights with another broad multi-cam comedy,
The Carmichael Show
. But each series now will get three weeks worth of back-to-back episodes, with
Carmichael Show
kicking in on Aug. 26th instead of the 5th.
The second
Mr. Robinson
episode, subtitled "Flesh For Fantasy," is an altogether dreadful followup to the mediocre premiere. Gary Cole guests as burned out British rocker Neville Rex, who has a string of hits in his past and a community service requirement in his future. So Craig invites him to speak to his class, prompting a reunion between Neville and Principal Taylor, known as "Tight Fit" during her days as a rock band hanger-on.
"I know every inch of this vixen. Outside and three inches in," Neville crows. That kind of writing merits a lifetime of community service.
Craig again ends up in a situation where he can either do the right thing or act in his own self-interest. Gee, wonder which path he'll take.
Mr. Robinson
has an appealing star in Craig Robinson, but the show itself is gratingly forced and formulaic. NBC may think it can go back to the future and still regale present-day audiences. But the network's
Diff'rent Strokes/Facts of Life
hit parade is long past high-stepping.
GRADE:
C-minus
Email comments or questions to:
unclebarky@verizon.net