Rodeo Girls gets A&E's best mount -- a post-Duck Dynasty premiere
12/10/13 01:30 PM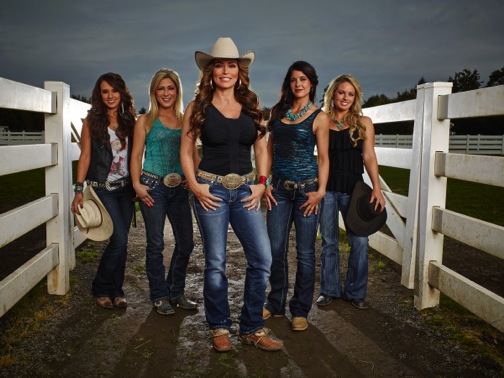 Hot to trot: The rough 'n' ready stars of Rodeo Girls. A&E photo
Premiering:
Wednesday, Dec. 11th at 10 p.m. (central) with another new episode on Thursday at 9 p.m.
Starring:
Darcy LaPier, Marvel Murphy, Barb West, Megan Etcheberry, Jessica Holmberg, Sadie Sullivan, Ty Murphy, Anthony Lucia
Produced by:
Bob Weinstein, Harvey Weinstein, Meryl Poster, Patrick Reardon, Barbara Schneeweiss, Banks Tarver, Ken Druckerman, Nina L. Diaz, Sara Mast, Darcy LaPier, Roe Baker
By ED BARK
@unclebarkycom on Twitter
The horse flesh is willing, but those babes on board have other agendas, too.
Coltish Jessica Holmberg, a barrel racing co-star of A&E's
Rodeo Girls
, takes aim at man-roping rival Megan Etcheberry in the premiere episode's array of opening teases.
"It's a good thing she's on that boat," says Jessica while Megan displays her wares. "Otherwise I'd push her in the water three times and only pull that bitch up twice."
She very likely was given that line. Your basic "real-life" TV series is as plot- and script-driven as any fictional comedy or drama. And A&E has big plans for this one, scheduling the first hour after a new
Ducky Dynasty
Christmas episode Wednesday before
Rodeo Girls
moves to its regular Thursday slot. Season 1 will have six episodes.
"Pretty tough" is the network's tagline. The review DVD sent to critics came encased in a publicity packet with a cover shot of a galloping barrel racer in a bikini top. "It all comes down to who has the most balls -- or large ovaries," according to an off-camera come-on from one of the five featured attractions.
It'd be a shock if this didn't work.
Rodeo Girls
has beauty, magnificent high-speed beasts, cat-fighting rivalries and recurring campfire flirtations spurred by a pair of young buck cowboys. It also looks pretty good because The Weinstein Company knows how to put on a show and doesn't scrimp on production values.
Jessica and Megan, both new to the pro barrel racing circuit, are the resident nubile knockouts best suited to future pages of
Maxim magazine
if they haven't been there already. But the show's standout poser is well-heeled Darcy "No Fear" LaPier, of whom Jessica says charitably, "I'm half her age and twice as hot."
Affixed with bloated Lisa Rinna lips and other face-stretching adjustments, the 48-year-old Darcy is both a co-executive producer of
Rodeo Girls
and the ex-wife of actor Jean-Claude Van Damme.
"We were like Richard Burton and Elizabeth Taylor," she says of their short-lived marriage. Now there's a grandiose statement for ya.
Now a veteran of five marriages to well-heeled men, Darcy blows into
Rodeo Girls
with a new $200,000 horse named Dash. This is supposed to make her the barrel racer to beat as well as the target of sniping from other competitors.
Meanwhile, Darcy play-acts at going out on her first date since the death of her fourth hubby, Herbalife founder Mark Hughes. Problem is, he died back in 2000 and she's already put another marriage behind her after splitting with Seven Dees Nursery founder Brian Snodgrass. But let's not let that get in the way of our story, during which horn dog cowpoke Anthony Lucia tells Darcy over dinner and drinks, "I live life. I drink beer. I love God. I love what I do."
He's put off his feed, though, upon learning that Darcy has three children -- aged 22, 17 and 9 -- from all those previous hookups. So it's time to make a play for Jessica, who laments to him, "I got cheated on" by a former live-in boyfriend. By the end of the episode, "I've never felt so all alone," Darcy tells the camera.
The other featured players are Barb "Wicked" West, an appealing former champ who's been off the circuit for two years, and "hot mess" Marvel Murphy, who's "got a wild streak in her," according to her on-the-prowl cowboy cousin, Ty Murphy. The comparatively plain-faced Sadie Sullivan has a lesser sidekick role to play as Barb's wrangler and best friend. For now she mostly laughs a lot.
Actual barrel racing intercedes in the closing minutes of Wednesday's first episode, with the competition originating from Scottsdale, Arizona's Parada Del Sol rodeo. Not to give anything away, but all of the principals apparently still have lots of work to do.
Rodeo Girls
so far has stopped short of giving its stars and their story lines enough rope to hang themselves. Instead It manages to jingle jangle jingle its way toward an overall entertaining first hour of animal desires occasionally played out on horseback.
GRADE:
C+
Email comments or questions to:
unclebarky@verizon.net