CNN's Evocateur recaptures Morton Downey Jr. at the height of his glowers
08/19/15 09:43 AM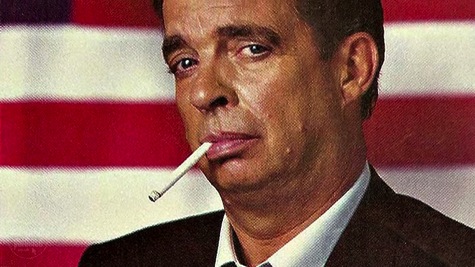 Chain-smoking trash man Morton Downey Jr. died of lung cancer.
By ED BARK
@unclebarkycom on Twitter
A then rotund Al Sharpton Jr. got knocked off his chair by Congress of Racial Equality chairman Roy Innis and in another instance aimed a homophobic epithet at an audience member that today would get him knocked off MSNBC for at least a short while.
Presidential candidate Ron Paul, then running on the Libertarian ticket, endured a very up-close encounter with a host who bellowed, "If I had a slime like you in the White House, I'd puke on you!" Another regular guest, the still very prevalent Gloria Allred, responded to a verbal jab at her breasts by downsizing the host's penis.
In the documentary
Evocateur: The Morton Downey Jr. Movie
(
Thursday, Aug. 20th from 8 to 10 p.m. central on CNN
), one can still smell the toxic fumes coming off the old TV brow-beater and his ever-present cigarettes, which he used to autograph for admirers.
Directors Seth Kramer, Daniel A. Miller and Jeremy Newberger mix fresh and earlier interviews, archival footage and some really great animation to recapture a coarse, insecure, womanizing ringmaster who burned white-hot, flamed out fast and in some ways paved the way for all sorts of latter-day televised freak shows. There's no revisionist lionizing here, but plenty of perspective.
Downey Jr., son of a famous same-named singer, entertained the teeming masses with a show that had his mostly young studio audience verbally up in arms and salivating at the sight of their lion devouring the latest liberal put before him. His money shot was "pablum pukers." Oh how the crowd roared.
After a while the "respectable" guests stopped coming, leaving the host to riff off a steady parade of strippers and so-called deviants. "Sit down, you fat bitch!" he brayed at a beyond voluptuous woman while thrusting his pelvis against her.
He didn't have much staying power.
The Morton Downey Jr. Show
premiered in 1987 on the Secaucus, NJ-based WWOR-TV before going into national syndication the following year. But in July, 1989 the show was canceled shortly after Downey told a highly suspicious tale about being beaten in a San Francisco International Airport restroom by three "skinheads" who also snipped his hair, ripped his shirt and drew Swastika marks on his face.
Downey emerged with the "evidence" intact. But after years of helping to fabricate and then legitimize the incident, his longtime friend, Lloyd Schoonmaker, comes forward in
Evocateur
to say he was with Downey at a convenience store when they bought a pair of scissors and a felt marking pen.
"I hate myself for doing it in hindsight," Schoonmaker says of his complicity. "But I did it . . . I'm not lyin' now." Schoonmaker still has the damaged shirt Downey wore at the time, and jokes that he might sell it on eBay someday.
Downey's Dr. Frankenstein was MTV founder Bob Pittman, who tells the filmmakers he wanted to find a successor to Joe Pyne, another highly argumentative conservative who came to prominence in the 1960s. Pittman got his man after watching Downey trade insults with Wally George, a Southern California-based right-winger who once proudly billed himself as the "Father of Combat TV."
"It's dependent on finding 'The Person,' " Pittman says. "Mort just understood performance."
He soon rocketed into prominence, using some of the same techniques George had deployed. Guests were regularly thrown off
The Morton Downey Jr. Show
, to the delight of a crazed mob -- er, disaffected citizens -- filling his small TV studio. Comedian Chris Elliott says he became "immediately mesmerized" by Downey but couldn't figure out how much of his show was a complete put-on. Elliott also is shown lampooning Downey on NBC's
Late Night with David Letterman
.
Pat Buchanan, also newly interviewed for
Evocateur
, contends that "my old friend Mort" served as a voice for fed-up Americans who felt disenfranchised in the late 1980s (even though Ronald Reagan was still President). Naming Bill O'Reilly, Sean Hannity and Glen Beck as Downey descendants, Buchanan says, "They aren't as crude as Mort was, but they are appealing to the same audience."
From this perspective, though, TV critic David Bianculli comes far closer to the real truth in an old interview snippet from those times. Downey "is in the business of implicitly selling us hatred. And people are buying it," he says.
His interviewer then asks, "Is there something in the nature of television that calls forth characters like this periodically?"
"Uh, yeah. Ratings," says Bianculli, who remains in play to this day as the founder of tvworthwatching.com and author of the 2009 book
Dangerously Funny: The Uncensored Story of The Smothers Brothers Comedy Hour
.
Downey later had an epiphany of sorts, but only after learning he was dying of cancer. He recanted his flaunting of cigarette smoking and appeared on several editions of
Larry King Live
in connection with his battle to stay alive.
"I got the most beautiful letter from Edward Moore Kennedy," he told King, referring to his past public support of the liberal Massachusetts senator before he steered hard right with a vengeance. He went by his birth name of Sean Morton Downey back then.
Downey's old TV show producers and his daughter, Kelli Downey Cornwell, also are interviewed for
Evocateur
. Her reminiscences seem mostly sad-eyed. As a teenager she watched her father openly cheat on his wife and her mother. That was at the height of his fame and fortune, when Downey strode into his TV studio arena with mouth and cigarette blazing. In each case, he was probably just blowing smoke. And for a short while, many inhaled.
He died on March 12, 2001 at the age of 68. His funeral had a surprisingly low turnout, as shown in
Evocateur
. But old pal Lloyd Schoonmaker was there, singing "I Can See Clearly Now" while blue balloons floated upward.
Morton Downey Jr. certainly didn't elevate the level of discourse during his brief time on top of the world. But as Pittman notes, "Often the self-destructive people are really entertaining."
As well as disgusting, debasing and divisive. But in this case, thankfully not for long.
GRADE:
B+
Email comments or questions to:
unclebarky@verizon.net