Season 5 of FX's The Americans is still in the Reagan White House era, but what if someday . . .
03/06/17 02:46 PM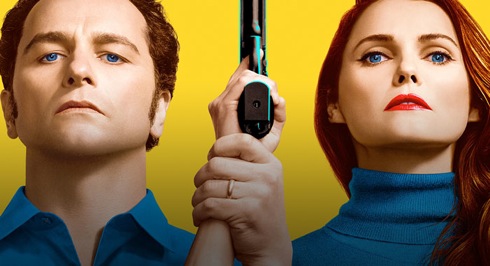 Eyes on the spies: Matthew Rhys and, Keri Russell in The Americans.
FX photo
By ED BARK
@unclebarkycom on Twitter
Season 5 of FX's
The Americans
remains set in the 1980s, specifically George Orwell's 1984 at this point.
Since
TV time traveling's in vogue
, though, how about fast-forwarding Russian spies Elizabeth and Philip Jennings (Keri Russell, Matthew Rhys) to a reasonable facsimile of "Trump World? for a "very special" final season? Think of what they might accomplish. And no, this is not an entirely facetious suggestion down the road.
The Americans
otherwise remains in the top tier of TV dramas, even if the first three episodes of the 13-episode new season (
launching Tuesday, March 7th at 9 p.m. central
) could use a kick in the pants pacing-wise. If you haven't yet discovered the show, this probably isn't an ideal entry point. The key event near the end of the fifth season's opening hour seems to take forever and a day to unfold. I'm all for building suspense, but one also has to be careful not let the air out.
It all restarts with Philip and Elizabeth under cover again, this time assisted by a teenage Vietnam refugee posing as their adopted son. Meanwhile, their biological daughter, Paige (Holly Taylor), continues to feel controlled and unfulfilled after finding out last season who her parents really are. Her budding romance with the neighboring Matthew (Daniel Flaherty), son of spy-hunting FBI agent Stan Beeman (Noah Emmerich), continues to deeply disturb Elizabeth and Philip. What if she slips and blurts something out in the throes of passion?
The Jennings' other child, Henry (Keidrich Sellati), seemingly has become a virtual non-entity. He's glimpsed just once, early in Episode 1. It's just enough to show that the actor playing him clearly has undergone a growth spurt.
These opening three episodes also spend considerable time in the Soviet Union, where Oleg Igorevich Burov (Costa Ronin) has returned and been enlisted by the KGB. No one in his homeland yet suspects that he became Beeman's go-between. But now the CIA wants to blackmail him into playing ball again despite Beeman's best efforts to act on his behalf.
Not to give away too much, but there's also an allegedly sinister plan afoot involving U.S. grain shipments to the Soviet Union. Getting to its roots becomes Elizabeth's and Philip's principal undercover objective. Their longtime Soviet handlers, Gabriel and Claudia (Frank Langella, Margo Martindale), are sprinkled in only briefly in the three episodes made available for review. They do have a blunt-spoken, telling exchange, though, in Episode 1.
"Noting scares those two," Claudia says of Elizabeth and Philip.
"Everything scares those two," he retorts.
There's also an even briefer sighting of a memorable supporting character. You'll have to wait until Episode 3, though.
FX is planning just one more season of
The Americans
beyond this one. The series continues to challenge the perceptions of viewers with alternately sympathetic and ruthless portrayals of Philip and Elizabeth. Her heart is hard when necessary. At one point, Paige's lament that it "felt gross" to lie to Matthew is countered by Elizabeth's matter-of-fact rationale that "being in a relationship is complicated. You don't share everything. You hold back what you need to. Everybody does."
Continued cold-blooded killing continues to be one of the hold-backs from Paige, with relatively innocent victims merely part of the collateral damage.
Season 5 of
The Americans
almost assuredly will round into form after a rather sluggish start compared to previous returns. In the initial three hours, the plot both thickens and sometimes congeals. What an electric avenue it could be, though, if a grizzled but thoroughly wily Elizabeth and Philip jetted roughly three decades into the future for their ultimate mission in Season 6. Yeah, that's extremely unlikely to fly. But oh how I'd love to see them give it a whirl.
GRADE:
B+
Email comments or questions to:
unclebarky@verizon.net