Scott Sams out at CBS11 after four-year stint as early morning co-anchor
03/24/11 05:03 PM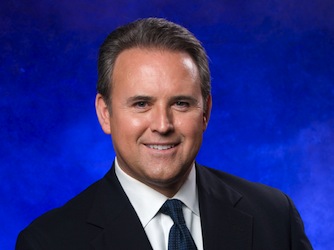 By ED BARK
Scott Sams, who joined CBS11 in April 2007 as co-anchor of the weekday early morning newscasts, has been let go by the station.
"We have decided not to renew Scott Sams' contract, but we thank him for his contributions during the four years he was with us, and we wish him well," CBS11/TXA21 communications director Lori Conrad said in response to an email query Thursday. "His replacement will be named at a later date."
Sams, who lately has teamed with
newcomer Lisa Pineiro
, joined the DFW-based CBS-owned station from KTEN-TV in Sherman, TX. Before that he had spent nearly 20 years at rival WFAA8 before the station parted ways with him in September 2004. Sams sued his old employer, with both sides eventually claiming victory after he received a portion of the monetary settlement he had sought for "wrongful termination."
Informed sources say that CBS11 has an interview scheduled next week with a possible early morning replacement,
David Rose
of Fox's KCPQ-TV in Seattle. Rose, a graduate of Dallas-based Southern Methodist University, has been with the station since July 2007 and currently anchors the 9 and 10 p.m. newscasts.
CBS11 continues to run fourth in the early morning news ratings race, in part because of its network's little-watched lead-out program,
The Early Show
.
Earlier this week, WFAA8 confirmed a
shakeup of its No. 3-rated early morning newscasts
, with Ron Corning hired from New York to replace incumbent co-anchor Chris Flanagan on April 25th. On that same day, Flanagan will become co-host of WFAA8's 9 a.m.
Good Morning Texas
program.