12/19/13 07:56 AM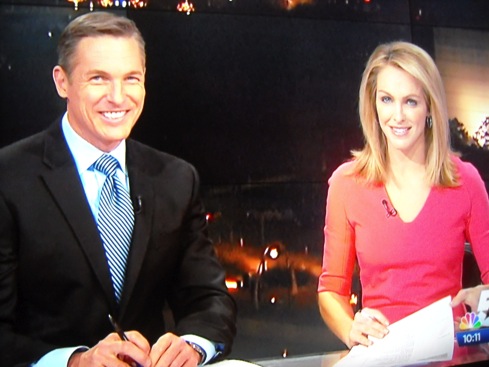 The Dallas Morning News has a new set of TV news friends, headed by lead NBC5 anchors Brian Curtis and Meredith Land. Photo: Ed Bark
By ED BARK
@unclebarkycom on Twitter
Separation anxiety levels at Dallas-based WFAA8 hit a higher gear with Wednesday night's announcement that the station's longtime synergistic partner,
The Dallas Morning News
, has formed a new alliance with Fort Worth-based NBC5.
In a joint publicity release, the two entities said their "multi-platform" partnership, effective Jan. 1st, will include
The Dallas Morning News
, dallasnews.com (the newspaper's website), nbcdfw.com (Ch. 5's website) and "local newscasts on NBC5 to start. Additional platforms and projects are anticipated in the future."
Besides "general news," the two former competitors "will join together on important content like weather, politics and breaking news," the release said. The content-sharing arrangement "will enhance the experience of readers and viewers," according to
The News
and NBC5.
Sources say that one of the early indications of the new partnership will be daily appearances by
Dallas Morning News
reporters on NBC5's 11 a.m. newscasts. The station also will be producing and airing commercials touting
The News
-- at no financial cost to the newspaper.
The new arrangement was spearheaded by
Dallas Morning News
managing editor George Rodrigue and former WFAA8 and CW33 news director David Duitch, who has been editor of dallasnews.com since July 2012. WFAA8 reportedly was approached but the two sides couldn't reach an agreement. WFAA8 management had no immediate comment Thursday morning.
WFAA8 already has been bracing for the formal takeover by Gannett Co., Inc., which
bought the station and Dallas-based Belo Corp.'s other TV properties
in mid-June. Gannett is expected to get the keys by late this year or early next year, ending WFAA8's long history as the D-FW market's only major locally owned TV station. NBC5, Fox4 and CBS11 are all properties of their respective networks.
Belo split into two supposedly separate entities in early 2008, with Belo Corp. retaining ownership of the TV properties while A.H. Belo took control of
The News
and several other smaller newspapers.
But although lessened, the cross-promotion between WFAA8 and
The News
continues to this day. The newspaper's weather page, on the back of the Metro section, is still adorned at the top by the beaming faces of WFAA8's weather team, headed by Pete Delkus. WFAA8 in turn has regularly referenced
Dallas Morning News
stories during its newscasts and occasionally also partnered with the newspaper on major breaking news and investigations.
The News
and WFAA8 are separated only by a driveway and a guard shack while sharing the same parking lot at their adjacent Young Street addresses in downtown Dallas. Under
The News
' new adversarial arrangement, that short distance between them might as well be a moat.
NBC5 recently
moved into a new state-of-the-art facility
-- dubbed The Studios at DFW -- located five minutes from the south entrance to DFW International Airport on 4805 Amon Carter Boulevard. Setting up shop at the 75,000 square foot building coincided with the closing of NBC5's Dallas offices.
In the November "sweeps" ratings, NBC5's first in its new studios, the station won at 5 p.m. in the total viewer Nielsen ratings while running close behind runner-up WFAA8 at 6 a.m. in both total viewers and 25-to-54-year-olds (the main advertiser target audience for news programming). In February NBC5 will have the Winter Olympics, which should provide a high-profile cross-promotional platform.
At its height,
The News
' synergistic arrangement with WFAA8 was far more than window dressing. Managers from both entities met daily to discuss cross-promotional strategies designed to stiffen Belo's news punch while crushing rivals such as NBC5.
The newspaper's eventual ban on critiques of local television news, initiated in early 2000, was a direct result of
The News
and WFAA8 being very much "in bed" with one another. It also happened to coincide with longtime WFAA8 anchor Tracy Rowlett's February 2000 debut on CBS11 as that station's principal anchor. Efforts to rescind the ban repeatedly were blocked at the Belo corporate level. And
The News
hasn't had a full-time television critic since September 2006, when this writer took a buyout and then
immediately fired up unclebarky.com
.
Perception-wise, the alliance with NBC5 is a blow to WFAA8, which has seen its ratings power diminished in recent years but remains the No. 1 news station at 10 p.m. in both key ratings measurements. WFAA8 is now left in very close proximity to an entity that will be plotting against it in league with the comparatively far-off NBC5.
Whatever changes Gannett is contemplating will begin unfolding in the coming year. Meanwhile, WFAA8 also will have to get used to NBC5 anchors and reporters branding and bonding with their new newspaper pal.
None of this would have seemed possible at the beginning of 2013. But now two shoes have dropped, with WFAA8 awaiting Gannett's marching orders while essentially being kicked to their adjoining Young Street curb by the newspaper that used to be its running mate.
Email comments or questions to:
unclebarky@verizon.net