08/21/12 10:03 AM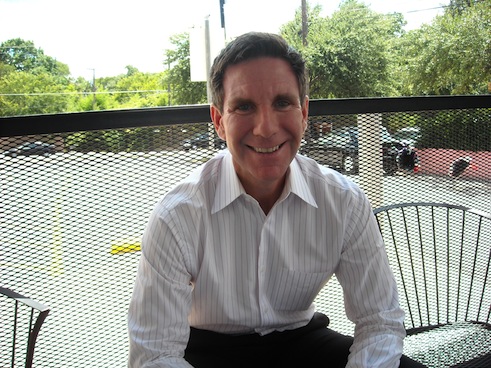 Jay Gormley is ready for his close-up. But is Hollywood? Photo: Ed Bark
By ED BARK
@unclebarkycom
Reporter by night, stay-at-home dad by day and independent filmmaker whenever the spirit moves, Jay Gormley jokes that when The End eventually comes, his tombstone will read "Almost."
Nearing 15 years of pavement-pounding at CBS11, Gormley and his longtime friend and collaborator, John Venable, are all too familiar with the ins and outs of the Hollywood shuffle. They've made movies together and apart. They've taken meetings with major studio representatives. And so far it's been mostly the same old story. A variation on the phony baloney "Let's do lunch" invite that ends up being cold turkey.
Gormley remains chipper but also cautiously optimistic during an interview at a Dallas coffee shop.
"It's a hobby that I would like to see turn into more," he says of his script writing and film directing. "But if it doesn't, it's not like I'm picking up trash off the streets. I've got a great job. I'm happy every day. I get paid to do the news. I mean, how great is that?"
He also got married in October 2009 to Robin Lisa Raxlin, a Dallas social worker and native of Toronto. They now have a son, Daniel Patrick, who's nearing his first birthday.
But Gormley still has a Beverly Hills-based manager. And his eighteen-and-a-half minute film,
Odds Or Evens
, recently was named "Best Community Short" at the Oak Cliff Film Festival after earlier making the cut for Oklahoma City's annual deadCenter festival.
Not only that,
Odds Or Evens
co-stars
Charles Baker
, best known to TV audiences as the recurring "Skinny Pete" on AMC's acclaimed
Breaking Bad
.
"We couldn't afford his day rate, but he liked the script so much that we worked something out," Gormley says. Accomplished Fort Worth-born actress
Lydia Mackay
shares the screen in a film that deftly caps its morality tale with a climactic twist.
Gormley prefers writing in this fashion. "I like to see jaws drop. Things like that," he says.
Back in 2005, Gormley and Venable thought they might be in the fast lane with their script for the full-length
$30,000 Millionaires
. They teased the proposed movie at Dallas' Magnolia Theatre after a screening of their 11-minute short film
Bachelor 37
. "Coming soon. Soon as we have the money to film it," it said on the big-screen as the audience enthusiastically applauded the surprise ending of the darkly comic
Bachelor 37
.
They hoped to raise $1 million for
$30,000 Millionaires
, a comedy about "five vacuous Dallas bachelors striving to maintain upscale lifestyles via maxed-out credit cards."
But "we found out we were lousy at raising money. So we shelved it," Gormley recalls. He moped for a while until Venable coaxed him into collaborating on another full-length effort,
Karma Police
, filmed on a shoestring budget in Dallas in early 2007. It was primarily Venable's film, with a cast that included John Wesley Shipp (best known as Dawson Leery's dad on
Dawson's Creek
after earlier playing the title role in the short-lived 1990 CBS series
The Flash
).
Although it was entered in five film festivals,
Karma Police
ended up going pretty much nowhere. It remains alive, though, via
karmapolicemovie.com
.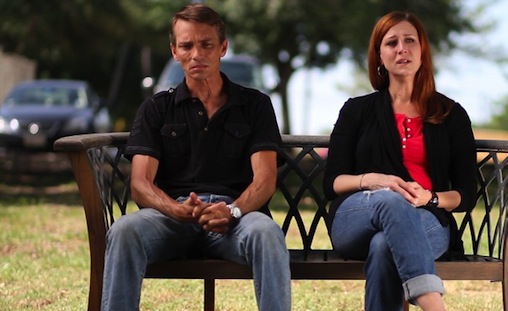 Charles Baker & Lydia Mackay in Odds or Evens. Photo from Jay Gormley
While
Karma Police
languished, interest rekindled in Gormley and Venable's
$30,000 Millionaires
. In 2009 they were contacted by
Sheree Guitar Entertainment
, a Hollywood name if ever there was one.
Guitar told them she "loved"
$30,000 Millionaires
, but the script needed to be reworked. Then came another call, from
Dune Entertainment
, which is in a partnership with 20th Century Fox films. Gormley and Venable met twice with Fox studio executives and "participated in numerous conference calls" while spending another year re-working the script for
$30,000 Millionaires
.
They were then passed over to Fox Searchlight Pictures, whose reps told them they had "the next
Hangover
." Just re-work the script some more.
But Fox Searchlight quickly passed. So it was back to 20th Century Fox for more re-writes. This went on for another nine months but "for some reason we just fell off the radar," Gormley says. "They didn't do anything with it. We never signed a contract with them. I've got a fully developed script that never got walked into 20th Century Fox."
Undeterred, he's now writing a pilot for a proposed TV drama series. Its title is
Frat Lines
and it's set in what Gormley calls "the underground 1980s of dark warehouse nightclubs and over-indulgent parties."
The overall premise: "A group of college students fall on hard financial times after a tragic chain of events. They hatch a plan to form a fraternity as a mere front to run an organized crime ring. Their influence soon exceeds campus boundaries to ultimately become one of the most powerful syndicates in the city."
Gormley envisions it as "
Breaking Bad
meets
Boardwalk Empire
meets
Entourage
."
It just might be that he's deluding himself. But Gormley, regularly in league with Venable, has been writing screenplays since 2002. Interest wanes and then heats up again. The fun is in the trying, and there's no harm in that. He'll keep his night job at CBS11 for as long as the station wants his services. Street reporting is in his blood, too. But it would be nice to some day have a second career option. What if one of his screenplays finally hits it big? And then Hollywood suddenly keeps crying out for more?
"That bridge seems far off," Gormley says. "I can't even imagine a world like that."
The End. Until the next chapter.