03/16/12 12:59 PM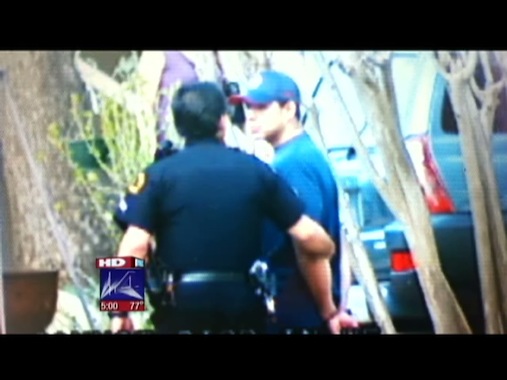 Fox4 captured Thursday's arrest of Dallas firefighter Jesus Ventura.
Fox4 photo
By ED BARK
D-FW television stations remain juvenile in their refusal to name names when it comes to a rival station's reporting. They simply leave viewers to guess.
WFAA8 took this to extremes Thursday night, leading off its 10 p.m. newscast with questions about whether that day's late afternoon arrest of Dallas firefighter Jesus Ventura came after police played favorites with a competitor.
In the words of reporter Jason Whitely, "An internal affairs investigation is underway as we speak to see if a group of officers staged the fireman's arrest, all for a local TV station."
Whitely's reporter made two more generic references without ever specifying that Fox4 was the station in question. Ventura is being charged with "deadly conduct" after allegedly waving a handgun inside Fire Station 45 in West Dallas. A bullet reportedly was discharged in the process.
Rebecca Lopez is WFAA8's principal police reporter. But Whitely served as point man Thursday night. His story referenced a police statement that said in part, "It appears these officers may have conducted their operation outside of proper department protocol, but with the approval of their supervising lieutenant. Their execution of the warrant also appears to have occurred concurrently with the arrival of a singular media outlet at the scene."
Whitely also reported that Ventura's arrest came while a separate operation by the Dallas Police Public Integrity Unit was underway in hopes of getting Ventura to voluntarily surrender.
Outwardly at least, it seemed that WFAA8 was taking a sour grapes approach after an "only on Fox4" story with video of Ventura's arrest topped the station's Thursday 9 p.m. newscast. But Fox4 took pains to explain what had happened both during and after reporter James Rose's live report.
Rose said that he and cameraman Raul Cantu were getting ready to knock on the door of Ventura's Irving residence when "an unmarked car sped up to us and said we were walking into a police operation. So at that point we stepped back."
Armed police then arrested Ventura within minutes, Rose said, while the station rolled video.
Fox4 co-anchor Steve Eagar then read the same police statement that Whitely recited from.
"I'm not sure what 'protocol' they were talking about," Rose replied. "But Raul and I were simply walking up to the last known address for Jesus Ventura, and it was the address they were about to raid, unbeknownst to us."
"You didn't get tipped off by a police officer or anything like that, right?" Eagar asked.
"We were simply 'running the traps,' as you say, doing our job, due diligence to get his side of the story," Rose said, adding that "we witness arrests day in and day out. That's part of our job, to witness what goes on in, you know, the world."
Eagar finished things off by telling viewers that "police haven't called us to ask any questions as to why we were there, whether we got tipped off."
Sources close to the situation say that Fox4
did
get a call from WFAA8, which wanted a "statement" from the station regarding Rose's presence at the arrest site. No statement was forthcoming, but WFAA8's Whitely easily could have included at least a small portion of the "singular media outlet's" explanation and its unequivocal denial of any willful participation in a "staged" arrest. After all, Rose's report aired a full hour before WFAA8's 10 p.m. newscast kicked in.
The WFAA8 report instead emphasized the police department's "internal investigation" while leaving most viewers puzzled about what station may have benefited from any alleged staged police arrest.
WFAA8 president and general manager Mike Devlin currently has a standard "no comment" policy on any inquiries from unclebarky.com. And a New York-based corporate spokesperson for Fox4 said the station likely will have no further statement beyond what Rose reported Thursday night.
WFAA8 is not alone in failing to specifically credit -- or discredit -- a rival local station's exclusives. Fox4, NBC5 and CBS11 behave in the same manner, although none of them to the extent that WFAA8 did Thursday night.
All four of them should grow up at least a little. Here are the sharply contrasting videos from WFAA8 and Fox4.