06/28/09 11:10 PM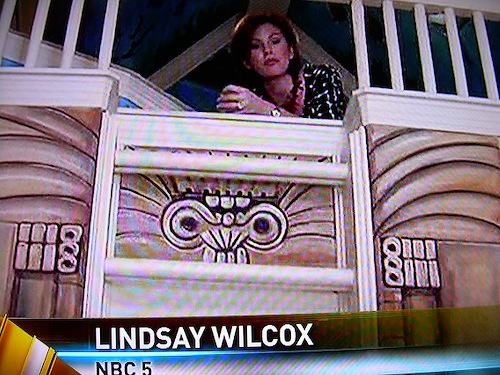 Lindsay Wilcox "reports" from a $1 million home. Photo: Ed Bark
By ED BARK
NBC5's definition of news long has been looser than its competitors.
Even so, the Fort Worth-based station outdid itself last week with a
quintet of 10 p.m. newscast "reports"
that played much more like
Hot on Homes
segments. That's the half-hour infomercial currently airing Sunday mornings on CBS11 after previously residing on WFAA8.
Assisted by the DFW Metrotex Association of Realtors, NBC5's Lindsay Wilcox gushed about three available homes per newscast, with prices beginning in the $150,000 range Monday and ending with a trio of million dollar babies on Friday.
A Richardson mini-mansion, for instance, "features a media room the kids will love and whimsical bedrooms where their imaginations can soar," Wilcox trilled in her closing segment. Another home, resembling a castle on the outside, includes "a master bedroom fit for a king and queen."
Throughout the week, various realtors also chimed in with their praises of the properties they're trying to unload. At NBC5, credibility is for sale, too, although that's really nothing new. Thinly disguised infomercials regularly inhabit the station's 10 p.m. newscasts, home of "Big Fat Savings" segments that amount to wet kisses for various area merchants. The station's owner, NBC Universal, is super-bullish on in-program "product placement" arrangements. So why should newscasts be exempted?
An unclebarky.com reader and journalism school graduate who saw some of Wilcox's segments sent a plaintive email that asked in part, "Has station management completely sold their soul? How can the station's 'news professionals' go along with this?"
NBC5 in fact still has some solid, resourceful reporters -- Randy McIlwain, Scott Gordon, Ellen Goldberg to name some. But virtually every reporter at every TV station or newspaper in town is afraid to speak out for fear of losing their jobs or getting suspended.
That goes both internally and externally. You keep your mouth shut -- period. And in times of rampant downsizing, the paranoia is all the more palpable. In fact it's not even paranoia. It's a stone-cold reality.
My feeling is this. If week-long infomercials such as Wilcox's represent local TV newscasts of the future, then simply replace them with a game or talk show and move on. You'd be performing a public service. Which oddly enough is what newscasts used to be.
Here's video of Wilcox's Friday "report" on three $1 million homes awaiting adoption: