04/29/11 12:19 PM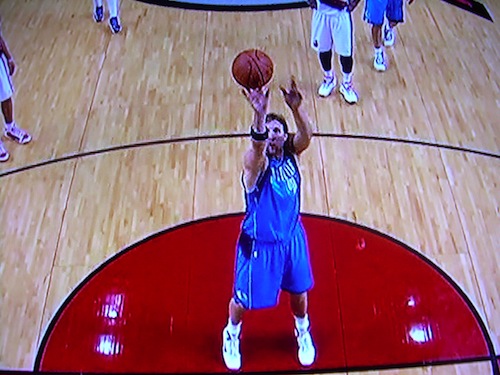 Dirk was work of art from foul line in 4th quarter. Photo: Ed Bark
By ED BARK
The Dallas Mavericks closed out Portland on Night 1 of the May ratings "sweeps" while Round 1 of the NFL draft, Steve Carell's last episode of
The Office
and
American Idol
also vied for attention.
Idol
's 7 p.m. results show on Fox was Thursday's most-watched attraction with 475,096 D-FW viewers, edging the late night Mavs-Blazers playoff game on TXA21 and TNT (an average of 443,244 viewers). For the first time, though TXA21's homegrown telecast (the last one it will have) reached parity with TNT's national presentation. Both averaged 221,622 viewers for a game that ran from 9:40 p.m. until 12:12 a.m.
ESPN's prime-time coverage of the NFL draft ended up wearing the cable sports ratings crown, averaging more viewers (256,251) than TNT's portion of the Mavs game. But it had the advantage of airing in earlier hours, and was almost finished by the time the Mavs and Blazers tipped off.
Back in the broadcast network universe, Carell's sign-off on an extended version of NBC's
The Office
drew 207,771 viewers, to run fourth behind ABC's
Grey's Anatomy
(290,873 viewers), Fox's
Bones
(270,102) and CBS'
CSI: Crime Scene Investigation
(214,697), all of which offered new episodes. But
The Office
trailed only
Grey's Anatomy
among advertiser-coveted 18-to-49-year-olds.
Among non-sports attractions, CBS'
The Mentalist
as usual won the 9 p.m. hour in total viewers while ABC's
The Practice
had the most 18-to-49-year-olds.
In local news derby results, Day 1 of the sweeps brought twin wins for CBS11 at 10 p.m. Opening the defense of its February crowns, CBS11 edged WFAA8 in total viewers and also won by a narrow margin (over NBC5) among 25-to-54-year-olds, the main advertiser target audience for news programming on most stations.
NBC5, doing better in the early mornings of late, rang up narrow wins over Fox4 at 6 a.m. in both ratings measurements while WFAA8 placed a distant third and CBS11 again was a fourth-place non-factor.
WFAA8 started strongly at 5 and 6 p.m. by running first in total viewers while NBC5 likewise flexed by winning both competitions among 25-to-54-year-olds.
WFAA8 literally was all over the map with its ambitious 10 p.m. newscast. Weathercaster Pete Delkus and reporter Jason Whitely both reported live from Tuscaloosa, Alabama on the widespread tornado devastation. Their pictures and accounts were both vivid and heart-rending.
Investigator Brett Shipp journeyed to Hollywood, Fla. for part of his report on a local Americans with Disabilities Act activist who has filed hundreds of lawsuits against various restaurants in North Texas and elsewhere. But a number of them seem to be without merit, Shipp found.
The station also sent reporter Steve Stoler to Los Angeles, hub of the "cult" In N Out Burger franchise that will be opening eateries next month in Frisco and Allen. Stoler's report had some good information, but lacked one essential. He neglected to try one of the sainted burgers himself -- at least on camera.
Still, it was a highly distinctive newscast, although without much of a ratings payoff for the travel money spent. Some of that may have been because of the competing Mavericks-Blazers game. But WFAA8 clearly is serious about finding ways to regain its No. 1 standing at 10 p.m. in a month where it stands to get more support from its network than it did in February. That's because ABC now has two strong 9 p.m. dramas --
Castle
and the new
Body of Proof
-- and also will inherit a climactic big-lead in audience from the latest
Dancing with the Stars
finale.