02/21/13 01:26 PM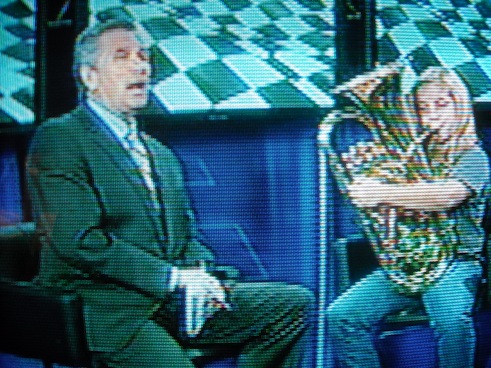 Fox4 sports anchor Mike Doocy rocks to "Twinkle, Twinkle Little Star" on Wednesday's 9 p.m. newscast. Hey, it's a living. Photo: Ed Bark
By ED BARK
@unclebarkycom
As the years advance, you do what you have to do to survive in the (not always) glamorous and exciting world of local TV news.
Veteran Fox4 sports anchor
Mike Doocy
is a survivor. And in recent months he's
worn a clown nose
for a Shrine Circus live shot and
driven all the way
from Dallas to the Cowboys' Oxnard, CA training camp to save the station a few bucks.
Fox4 turned his nearly 1,500 mile journey into an ongoing promotion, with Doocy playing along as a veritable Columbus discovering the joys of small-town America rather than flying over them.
Now the amiable Doocy has devoted his last two 9 p.m. newscast sports segments -- in their entireties -- to live in-studio interviews with kids.
On Tuesday he sat down with 15-year-old Brandon Holmes, who was accompanied by his mom. His new Twitter feed (
@Silence4Josh
) calls on fans to greet former Texas Rangers slugger Josh Hamilton with one big hush instead of boos or cheers when he returns to Rangers Ballpark for the season opener.
"I hope for Josh to be super-confused and to not even know what's goin' on," Holmes told Doocy, who hung in there while perhaps playing "If I Had Time In A Bottle" in his head.
Wednesday's 9 p.m. sports segment found Doocy sitting with 11-year-old Kamera McDonald, who races Bandolero cars at Texas Motor Speedway. Kamera also is a big admirer of Danica Patrick, who earlier this week became the first woman driver to win the pole position at the upcoming Daytona 500.
"You've crashed a few times. What's that like?" Doocy gamely asked.
"It's really scary," she said.
Doocy, also known to break into song when the mood suits him, then asked Kamera to demonstrate her prowess on the euphonium, which basically is a miniature tuba. She oom pah pah'd her less than listenable version of "Twinkle, Twinkle, Little Star" while Doocy sang a few bars to close out the segment.
There are lots more kids out there if Fox4 wants Doocy to stay on this path. Four-year-old Timmy Hyperdrive is a renowned T Ball slugger whose preference for running the bases backwards has made him a youtube sensation. And 13-year-old Maggie Mae Metroplex not only admires Olympic gold medal gymnast Gabby Douglas but can rub her head, spit and run in place at the same time. Plus she plays the accordion while twirling a baton.
Oh but we kid The Dooc, who has shown he can take it. And while we're on this subject, CBS11 sports anchor
Babe Laufenberg
made a pretty big deal Wednesday night about his walk-on role for the Winspear Opera House production of
Anything Goes
. Doocy has bigger minnows to fry than that.
AND IN OTHER NEWS
Let's stick with Fox4 for the moment. Because there was plenty to talk about Wednesday besides Doocy.
Street reporter
Calvert Collins
, a generally solid and still relatively new addition to the night team, was given more than a little too much time for a prominently played story on two Denton High School seniors whose one-paragraph essays were rejected by their teacher because both mentioned guns.
The two boys were asked to briefly write about something they enjoyed. One talked about going to a sporting goods store with his mom to buy a gun. The other said he had a good time at a gun show.
One of the boy's mothers, Kimberly Williams, is all revved up about this. So much so that she secretly recorded her encounter -- both video and audio -- with the teacher. Whom she kept interrupting, although he kind of danced around with his answers.
The school eventually issued a statement saying that the teacher has "accepted" the papers and apologized for "any misperceptions." The intent, the school said, was for guns "not to be trivialized" in light of recent school shootings.
At least one of the boys is still torched and so is the mom. And one of Fox4's two nightly "Your Turn" segments predictably featured Facebook commenters who mostly railed against the teacher.
The whole thing was trumpeted as "Teacher Triggers Backlash." It could just as easily have been titled "Trivial Matter Makes for Exploitative Ratings Sweeps Story." Reporter Collins told the story without any indue theatrical flourishes. But really, this is a lot of ado about essentially nothing. And co-anchor
Heather Hays
pretty much said as much, urging everyone to just move on.
***
Hays also reacted viscerally to a "Deal or Dud" story on a ridiculous product called the Wax Vac. Consumer reporter
Steve Noviello
eventually dismissed it as a dud after a civilian tester found that the thing really didn't remove anything from ears he hadn't cleaned for a week. He then used a cotton swab -- almost deemed a lethal weapon in ads for the Wax Vac -- to ferret out some of his yellow stuff. A doctor interviewed by Noviello said that ear wax really isn't a problem at all, and usually works its way out of ears by itself.
Co-anchor
Steve Eagar
then happily noted Hays' off-camera discomfort while the story aired. That's because it "grosses me out," she said. "I don't want to see somebody's ear wax. I don't want to talk about ear wax." Always a good policy.
***
Longtime Fox4 investigator
Becky Oliver
weighed in on a popular ratings sweeps topic -- DFW Airport security. Rival stations also have mined this topic.
Oliver interviewed two airport worker informants in silhouette. They said that clean-up crews oftentimes board planes by using just one person's badge while the others "piggyback" their way through what's supposed to be a secure door. Her story had the video to prove it. And an elderly aviation and security expert of course took offense. "It concerns me tremendously," said Denny Kelly.
No DFW Airport official would comment, Oliver told viewers. Her story perhaps will lead to some changes. And if it does, she'll definitely tell you about it. Still, it's questionable whether all of this really represents a clear-and-present danger to travelers.
***
Eagar also had a brief "reader" with video on the resignations of the counseling staff at Haggard middle school in Plano. Under the terms of a financial settlement, the staffers agreed to keep quiet about why they left.
"Concerned parents will now likely
never
know why the counselors quit," Eagar said with some aggravation in his voice.
Fair enough. But this is
exactly
how virtually all media companies -- including Fox4 -- handle any dismissals or sudden resignations of their on-camera employees. Enough said.
***
All four stations led their newscasts with weather segments tied to possibly calamitous morning commutes Thursday. But the weather ended up pretty much behaving itself. For the second straight night, WFAA8 forecaster
Pete Delkus
was the only one to strip down to his shirtsleeves in these opening salvos. Sigh, this communicates "urgency."
***
WFAA8's showcase story otherwise was reporter
Jason Whitely
's extended and decently done portrait of Willie Nelson, who turns 80 in April. Prime-time teases showed Whitely asking Willie, "Are you smoking any more or less marijuana these days?"
Nelson's grinning answer during the full story: "I think so. I think you've nailed it right there."
Whitely stayed well within the boundaries of Texas to do the piece, which also included some time with Nelson's guitar-picking son, Lucas. WFAA8 for the time being has dropped its "Crossing State Lines" promotional gambit in which reporters traveled far and wide for stories with Texas angles.
***
WFAA8 and NBC5 both had stories on four Fort Worth dry-cleaning stores that abruptly closed with their customers' garments inside. The state shuttered them after the owners fell far behind in paying their sales taxes.
NBC5's
Amanda Guerra
emphasized in her story that pickup times were posted on the stores' windows. One customer who had made two trips in vain said he was satisfied with that, and would return on Thursday.
On WFAA8, new reporter
Todd Unger
made no mention of this accommodation. Instead he told viewers, "There just isn't any way to get them out." And later, "Forget about a quick turnaround on those trousers. Try no turnaround at all."
It was left to co-anchor
John McCaa
to note
after
the story that some pickup times had been arranged. He referred viewers to the station's website for more information -- when it should have been in Unger's piece.
***
CBS11 continued to make plenty of room for its newly formed "i. Team" investigative unit. In fact the station has gone a little i.Team overboard in some cases.
But on Wednesday's 10 p.m. newscast, investigator
Jason Allen
had an informative and in-depth story on what appear to be withering prospects for the once heavily hyped Barnett Shale exploration for natural gas. Drillings fell last year to their lowest level in a decade, Allen said. And those ubiquitous Tommy Lee Jones ads -- which Allen didn't mention -- are now long gone.
This brings us to an end for this particular series of "This Just In" looks at the late nighters on Fox4, NBC5, WFAA8 and CBS11. Five consecutive nights are about all I can withstand, even though it's always good to see good work amid the other stuff -- and highlight it in these spaces.
The ongoing February "sweeps" ratings period ends on Wednesday, Feb. 27th. And we'll have our usual complete ratings breakdowns on the following day.
unclebarky@verizon.net