This just in: a night in the lives of D-FW's late night newscasts (Mon., Feb. 18)
02/19/13 03:54 PM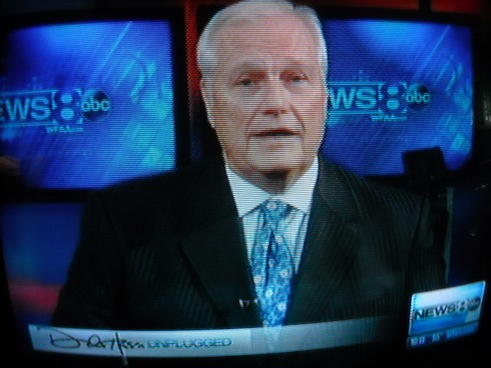 WFAA8 sports anchor Dale Hansen enlisted in the fight against domestic violence Monday during the station's 10 p.m. newscast.
Photo: Ed Bark
By ED BARK
@unclebarkycom
Never shy about stating his opinions, WFAA8 anchor
Dale Hansen
again went "Unplugged" Monday during the station's 10 p.m. newscast.
The timing was a bit different. Rather than wait until his regular sports segment, Hansen stepped in immediately after reporter
Janet St. James'
very good piece on domestic violence and the biblical hold it still has on some women.
Her featured subject, Connie Nash, stayed in her abusive marriage for 25 years rather than break the " 'Til Death Do Us Part" commitment she made in church on her wedding day. Her pastor, she said, urged her to work things out or be banned from her church. She's now banned.
Co-anchor
Gloria Campos
then set the table for Hansen by saying he'd be "speaking from personal experience."
This isn't all that unusual on his part. During the 2008 Christmas season, as part of his
annual "Thank God For Kids" commentary
, Hansen pointedly called out his own two adult children. In part blaming himself for being an absentee father, he also told viewers that if his kids found themselves in a homeless center, "my son would be the one at the table complaining about the quality of the soup. And my daughter would be complaining that he had a bigger bowl than she did."
That's some pretty tough love.
Hansen drew even more attention for his
30th anniversary "Thank God For Kids" segment
in December 2011. Linking it to the Penn State University sexual abuse scandal, Hansen said that he also had been sexually assaulted as a 10-year-old boy in small-town Iowa. Not by his father, but by a 16-year-old boy who coaxed him to a vacant baseball field and then "threw me to the ground and pulled at my pants."
"He had my pants below my knees before he decided o let me go," Hansen said. "And I don't know why." Hansen said he never told anyone about this until going public in a televised forum.
On Monday night's commentary, Hansen said that he witnessed his late father hit his wife only once. "But he broke her nose," Hansen recalled.
His dad was a big burly truck driver and one of the physically strongest people he's ever known, Hansen added. But in that instance, "never has a big man looked so small in the eyes of a little boy."
Hansen also noted in the commentary that "I've laughed at the jokes, I've told some of the jokes" about men hitting women."
This rang a bell. Because much earlier in his career at WFAA8, Hansen found that such a joke at the expense of his wife did not go over well with either station management or many viewers. So here's the rest of the story, while also noting that Hansen has grown up considerably in the many years since. It just took a while for him.
Back in the fall of 1988, Hansen told viewers on WFAA8's 10 p.m. newscast about actress Robin Givens' statement that her marriage to boxer Mike Tyson had been "torture" and "pure hell."
He then couldn't resist adding, "Now if my wife said that about me on national TV, I'd slap her upside the head, too."
Fellow middle-aged male anchors John Criswell and the late Chip Moody joined Hansen in grinning at that one-liner. But the WFAA8 switchboard lit up, prompting station management to require Hansen to apologize the following day on the 5,6 and 10 p.m. newscasts.
As I reported at the time, Hansen duly did so, but wasn't exactly contrite about it. He mentioned that he'd been getting big laughs on the banquet circuit in the past year by telling a similar joke "hundreds of times to thousands of people."
"I think the power of television has unfortunately distorted what I said and what I meant," Hansen told viewers. "And I'm always sorry about that."
In a subsequent off-camera interview, Hansen said he was "terribly sorry that it's been twisted and interpreted as some kind of rationalization for wife-beating. I just never saw that at all. I just walked off the set and never thought another word about it. And then all hell broke loose."
He dug a bigger hole for himself after being asked whether a woman's presence at the anchor desk might have deterred him from making the joke. In those days, WFAA8's 6 and 10 p.m. newscasts were stocked entirely with middle-aged white anchors.
A woman camera operator working that night's newscast "was laughing harder than anyone" at his "slap her upside the head joke," Hansen responded. "Quite frankly, I would have enjoyed it more if Phyllis Watson or Iola Johnson (both former WFAA8 anchors) had been sitting there."
It's been nearly 25 years since that incident. "When you're basically perceived as a smart aleck sportscaster who shoots from the hip, you leave yourself open to making a mistake," Hansen said at the time.
I wrote this at the time and will say it again: "Hansen's strong point, on- and off-camera, is his willingness to speak his mind and then face the music if necessary. Having said something stupid, he didn't shrink from the consequences or refuse to answer questions from a television critic who likewise has written some dumb columns over the years."
During Monday night's "Unplugged" segment, Hansen urged viewers to attend a Saturday, March 23rd anti-domestic violence rally called by Dallas mayor Mike Rawlings. It's scheduled to start at 10 a.m., and Hansen pledged to be there.
"We have been quiet too long, saying it's none of my business when it's everybody's business," he said on the air. "It is a blight on our city that has no boundary. It knows no color."
Hansen no longer would defend or brush off what he said back in 1988. He now says, "Real men who are gentlemen don't hit women." Or joke about it for that matter.
AND IN OTHER NEWS
Both Fox4 and CBS11 used homemade video, taken by a Carrollton man, of two bobcats making menacing noises at one another on a neighborhood front lawn. But only Fox4 put things in perspective via a live in-studio interview with Bonnie Bradshaw of 911 Wildlife.
Whether you fully believe her or not, Bradshaw told co-anchor
Heather Hays
that the bobcats were merely working things out "about whose territory they're in." Furthermore, they pose no threat at all to humans, even young children, she said. And they would have run off if the man taking the video had gotten out of his truck.
Later, during the station's nightly "Viewers' Voice" segment, "Matt from Keller" said via email: "I cannot believe y'all let that lady on there and have her say that those bobcats pose no problems for people, even children!! Your (sic) gonna get some killed or severely mauled!! These are wild animals, not some big kitty cat."
The ringmaster of "Viewers' Voice," co-anchor
Steve Eagar
, replied, "I agree with the concern. But she
is
an expert. So . . ."
***
NBC5 lead investigator
Scott Friedman
had that station's lead story -- about whether some cities might be "more concerned with crashes or cash" when it comes to the oftentimes big money dollars collected via so-called "red light cameras."
Co-anchor
Meredith Land
first laid it on a little thick, telling viewers, "We're starting with an NBC5 investigation
THAT EVERY DRIVER MUST SEE!
"
Friedman, one of D-FW's better TV gumshoes, took a more restrained approach. A variety of city spokespeople of course told him that driver safety was the end-all concern. All denied any strategic re-deployments of red camera lights if certain intersections weren't pulling in enough money from automatically generated traffic tickets. Whatever the total truth, it can be a multi-million dollar revenue-enhancer, Friedman underscored.
***
CBS11's
Andrea Lucia
had a story on a Plano couple who also happen to be rabid Ohio State fans. Their array of paraphernalia includes a green "Buckeye leaf" bumper sticker that was mistaken by a Tennessee highway patrolman for a marijuana plant. He eventually let them off, but said it needed to be removed. That hasn't happen, and Mr. and Mrs. Buckeye now are acting pretty defiant.
CBS11 news director
Adrienne Roark
is an Ohio State alum who delights in her alma mater's sports victories over my school, the mighty University of Wisconsin. Perhaps she was still smarting over Bucky's 71-49 pasting of Ohio State in Big Ten hoops action Sunday. But the Buckeyes won this season's first matchup and last fall beat the UW in overtime on the football field. So we're not nearly even yet.
Bucky, of course, would never condone a facsimile of a pot plant. In Badgerland, we instead tend to . . . oh, never mind.
***
Finally, CBS11 investigator
Ginger Allen
's OK piece on computer virus peddlers -- billed as a "major threat to your personal information" -- got a rather oddly collegial thumbs-up from co-anchor
Doug Dunbar
"Good stuff, Gins," he told her. Dunbar seems to have a George W. Bush inclination to give nicknames to CBS11 staffers. But it's not really working for him -- at least during a newscast.
unclebarky@verizon.net