06/05/17 02:13 PM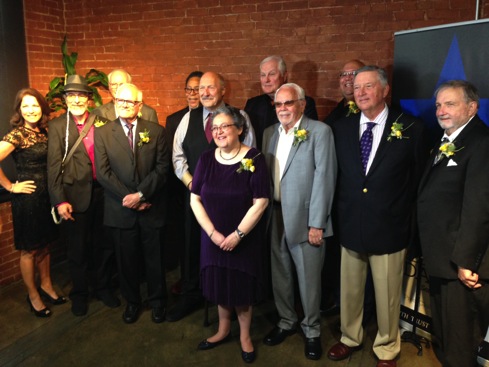 Group shot: all North Texas Legends honorees are pictured except Tom Joyner, who didn't attend due to "unforeseen circumstances" on the day of the event, according to a representative. Photos: Ed Bark
By ED BARK
@unclebarkycom on Twitter
A sold-out house at the Sixth Floor Museum in downtown Dallas witnessed the inductions of 13 new North Texas Legends Saturday night before Mayor Mike Rawlings capped off the event by ribbing honoree Dale Hansen and then championing the Press Club of Dallas.
It was the Press Club's seventh annual such ceremony, with the D-FW market's equivalent of a media Hall of Fame now boasting a total of 95 members.
The night's only no-show was trailblazing radio personality Tom Joyner, who became famous in the 1980s as the "fly jock" who for eight years originated shows from both Dallas and Chicago. An email sent on the morning of the event from one of his representatives said that Joyner would not be attending due to "unforeseen circumstances." Sybil Wilkes, co-host of the Dallas-based
Tom Joyner Morning Show
, accepted on his behalf. She said he was extremely honored. Joyner's son, Tom Joyner, Jr., was in the audience along with contingents from both the radio show and The Tom Joyner Foundation.
In contrast, some honorees made yeoman efforts to attend, which had been the only prerequisite for induction. Yolette Garcia, the former KERA TV/radio stalwart, canceled an already arranged trip to Boston for her 40th college reunion. And country music radio giant and songwriter Bill Mack, who turned 85 on Sunday, journeyed from Fort Worth with his wife, Cindy, before making his way back to the city for an already planned birthday celebration by his family. It's why he made his remarks first at Saturday's ceremony.
Previous North Texas Legends honorees in attendance included Tracy Rowlett, David Finfrock, Scott Murray, Sylvia Komatsu, John Anders, Carolyn Barta, Carlton Stowers, Helen Bryant Anders, John Gudjohnsen, Mike Corcoran and Press Club Board members Hugh Aynesworth and Jo Ann Holt Caussey.
Catering was by Chad Houser and his downtown Dallas
Cafe Momentum
, which is dedicated to turning the lives around of "at risk youth" who have spent time in juvenile detention facilities. A total of
22 sponsors paid $250 apiece
in support of North Texas Legends and/or various recipients. NBC5 anchor/reporter Cory Smith emceed. Your friendly content provider was privileged to be the event's principal chair and also a member of the nominating committee.
Here are a few highlights from the speeches of the 12 honorees in attendance, along with pictures from the event.
Radio giants/honorees Norm Hitzges and Bill Mack.
BILL MACK
-- Radio's king of the country music road also wrote LeAnn Rimes' first hit song,
Blue
, which in 1996 won a Grammy Award for "Best Country Song." It clearly was the highlight of his 65 years in broadcasting.
"We take that Grammy with us everywhere," Mack said, also referring to his wife, Cindy. "I mean, it's on the breakfast table . . . That Grammy sleeps in bed between us. It's her choice."
MIKE BLACKMAN
-- The former executive editor and vice president of Fort Worth's
Star-Telegram
noted that he flunked English in college, but that some people always believed in his ability to write stories.
"I can't think of anything I would have rather done than work in journalism for the past 50 years," Blackman said, even though he termed it "all an accident."
BILL DEORE
-- For 34 years, his editorial cartoons and sports illustrations were a staple of
The Dallas Morning News
.
But DeOre said that many had come to the
DMN
drawing board before him, including the legendary
John Knott
.
"This is just as much for them as it is for me," he said of his award.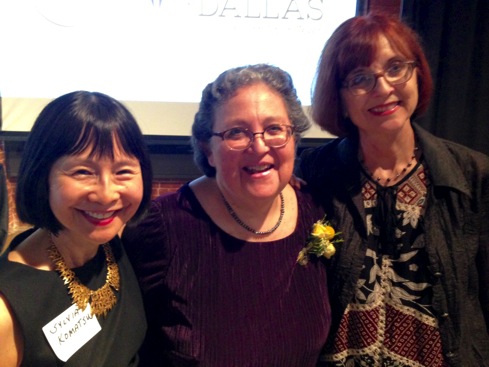 Strong KERA ties: Sylvia Komatsu, Yolette Garcia, Marla Crockett
YOLETTE GARCIA
-- Now an assistant dean at Southern Methodist University, Garcia joked that her stories about a 25-year career at KERA "are not as good as our pledge drives."
"It is the public that I am indebted to more than anything," she said before stressing that "good journalism has to be a mainstay in these confusing times."
BYRON HARRIS
-- The awards-laden former WFAA-TV investigative reporter said he had "a lot of fun" in that capacity. "Thanks for giving me an award for it."
"Just remember," he added. "Journalism really is a way of living."
NORM HITZGES
-- Still going strong at KTCK ("The Ticket") radio, the trailblazing sports talker noted that he began his career as a TV sports anchor at KDFW-TV (Channel 4), where he got fired.
"Our consultants don't think you'll ever be a major market talent," he said his bosses told him. "Thank
God
they were wrong."
Hitzges said with relish that he's now celebrating 42 years in sports talk radio.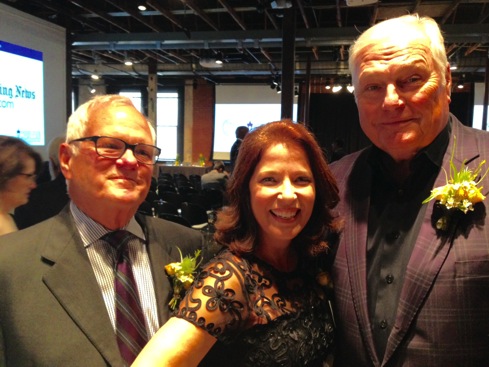 WFAA inductees Byron Harris, Janet St. James, Dale Hansen.
JOHN JENKINS
-- A native of tiny Hitchcock, TX, Jenkins said he "wanted to be like Blackie Sherrod -- until I found out he wasn't black."
He instead became one of the first African-American photographers at both KDFW and WFAA before recently retiring as NBC5's news operations manager after 16 years in that position.
"Along the way, my goal in life has always been to help someone," Jenkins said, adding that it would be fine with him if his tombstone read, "He Helped Somebody."
JOHN LUMPKIN
-- After a long career with the Associated Press, he spent five years as director of the Schieffer School of Journalism at Texas Christian University.
Lumpin said he's now very content to be a "professional grandfather."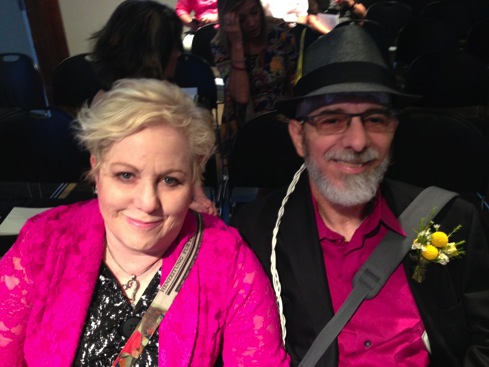 Honoree Jeffrey Weiss of The Dallas Morning News & wife, Marnie.
JANET ST. JAMES
-- She became the gold standard for medical reporting during 19 years at WFAA before leaving to take an executive position with Medical City Healthcare.
"I am more than honored that someone would speak my name with the true legends in this room," said St. James, who also is a breast cancer survivor after being diagnosed just before starting her new job.
JEFFREY WEISS
-- He joined
The Dallas Morning News
in 1988, eventually becoming the paper's head religion writer. But at first, "I was always curious about things and I would find odd things to write about," which the
DMN
encouraged, he said.
In December of last year, Weiss was diagnosed with the brain cancer glioblastoma, and has been writing about living day to day with his illness.
"Journalism has never been more important," he said. "It never has. Let me tell ya, stick with it."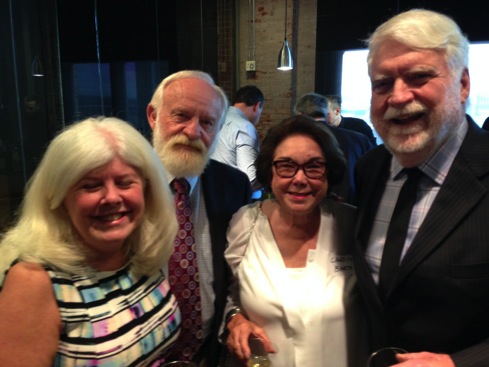 Previous Dallas Morning News North Texas Legends honorees Helen Bryant Anders, Carlton Stowers, Carolyn Barta and John Anders.
DALE HANSEN
-- "I am incredibly honored to be at any banquet that is not emceed by (former NBC5 sports anchor) Scott Murray," Hansen began. "There are only three all year, and I'm at one of 'em."
It's a good thing that Hitzges' annual "Norm-a-thon" benefits the Austin Street Shelter for the homeless, Hansen said. Because those who follow his longrunning "Picks of the Pole" sports betting touts wind up needing the facility.
He later fulsomely praised his wife since 1982, Chris Hansen, known on the air during his WFAA sportscasts as "the lovely Mrs. Hansen."
"And I hate saying that in public," he added, "because I know her attorney is going to read it back to me."
But seriously, folks, the dean of D-FW sports anchors ended by quoting Robert F. Kennedy: "We live on in the future we make." Still, he couldn't resist a postscript. His predecessor at WFAA, Verne Lundquist, was deemed an impossible act to follow, Hansen said. Fair enough. Then again, "Verne Lundquist was never on Ellen DeGeneres either." But Hansen was.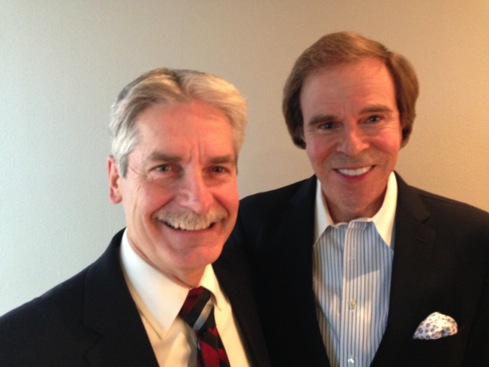 Previous NBC5 honorees David Finfrock and Scott Murray, who inducted Harold Taft along with his son, Rafael Taft.
HAROLD TAFT
-- The Press Club's first ever posthumous inductee also was D-FW's inaugural TV weatherman, beginning in 1949 at the then WBAP-TV.
Taft was made of stern stuff, rising to the level of colonel in the Texas Air National Guard after an earlier stint with the Army during World War II.
"He never went on vacation. He went on leave," said current NBC5 chief meteorologist David Finfrock, whom Taft hand-picked as his assistant back in 1975.
Scott Murray, the station's lead sports anchor during part of Taft's 41 years with WBAP/KXAS-TV (now billed as NBC5), noted that his segments regularly were shortened when the weathercast "went long."
"Harold, you're killing me," Murray recalls telling him on more than one occasion. Taft's reply: "Oh, Scott, don't worry. The pay's the same."
Both Murray and Taft were pallbearers at Taft's funeral in September of 1991. His son, Rafael Taft, likewise a military veteran and now a Grand Prairie police officer, said "he was just dad" throughout his long TV career.
Acquaintances still regularly invoke his dad's name, he said. "It is the warmest feeling in my life, ever."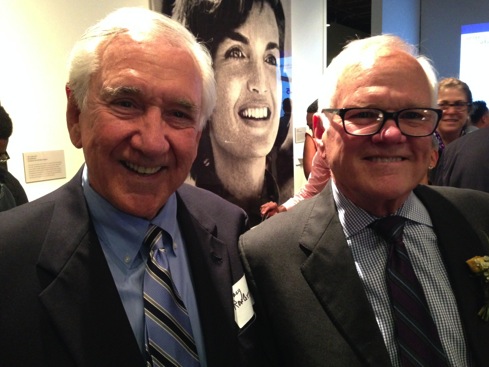 Previous honoree Tracy Rowlett & Byron Harris, who remain close friends. Both were hired from the same Oklahoma City station.
Mayor Rawlings ended the night by acknowledging that he worked at the now defunct WFAA-AM radio for a year before getting fired.
His friend Hansen again succeeded in upstaging him, he said. "It's just a shtick that I've got to perfect." Rawlings then noted that the basic Hansen speech was making fun of people for about five minutes, before "crying" over his wife, Chris, and then doing his "Baptist preacher thing."
Rawlings otherwise encouraged continued participation in the Press Club of Dallas. It's "important . . . so please get active in that . . . Evil is right around the corner. Lift us up."
Email comments or questions to:
unclebarky@verizon.net