07/27/12 02:31 PM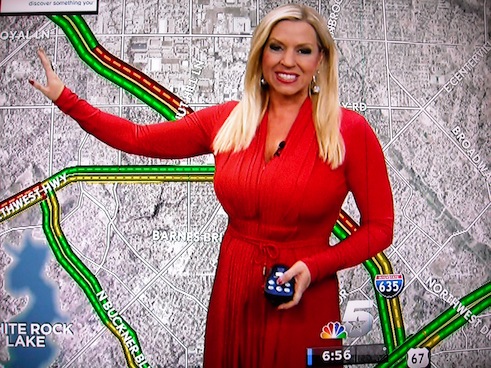 Tammy Dombeck and her final traffic report for NBC5. Photo: Ed Bark
By ED BARK
@unclebarkycom
D-FW's dean of early morning traffic reporters. "Gridlock Buster" Tammy Dombeck, brought a halt to her days at NBC5 Friday morning.
As previously reported
, the 12-year veteran and her station reached an impasse in new contract negotiations, prompting management to let her go. It was the same story with wake-up anchor Brendan Higgins in January 2010. He recently began co-anchoring rival CBS11's early morning newscasts.
"She's great at what she does and she has a heckuva smile that she brings us every morning," co-anchor Deborah Ferguson said before Dombeck took her final turn in front of a traffic map at 6:56 a.m. Friday.
"She is heading on to greener pastures," added newcomer Mark Hayes.
Dombeck in fact didn't want to leave the station. A standard non-compete clause in her contract will now keep her off the air for a minimum of six months before she can appear on the air with a rival D-FW station.
NBC5 showed a montage of Dombeck's career at NBC5 before she joined Ferguson, Hayes and meteorologist Samantha Davies at the anchor desk.
"It was no an easy decision. You all know that," she told them. "But I just want to thank the viewers so much for your graciousness and your loyalty."
She then blew a kiss to "Daddy Dombeck," currently recovering in an area hospital.
Dombeck also noted that "you're going to have a whole new team here soon. Gosh, I mean, it's going to be awesome. I might not be up watchin'."
That brought laughs all around, even though Dombeck and Davies might well have been crying on the inside.
Davies, who's been filling in for the sacked Jennifer Lopez since March, learned recently that she will not get the full-time early morning job. NBC5 instead has
hired veteran meteorologist Rick Mitchell
of Oklahoma City's KOCO-TV. His first day at the station will be August 22nd, but the station says he'll make his on-air debut at a later date.
Beginning Monday, Andi Parker will be doing NBC5's traffic reports as an interim replacement. The station has used her before on a part-time basis. Vice president of programming Brian Hocker said that a permanent traffic reporter hasn't been hired yet.
Dombeck closed out her dozen years at NBC5 by telling viewers, "I'm definitely not gonna say goodbye. I'll just say, 'We'll see you later.' " Then it was quickly on to NBC's
Today
show, which is in London for the Olympics.
NBC5 at least gave Dombeck a chance to say goodbye. Earlier this month, another 12-year D-FW television veteran,
WFAA8 anchor Debbie Denmon
, was simply called in by management and told that her contract wasn't being renewed. She was out the door within the hour. Denmon previously had lost a discrimination suit against the station. Call it payback.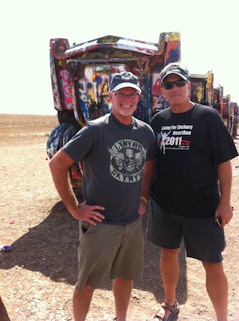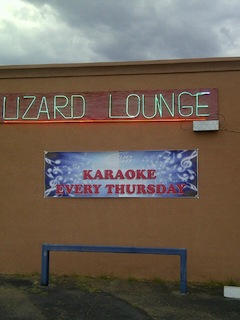 Fox4 sports anchor Mike Doocy (right) and photo-journalist Chris Hanks outside the "Cadillac Ranch" in Amarillo. Dinner was at the Lizard Lounge in Tucumcari, NM. Photos from Doocy's Twitter page.
Veteran Fox4 sports anchor Mike Doocy and his wingman, photo-journalist Chris Hanks, began their cost-cutting road trip to Cowboys camp in Oxnard, CA Thursday.
Doocy then talked up a few of the first-day highlights Friday morning during a phone interview on
Good Day
.
Their initial destination, Tucumcari, NM, is briefly mentioned in the Linda Ronstadt song
"Willin,' "
It's also home base for the Lizard Lounge, where every Thursday is karaoke night. But Doocy said they were too pooped to participate. So after an economy dinner, the boys retired to their undisclosed lodging for the night. Doocy noted that a complimentary breakfast aided the effort to save his Dallas-based station a few bucks during their projected 22 hours of driving to Oxnard. The scheduled Friday night stop will be in Flagstaff, AZ before they hit the backstretch to Cowboys camp on a nearly 1,500-mile jaunt.
As previously detailed
, Doocy and Hayes have hit the road in a Fox4 company car after management balked at the expense of plane and rental car costs. His competitors are flying as usual, with WFAA8 sports anchor Dale Hansen joking about Doocy's mode of travel on Wednesday's newscasts. In the comments section on unclebarky.com, Hansen also noted that he'll be paying for Doocy's drinks -- "like I always do."
This will be his 19th Cowboys camp, Doocy noted on Friday's
Good Day
. He's never taken this kind of long and winding road before, but obviously is making the best of it. You do what you have to do to survive in the ever-challenging TV business. And unlike Dombeck and Denmon, at least Doocy still has a job.