03/24/16 12:31 PM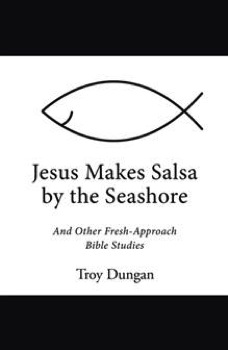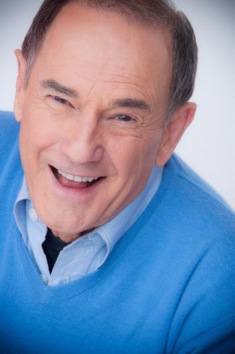 By ED BARK
@unclebarkycom on Twitter
Easter's near, so let's get a little religion from what might appear to be an unlikely source -- former longtime WFAA8 chief weathercaster Troy Dungan.
He left the station in July 2007 after 31 years of laid-back forecasts and trademark bow ties. But during his last eight years at WFAA8, Dungan also hosted a 1 p.m. bible study class on Wednesdays after first getting authorization from station management. The Baylor University graduate hadn't been particularly interested in God until relatively late in life. But a chance meeting with Dr. Larry Poland, the founding CEO of
Mastermedia International
, put him on a path to Christianity.
"Sometimes it just takes 62 years for a tree to produce its first spiritual crop," Dungan says in a telephone interview tied to his new book,
Jesus Makes Salsa by the Seashore
. His one-liner: "I work with a really good ghost writer -- the Holy Ghost."
The 233-page paperback book is a conversational reboot of some of the Bible's greatest hits. Dungan used to open his WFAA8 sessions with a 10-minute presentation before asking for prayer requests. The average audience was about 12 WFAA8 staffers, most of them off-camera personnel. Former anchor-reporter Macy Jepson used to attend on occasion, but Dungan's best friend at the station, anchor Tracy Rowlett, had recently jumped to rival CBS11. And anchor Gloria Campos, a Catholic "Christian believer" with whom he recently had dinner, generally wasn't due at work early enough to participate.
Salsa By the Seashore
is available instantly as an online book for
$3.99 via amazon.com
. It also can be bought in paperback form for $19.99, but with a two-week turnaround.
"They just print 'em as they're ordered," Dungan says. "The model for this is really kind of changing. I'm not gonna buy a carload of books and then try to push them on people."
He has done book signings for small groups, though. "It's not a moneymaker, but I do think it's worthwhile," Dungan says. "If God doesn't have a sense of humor, though, I'm in big trouble."
The book's title refers to the time that Jesus made it possible for his disciples to catch a big load of fish after first experiencing empty net syndrome. Dungan writes that the Lord also had bread and condiments ready to roll. "So right there, by the Sea of Galilee that morning, Jesus made the original fish tacos. Would you love to have some of that Jesus salsa? I know I would."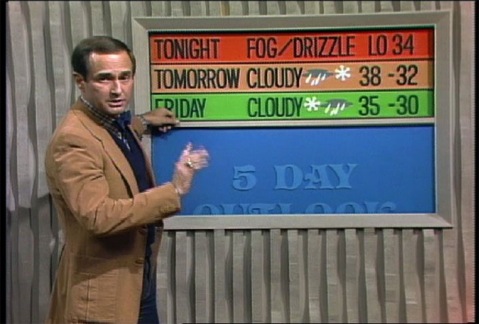 Dungan in his domain during earlier years at WFAA8.
Television news is "not particularly a spiritual business," Dungan acknowledges, and "nobody picked up the baton" after he left WFAA8. "I think I sort of became the unofficial chaplain, but that's OK."
He recalls getting just two complaints from station staffers, but neither amounted to much. News director David Duitch (now director of visual journalism at
The Dallas Morning News
) was "very supportive" from the outset, Dungan says.
He hasn't done a weathercast since his last one for WFAA8 on July 18, 2007. Dungan says that he and Duitch initially wanted incumbent WFAA8 meteorologist Steve McCauley to succeed him, but "he didn't want to be that involved in quote, 'show business.' " Pete Delkus eventually got the call, with Dungan very much involved in his hiring before they became a two-headed weather duo for several months during an "anointing process."
By that time, Dungan says that his quieter style had gone out of vogue during those last years at WFAA8.
"If it drizzles in Collin County, it now leads the news," he says. "You can cry wolf. I just feel that so often they do that . . . the objective is to scare the hell out of everybody. I think there's too much hype."
Dungan's current favorite meteorologists are Larry Mowry (who's now officially left CBS11 for WLS-TV in Chicago) and WFAA8's Colleen Coyle. He's mainly been a product pitchman after leaving the station, save for a brief reuniting with Rowlett on KTXD-TV's
since defunct The Texas Daily
, where they jabbered about the news of the day.
Dungan is in his third year of selling the merits of 50 Floor in TV ads that also include former NBC5/CW33 meteorologist Rebecca Miller. On the day of our interview, the company was putting in floors at the "thank God it's paid for house" that Dungan and his wife, Janet, have shared for nearly 40 years. Earlier spots for foundation repair and hearing aid companies dried up when the former went out of business and the latter was sold to a consortium.
He otherwise has a tea towel in his kitchen emblazoned with "Home of a Recovering Weatherman." And if he ever gets the itch, "I call my sponsor and he brings me a glass of wine," Dungan jokes.
"Tracy and I were blessed to be there (at WFAA8) for what I call the golden days," he says. These days, as he nears his 80th birthday in November, he's intent on spreading the word that "you can go from being a useless drip to a fully flowing river of Christian witness to the world."
That's what it says on page 128 of his book, at the close of a chapter titled "Drippy Christian Faucets."
"It's for His greater glory, not mine," Dungan adds over the phone. He's got it down -- chapter and verse.
Email comments or questions to:
unclebarky@verizon.net