03/29/10 10:14 PM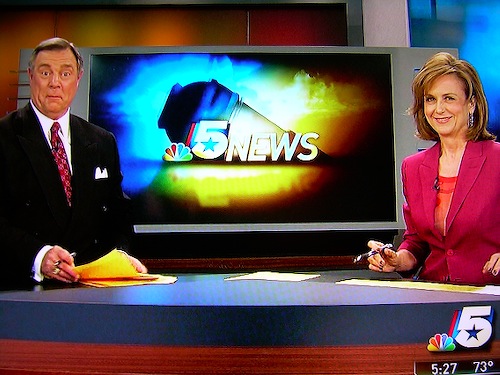 NBC5 anchor Mike Snyder almost does a spit take Monday when Jane McGarry tells him that a "couple of" her Facebook fans wanted to know if he was the local celebrity who had appeared nude at Dealey Plaza. But it turns out she was skirting the truth. Photos: Ed Bark
By ED BARK
However you looked at it -- or her -- Dallas-based singer Erykah Badu's bare-all music video from Dealey Plaza provided D-FW television stations with a consummate, easily hyped picture story Monday.
It also afforded one station the opportunity to screw just about everything up during the day's early evening newscasts. We'll get to NBC5 in due time.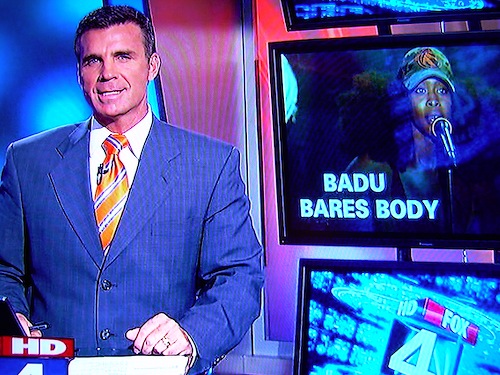 Fox4 anchor Steve Eagar gets down to business at 5:30 p.m.
In brief, Badu purportedly sought to make an artistic statement with "Window Seat," in which she brazenly "liberated" herself by stripping to a completely nude state before collapsing to the ground at the site where President Kennedy was assassinated in 1963.
Tourists, some of them with young children, watched the video being filmed "guerilla style" on the sunny Saturday afternoon of March 13th. It was released over the weekend, triggering Monday's pixilated peep shows. Badu could have been arrested and charged on a number of counts had anyone complained. But reportedly no one did. And the police presence apparently was non-existent in the heart of downtown Dallas.
Fox4 had the best early evening coverage, courtesy of the well-seasoned Richard Ray. He was the only local TV reporter to reach Badu by telephone, although he didn't have any audio of her voice.
"She told us she was frankly kind of surprised that nobody made any kind of formal complaint at the time," Ray said.
Most eyewitnesses perhaps "were in shock," Ray said Badu also told him. "No permit, no plan, she said. We just did it."
Veteran assassination site hanger-on Mike Brownlow told Ray on camera that he witnessed the making of the video. It happened fast, he said. "A white van was on the street and waiting for the getaway."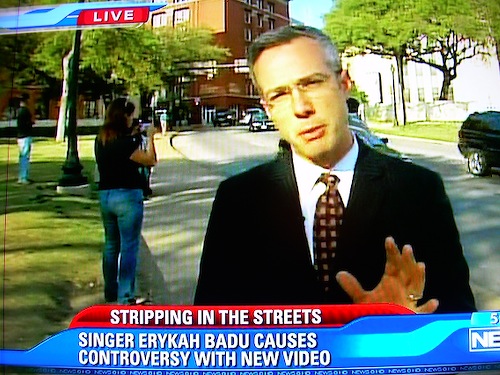 Reporter David Schechter was WFAA8's man on the scene.
WFAA8 went live to David Schechter in Dealey Plaza. He at times seemed intent on having the singer arrested.
"Badu will likely avoid any criminal charges, despite what appears to be obvious evidence," Schechter told viewers before Dallas police department spokeswoman Janice Crowther said that "people can do lots of things with videos. That would be up to the DA's office to determine if the video is enough to prosecute her."
The now viral video shows that a good number of people crossed Badu's path. Still, Schechter said it "seems there are few witnesses to what now may be the second most famous event in Dealey Plaza."
Maybe that's because he couldn't immediately find any. Instead Schechter resorted to interviewing a man who said he did not see Badu naked, "but I wish I had."
Schechter ended his report by encouraging viewers to watch WFAA8's 10 p.m. newscast, where "we'll hear in her (Badu's) own words why she did it."
But the scratchy audio on Monday's late nighter was courtesy of WFAA8's content partner,
The Dallas Morning News
, whose Hudson Hauk throughly questioned Badu. The interview can be
read in its entirety here
.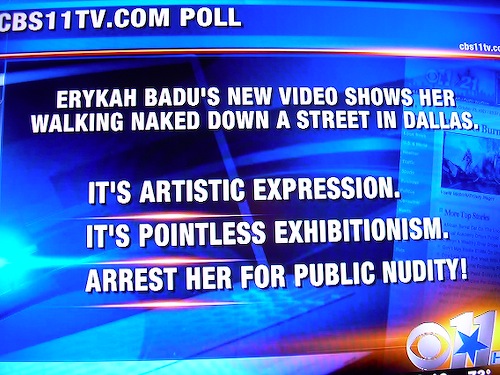 CBS11 spiked its poll with a tar-and-feather exclamation point.
CBS11 sent reporter Arezow Doost to Dealey Plaza, where she also found Mike Brownlow. He had played ball with Fox4's Ray, but Doost pretty much struck out with him. "I'm not sayin' it wasn't her (Badu), I'm not sayin' it is," he told CBS11.
Doost did find one eyewitness, though. A woman named Rebecca Lewis dutifully said she was "very offended" by what she saw of Badu. Efforts to reach the singer directly were spurned by her management, said Doost, who instead was told "Just go to her Twitter page."
One of Badu's tweets, used by all four stations, read, "There were children there. I prayed they wouldn't B traumatized."
Then there was NBC5, which had comparatively brief coverage of the Badu ado.
"The video was filmed on St. Patrick's Day," anchor Jane McGarry erroneously told viewers near the end of the station's 5 p.m. newscast Monday.
NBC5's phone calls to Badu "have not been returned," co-anchor Mike Snyder noted before McGarry again chimed in.
"Now, on the lighter side, a couple of people on
my Facebook page
wanted to know if it was you," she told Snyder. "And I said I was positive it wasn't because I know that you were at your girl's soccer game."
Snyder rejoined, "That's right. Look at
my Facebook
, and you'll be able to see where I was."
Snyder and the increasingly frisky McGarry have been tit-for-tat Facebook posting ever since she launched her "FanPage" earlier this month, spurring him to play catch-up. In this case, though, McGarry put a false face on the Snyder queries, which basically were non-existent.
She first teased fans with, "Who's the local celebrity in trouble with the law for stripping nude in downtown Dallas? The story -- at 5."
Her first Facebook commenter said, "I'm assuming it isn't you, or else you wouldn't be drawing attention to the story."
Another commenter asked "You?" She then amended that to, "Oh . . . somebody already guessed that . . . Mike?"
McGarry then rejoined, "How did you guess?"
That was the extent of it, but Snyder absorbed her on-air sucker punch anyway. Never let the facts get in the way of promoting your Facebook FanPage. But seriously, McGarry's been getting way too giddy with her new toy. Maybe someone at least could tell her to stop playing with it on newscasts.