Local Nielsen ratings snapshot (Fri.-Sun., March 5-7) -- despite no surprises, Oscars soar above last year's total
03/08/10 09:50 AM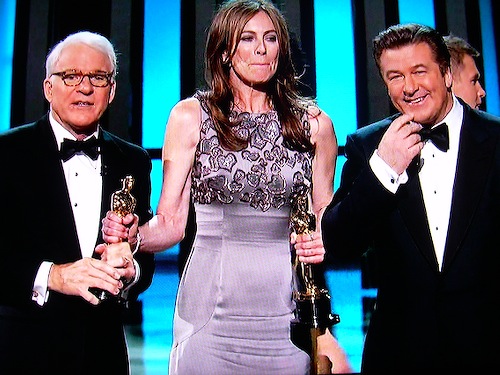 Oscar hosts Steve Martin, Alec Baldwin at show's end with Best Director winner Kathryn Bigelow for The Hurt Locker. Photo: Ed Bark
By ED BARK
In the end, predictability didn't matter.
Despite no surprise winners and the usual sluggish pace, Sunday night's Academy Awards on ABC virtually eclipsed last year's in the D-FW Nielsen ratings.
Airing from 7:30 to 11:07 p.m. (when the final closing credit appeared), the Oscars averaged 1,024,731 viewers, way up from last year's total of 677,586. A little ratings inflation is involved, with each point equaling 1,433 more viewers than at this time last year. But that's nonetheless a remarkable surge.
This year's Oscars also drew 443,578 advertiser-coveted 18-to-49-year-olds, substantially up from the 291,176 who watched the 2009 ceremony. So who says conventional TV viewing is dead? The 2010 Super Bowl and Grammy telecasts also went well beyond last year's totals both locally and nationally.
Barbara Walters' final Oscar pre-show had 285,025 viewers to easily win the 6 p.m. hour before ABC's incredibly lame half-hour red carpet preview vaulted up to 644,698 viewers. Has anybody started more fixedly at a TelePrompTer (or cue cards) than co-host Kathy Ireland?
Nothing else really mattered Sunday night. But for the record, CBS11's 10 p.m. newscast had the biggest audience opposite the Oscars in D-FW, drawing 196,803 total viewers.
In Friday's numbers, NBC's premiere of the celebrity-driven genealogy series
Who Do You Think You Are?
drew 115,367 viewers to finish second at 7 p.m. behind CBS' venerable
Ghost Whisperer
(162,871 viewers). It was the same order of finish with 18-to-49-year-olds. Next Friday's subject on
Think You Are?
will be former Dallas Cowboys star Emmitt Smith.
Meanwhile, the piping hot, short-handed Dallas Mavericks extended their winning streak to 11 games with Friday and Saturday night victories over Sacramento and Chicago. The games, both on Fox Sports Southwest, respectively drew 142,512 and 149,299 total viewers.
Jay Leno's NBC
Tonight Show
again easily bested David Letterman's CBS
Late Show
Friday, giving him a clean sweep for the week in both total viewers and 18-to-49-year-olds.
Friday's local news derby numbers yielded golds for each of the four major TV news providers.
WFAA8 nipped NBC5 and CBS11 to win in total viewers at 10 p.m. But the Peacock took first place among 25-to-54-year-olds, the main advertiser target audience for news programming.
NBC5 won at 6 a.m. in total viewers while sharing first place with Fox4 among 25-to-54-year-olds.
CBS11 had an uncommonly big day in the early evening news numbers, running the table at 6 p.m. and also winning at 5 p.m. in the 25-to-54 demographic. WFAA8 was tops at 5 p.m. in total viewers, just slightly ahead of CBS11.