05/22/09 10:40 AM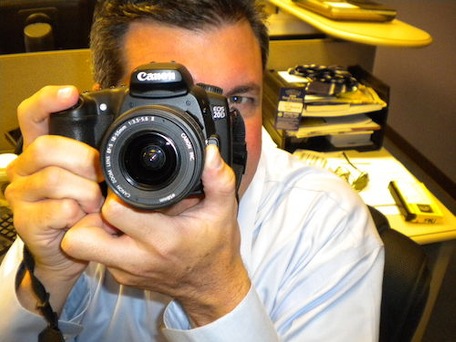 Lens crafter: Anchor Walt Maciborski advertises his skills as a photographer on "The 33's" Web site, which also is taking content-sharing to a new realm by linking to rival TV stations' news stories.
By ED BARK
Independence Day is coming soon. But D-FW's co-dependents daze continues apace in TV news and newspaper circles.
Still, it's a bit surprising to see Dallas-based KDAF-TV (Ch. 33) now voluminously linking to stories by all of its TV rivals at the bottom of
"The 33 News" page
on the station's recently remodeled Web site.
Represented in their own sections are KDFW-TV (Ch. 4), KXAS-TV (Ch. 5), WFAA-TV (Ch. 8) and KTVT-TV (Ch. 11). There also are two links to
The Dallas Morning News
, for stories from Dallas and Fort Worth.
The 33 already has a
content-sharing agreement in place
with KDFW and KXAS. And it's also in partnership with the weekly
Quick
newspaper, which is published by the
DMN
.
This is the first time, though, that any D-FW station basically has invited its Web site users to shop at rival TV news outlets. So what's in it for The 33? News director David Duitch said via email that "great journalism is being committed in the Dallas-Fort Worth market in print, over-the-air and on line. Why should the Googles and Yahoos of the world be an aggregator for this content?"
Duitch said that The 33's Web site "can offer stories you won't find everywhere else. But the consumer experience with news on the Web is different than over the air . . . The Web user wants what they want when they want it, and they know how to find it. We want to help them if their interest is Dallas-Fort Worth news and information. I won't be surprised when the other media outlets in D-FW follow our lead and post links to their competitors' sites."
CBS11 news director Scott Diener said he was surprised by The 33's linkage to his station and others.
"But if 33 feels they want to do that, they're more than welcome to," he said.
Diener said that CBS11's Web site has no plans to reciprocate, but possibly might link to a rival station's story on a case-by-case basis.
"If there's something that is so compelling, I wouldn't rule it out," he said. "But I can't see it happening right now."
The Dallas Morning News
and
Fort Worth Star-Telegram
have an ongoing content sharing pact that went into effect last year. Belo cousins WFAA-TV and the
DMN
also cross-promote each other's stories. That leaves CBS11 as the only non-sharer in the D-FW marketplace, although sources say the station also was approached to be part of the Fox4/NBC5/33 LNS (Local News Service).
"Look, our staff does a great job of breaking stories first," Diener said. "We feel like we can compete on our own. And that's what we want to do. We don't want to share our stuff."
Unclebarky.com also remains an independent agent. Thought I'd share that with you.
***
Also at The 33, news anchor Walt Maciborski's
shutterbug skills
are newly advertised via a blog headlined "Meet 33 News Photographer: Anchor Walt Maciborski."
"This weekend he's going to take pictures at the Cowboys Cheerleading try-outs," readers were informed via a late Thursday night post by staffer Larissa Hall.
Can't wait to see the results.