03/11/14 01:43 PM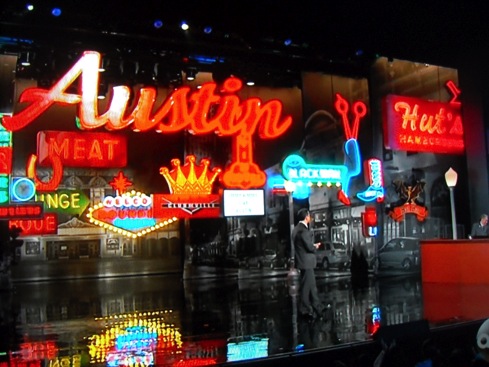 Lights, cameras, more lights: Jimmy Kimmel's five shows this week from SXSW-fueled Austin are impressively back-dropped by a neon array of long-lasting, signature establishments. Photos: Ed Bark
By ED BARK
@unclebarkycom on Twitter
AUSTIN, TX -- The next best thing to being there is . . . well, there's really no substitute when it comes to late night TV talk shows.
Monday's first of five
Jimmy Kimmel Live!
's from Austin had no trouble filling roughly 2,400 seats in the three-tiered Long Center for the Performing Arts. Your friendly content provider joined in for the 6:10 p.m. taping before hitting the always under construction I-35 for a trip back to Dallas that proved to be a horror show of highway tear-ups and one complete freeway shutdown. Buzz kill accomplished, but it wasn't ABC's or Kimmel's fault.
Attending in person can be a revelation, even for someone whose in-house experiences date back to one of NBC's last Johnny Carson
Tonight Shows
. This was my first on site visit in an "arena setting," though. Usually the regular home studios look significantly smaller than they appear on TV.
In this case, both the stage and the seating areas looked and felt vast. Rotund warmup man Don Barris had no problem at all revving up the energy level with the usual treatise on when, how and how long to applaud. Kimmel, in a western get-up, entered to a tumultuous ovation after his "In Flight Video" (the host dresses like an airplane pilot) further instructed the crowd in the basics of late night talk show behavior. "Please do not have a baby during the show," he advised.
Kimmel's backdrop was stunning. His set designers went all out in constructing a neon montage to an array of venerable Austin establishments. Among those making the cut were the Austin Motel, Alamo Draft House, Soho Lounge, Hut's Hamburgers, The Continental Club, Heritage Boot Co. and Kruger's Jewelers.
The five shows are tied to Austin's annual and ongoing South by Southwest festival (SXSW). Kimmel marveled that "everywhere you go, they offer you a beer."
The host brought his regulars with him, including sidekick Guillermo ("I'm Tex and he's Mex tonight") and the Cleto and the Cletones house band. Here's where being there proved to be a big plus. On TV, house bands generally are heard only in short bursts. They play the opening theme and bridge commercial breaks. But in person, one gets to hear this particular band rock at length. And Cleto and the Cletones laid down some hard-driving, air-tight stuff. They were just dynamite.
Kimmel briefly talked to the crowd during one break. He thanked everyone for coming and brought out Guillermo (Rodriguez) to tell him, "You're really hammered right now." From this perspective, Kimmel and the show's producers need to ramp down the drunken Mexican routine. Guillermo likewise was depicted as being smashed during a red carpet Oscar stint at which he offered interviewees shots of something or other while also indulging each time himself. It's an easy laugh, but it's also starting to get pretty de-humanizing.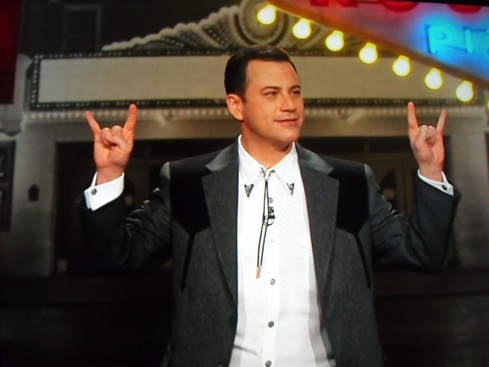 Kimmel went the "Hook 'em Horns" route during his monologue.
Kimmel's guests on opening night were actor Seth Rogen, rapper/entrepreneur Snoop Dogg and the Austin-based band White Satin.
Rogen and Kimmel also did a filmed sendup of an Austin-based Season 2 of
True Detective
. But although new actors will be fronting it, Rogen fell back on a sendup of Matthew McConaughey's off-center Rust Cohle while Kimmel didn't seem to be acting the part of anyone in particular. It had its moments but not enough of them -- in addition to running too long.
The interview segment with Rogen went well, but the actor didn't inter-act at all with the audience while leaving to another ovation to make way for Snoop Dogg. In contrast, Snoop basked in the crowd's closing applause while also encouraging more.
Tuesday night's guests will include Texas Gov. Rick Perry, who was roundly booed when Kimmel teased his appearance on-air. The host chuckled before reminding his audience, "Hey, our governor was Arnold Schwarzenegger, guys."
As
posted earlier in this space
, Kimmel's first show from Austin failed to outdraw rival Jimmy Fallon's
Tonight Show
in the D-FW Nielsen ratings. It was a pretty close competition, though. And as usual, WFAA8 oddly continues to do Kimmel a disservice by airing a lengthy bloc of commercials between the end of its 10 p.m. newscast and the start of his show.
Rivals NBC5 and CBS11 go directly from brief newscast "kickers" and anchor goodnights to the Fallon and David Letterman shows. Common sense says that WFAA8 in contrast is inviting viewer tune-out -- unless you just love a long string of commercials -- while NBC5 and CBS11 are doing their best to minimize it.
WFAA8 continued this practice Monday night even while sending staffer Mike Castellucci to Austin for a feature on SXSW that included a brief sit-down with Kimmel. The piece aired on Monday's 10 p.m. newscast before the station distanced itself from
Kimmel Live!
with that aforementioned string of commercials.
Here are Kimmel's announced guests for the rest of his shows in Austin:
Tuesday
-- Gov. Rick Perry, actress Rosario Dawson, musical guest Aloe Blacc (Jimmy Vaughn will sit in with the band).
Wednesday
-- Actor Robert Duvall, chef Rachael Ray, musical guest Damon Albarn (Johnny Winter with the band).
Thursday
-- Lady Gaga, actress Darby Stanchfield, musical guest The Preatures
Friday
-- Rapper Lil Wayne 2, Willie Nelson (Los Lonely Boys with the band).
Email comments or questions to:
unclebarky@verizon.net