02/26/16 01:33 PM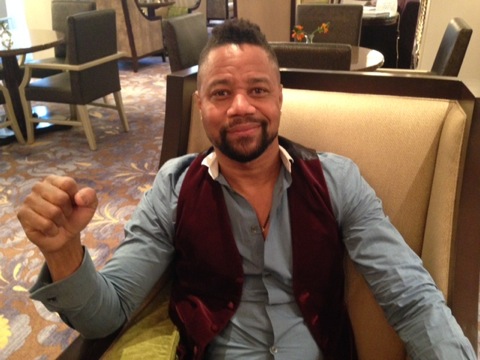 Cuba Gooding, Jr. is making O. J. his own on FX. Photo: Ed Bark
By ED BARK
@unclebarkycom on Twitter
Actors and their roles can either be career-makers or underminers. Or both.
Twenty years ago, Cuba Gooding, Jr. won a best supporting actor Oscar as pro football receiver Rod "Show me the money" Tidwell in
Jerry Maguire
. He followed that up with another hit feature film, 1997's
As Good As It Gets
. The respective directors were Cameron Crowe and James L. Brooks. It doesn't get much better than that, but Gooding had to learn this lesson.
"Cameron Crowe told me, 'Don't worry about the roles. Worry about who the directors are,' " Gooding says during a Thursday stop in Dallas tied to FX's ongoing and
acclaimed The People v. O. J. Simpson: American Crime Story
. "I didn't listen to him then. I went on this journey where I ended up doing 10 years of 'direct to video' movies (including clunkers such as
Dirty, End Game, What Love Is, Harold
and
Life of a King
)."
The duds that made it to theaters -- 2007's
Norbit
and
Daddy Day Camp
-- put Gooding on the receiving end of two Golden Raspberry nominations for Worst Actor of that year.
Gooding had chosen to work with mostly first-time directors and "wound up helping with the writing, sitting in the editing room, putting together their shots," he says. "It was like going back to film school. But the product never came out to anybody's pleasure. There was always something wrong with it. And it was literally God's way of saying, 'This is why you need a filmmaker that has a complete vision.' "
He instructed his agent to show him the director. And Gooding's choices markedly improved, with supporting roles in
Lee Daniels' The Butler
and
Selma
leading to his casting as the central figure in executive producer/director Ryan Murphy's first edition of
American Crime Story
(
Tuesdays at 9 p.m. central
), which like
American Horror Story
will have different stories and characters each season.
Gooding says he was the first to be cast in a 10-part series that also includes John Travolta as Robert Shapiro, Nathan Lane (F. Lee Bailey), Sarah Paulson (Marcia Clark), Courtney B. Vance (Johnnie Cochran), David Schwimmer (Robert Kardashian) and Connie Britton (Faye Resnick).
Murphy, who also created
Nip/Tuck, Glee
and
Scream Queens
, is a "real filmmaker" with a firm grasp of what he wants and where he's going, Gooding says. Still, this is the first time Murphy has gone the non-fiction route. From this perspective, it's helped to curb his excesses by keeping Murphy within the confines of a real-life story. Gooding agrees that "it's absolutely served him well. He might have come from this place of 'heightened reality' (with
Nip/Tuck
, etc.). But doing this is just going to make him a better filmmaker because he's not afraid of it anymore."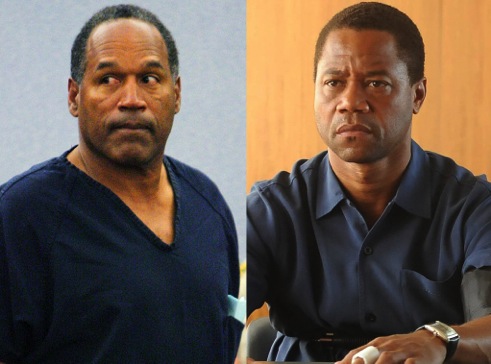 Gooding has met O. J. Simpson just once, in 1991 at a nightclub shortly after co-starring in
Boyz n the Hood
.
"He came up to me, shook my hand and said 'Congratulations,' " Gooding recalls. "I remember he was in his leather pants and had girls on each arm and was very charismatic, a bigger-than-life character."
Gooding, in his early 20s at the time, aspired to be just like him. "Oh, absolutely. I said, 'That's the Juice.' " Three years later, Simpson was indicted for the murders of Nicole Brown Simpson and Ronald Goldman.
Simpson was found not guilty in what remains the most-chronicled and divisive celebrity trial of modern history. But he's been behind bars since 2008 after being convicted of armed robbery and kidnapping in connection with trying to retrieve sports memorabilia that he claimed had been stolen from him.
According to various reports, the incarcerated Simpson wanted Denzel Washington to play him in any TV or feature film and considers Gooding to have too small of a head for the role.
"He's got a huge head. What are you gonna do?" says Gooding, who had no interest in meeting Simpson beforehand but did spend considerable time with future Republican presidential candidate Dr. Ben Carson while preparing to play him in the 2009 TNT movie
Gifted Hands: The Ben Carson Story
.
"I'm playing O. J. Simpson at a time when he was his most flamboyant, charismatic, egotistical self," Gooding says. "And now he's been incarcerated. I know what that does to a man, and I didn't want his psyche to creep into my performance."
Simpson very much got into his head anyway.
"I'd never been in a character this long before," Gooding says, noting that his 2013, six-month run on Broadway in
The Trip to Bountiful
"was just one set off scenes that we re-visited over and over again. This was many different scenarios and emotions that I had to relive every day for a long period of time. Almost to the point of schizophrenia at times. And that wears on your psyche. It took me about a month to not think of dark images and dark thoughts, and think that they were
my
thoughts.
"I used to hear other actors talk about this. Heath Ledger, after playing The Joker, said that it took him a long time to let that go. I used to laugh and think it was a publicity gimmick. But I believe it now. I get it. It's almost like hypnosis. You have to step away from a character and let it go from your soul, so to speak. And then you can move on."
Production wrapped in October on
People v. O. J. Simpson
. Gooding says he still hasn't watched a single full episode, but has seen clips and images that still "kind of throw me a little bit. When I see O. J. getting worked up in a scene, it starts to get me worked up again, too . . . So it'll be a while until I can fully let go of that dark place and just watch the entire series to see if I can understand how it's been connecting with so many people."
Jeffrey Toobin's 1996 book, on which
People v. O. J.
is based, is unequivocal in its determination that Simpson committed the murders. On page 10, Toobin writes, "Of course they knew" in reference to Simpson's all-star defense team. "Their dilemma, then, was the oldest, as well as the most common, quandary of the criminal defense attorney: what to do about a guilty client."
Gooding is keeping his views to himself.
"I don't want you to judge my performance based on any opinion you think I might have," he says. "Ryan Murphy and I had an agreement that I would do some takes as guilty and some as innocent, so that when he got to the editing room, he could use these colors. I wasn't there to judge his guilt or innocence. I was there to be that blank canvas and to put out the emotions asked for by my directors."
Should Gooding be nominated for any Emmy or win one, it would be only the second time in 20 years that he's been up for a major acting award. Two decades ago, when he won his Oscar, Gooding was the only African-American among the actors and actresses in the lead and supporting categories. In the past two years there have been none, prompting the #OscarsSoWhite campaign to diversify both the Academy of Motion Picture Arts & Sciences membership and the types of films being made.
Gooding, a voting Academy member since 1993, says "you can't really say there's a conspiracy with the nominations to keep blacks out." He'd like to see more movies made by and starring minorities, but doesn't support a boycott.
"I think it was important to start the dialogue so that we
do
talk about it," he says, noting his support for both host Chris Rock and Academy president Cheryl Boone Isaacs, who is black. "I'm proud of my Academy membership. My sponsors to become a member were Dustin Hoffman and Kevin Spacey. And in the year they accepted me, they said no to Rodney Dangerfield. So it's a crazy thing."
Gooding got his Screen Actors Guild card after playing "Gang Member Number 3" in the final season of NBC's hallowed
Hill Street Blues
. The son of prominent vocalists Shirley Gooding and Cuba Gooding Sr. (whose group The Main Ingredient recorded the 1972 hit single "Everybody Plays the Fool") says he "wasn't into singing that much" and sought to "find my own thing" after being repeatedly being told, "Well, you're not your father."
But he knew nothing about filming on a set when the
Hill Street
producers hired him to spout the line, "I'll cut you, man!" Instructed to "hit your mark," Gooding says he had no idea what that meant. After the third take, the director cursed him and pointed to the tape on the floor where Gooding was supposed to land so that cameras could frame him correctly. He finally got it right on the fourth take.
The role of O. J. Simpson arrived nearly three decades after Gooding flailed about on
Hill Street
. "I'll cut you, man" still eerily applies. But Gooding at age 48 seems to have wised up again after wandering through all those ill-considered film choices. It's already been announced that the next installment of
American Crime Story
will focus on Hurricane Katrina and the "crimes against humanity" that went hand in hand. Will Murphy again go the repertory route, as he has in
American Horror Story
, by casting some of the same performers in different roles?
Gooding smiles coyly and is non-committal. But his body language gives him away. He'll almost assuredly be a part of that second season -- because he's lately too smart not to be.
Email comments or questions to:
unclebarky@verizon.net