TEGNA's "early retirement" offer is its latest move to cut expenses, entice older personnel (3rd update)
02/18/16 08:35 PM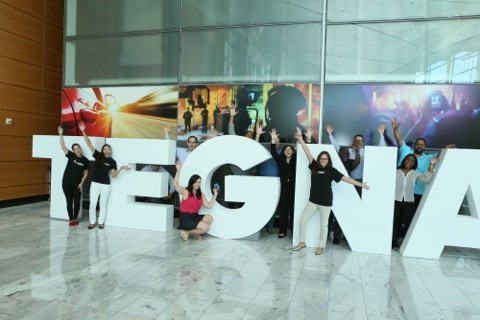 By ED BARK
@unclebarkycom on Twitter
A wave of "early retirement" packages began hitting TEGNA, Inc.-owned TV stations Thursday, with Dallas-based WFAA8 among those on the receiving end.
According to a "Dear Colleagues" letter signed by WFAA8 president and general manager Mike Devlin, "select employees" with 15+ years of service who are 55 years of age or older are eligible to take the offer. But no on-camera personnel are included so far among the 27 station employees who have officially received the offer, sources say.
At WFAA8, two key on-camera veterans, news anchor John McCaa and sports anchor Dale Hansen, would fit the overall buyout criteria. As it now stands, they basically are
the
faces of WFAA8 following the recent departures of stalwarts such as news anchor Gloria Campos, investigative reporter Byron Harris and sports reporter/anchor George Riba.
Award-laden investigative reporter Brett Shipp and longtime stellar WFAA8 general assignment reporter Jim Douglas likewise would be in the 55-years-of-age, 15+ years of service category. Some on-camera personnel at other TEGNA-owned stations have been given the option of accepting the packages, according to sources.
Shipp says he's not nearly ready to cash it in anyway.
"I will be rolled out of Channel 8 on a gurney -- dead or alive," Shipp told unclebarky.com Friday.
Sources say that those employees receiving the buyout offers include six in the engineering department, three in operations and 12 newsroom staffers. Among the latter dozen, three are editors and five are photographers. But only three photographers will be allowed to take buyouts, according to sources.
The targeted areas are in keeping with TEGNA's plans to further "automate" the news department. A WFAA8 staffer unhappy with these developments put it this way: "TEGNA corporate feels we are a bloated whale living in the past. But viewers can decide for themselves if they want to watch a newscast with all the technical issues that cheap automation brings."
WFAA8 president and general manager Mike Devlin was not present when the buyout offers rolled in. He is still recuperating from hip replacement surgery last week and is expected to be out for another month. The letter bearing his signature begins with the notation that "today's dynamic media landscape requires us to embrace change to continue to succeed."
WFAA8 has a "strong foundation but we must continue to innovate and adapt to better meet the rapidly changing needs of those we serve," the letter says. "Recently, Dave Lougee (president of TEGNA Media) shared his strategic roadmap for our future. 2016 will be a year of accelerated progress across WFAA-TV and every one of us will need to acclimate to today's evolving environment. As we move forward, we have created a strategy at WFAA-TV that will enable us to better the needs of our station and our audiences."
Specifically, that would be the retirement packages "aimed at giving our team the flexibility we need to do just that," the letter says. "This program will allow us to reinvest our resources to focus on our transformative content and sales strategies . . . Some job titles will be excluded."
The letter concludes with a pep talk: "WFAA-TV is well-positioned for success. We must remain forward-thinking, agile and driven. We must continue to embrace change and innovation. By doing that, we will achieve new heights and better serve our audiences throughout 2016 and beyond."
No further details were immediately available, but TEGNA's Austin station, KVUE-TV, also was among those receiving the buyout enticement Thursday.
TEGNA, a partial anagram of Gannett, was formed in June, 2015 after Gannett split its television and publishing properties. TEGNA, based in Tysons Corner, Virginia, currently owns a total of 46 TV stations in 38 markets.
The media titan hasn't been shy about making its mark from afar. WFAA8 was
mandated in August 2014 by TEGNA
to use an opening newscast theme song and graphics that also have been implemented at its other major stations. A color-coded, bottom-of-the-screen "Information Bar" that teases upcoming stories is also part of the latter day WFAA8 look imposed by TEGNA. Lost in transition was WFAA8's longtime "Spirit of Texas" theme song.
Before creating TEGNA, Gannett, Inc. in June 2013
made an offer to buy WFAA8
and 19 other TV stations owned by Dallas-based Belo Corp. The big buy became official in December of that year. Prior to the takeover, WFAA8 had been owned for more than 60 years by Belo.
Email comments or questions to:
unclebarky@verizon.net