08/31/11 03:50 PM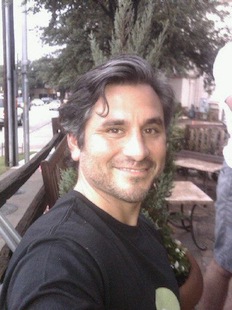 By ED BARK
Former WFAA8 reporter Bert Lozano died Wednesday at Methodist Medical Center after suffering a heart attack Sunday.
He was 42.
Lozano, a native of Mission, TX, worked at Dalllas-based WFAA8 from 2004 to 2007 before leaving to take a position in the Dallas office of the Weber Shandwick public relations firm.
His
Facebook page
immediately began filling up with goodbye messages from his friends.
From Randy Wegner: "My heart is full of sorrow and hard to understand why a great man was taken from us!!!! Your smile, zest for life, and heart are always with me! Until we meet again."
From Amanda Salinas de Cunningham: "Words can't express the sadness this day has brought to my heart. Bert, you are a kind and generous soul. Your smile and your spirit joins the Angels in heaven.
Que en paz descanses.
From Eloina Juarez: "Such an untimely death. You will be missed, Bert!"
From Allan Koenig: "Man, this is tough. I had the pleasure of working with Bert at both WFAA-TV and Weber Shandwick and will always remember his great sense of humor, easy-going style and kindness. I was really happy when he made the tough decision to leave TV news, and proud of his work at Weber. My best to his family."
From Norma Pena Lopez: "My heart hurts. I will miss you and will always remember growing up together. I just can't believe it, I'm just numb."
From John McGill: "A very sad day for all whose paths you crossed. An amazing man."
From Marquette Clay: "A month ago today, when Iost my two nephews, you were one of my first friends to contact me with words of comfort and love. On this day my heart is shattered again. Thank you for your friendship. I loved you yesterday, today and until we meet again."
There are many more such messages -- and doubtless many more to come.
Early Wednesday evening, a statement from Lozano's family said that Bert never regained consciousness after suffering cardiac arrest on Sunday. His parents, Humberto and Margarita Lozano, said: "Our hearts are so heavy at losing our Bert, but we cannot begin to express the thanks for all the love and support and prayers by Bert's family of friends and colleagues here in Dallas."
Mr. and Mrs. Lozano encouraged those who are mourning their son's death to "celebrate Bert's life and remember all the things he did that made them laugh and smile. This is the way Bert would want to be remembered."
I didn't know Bert personally. But I appreciated his humor and
willingness to recount
what became his celebrated 2006 close encounter with a horn-tooting streaker while reporting live from a grass fire near Lake Lewisville in the Colony.
He said in part: "I've always wanted the opportunity to chat with him to get the full story, but I guess some things will remain a mystery. Still, I almost want to thank him. Since that night, the clip has been run on
Extra!
, MSNBC, VH1 and various websites. After it happened I got tons of emails. Viewers were asking if they really saw a naked man on TV or if their eyes had played a trick on them because I never said anything about it in my live shot and the anchors never mentioned it during the newscast. Hilarious!"
My heartfelt sympathy goes out to Bert's family and close friends. Funeral and memorial services are pending.