Shipp says he won't file assault charges against Price
08/11/11 11:51 AM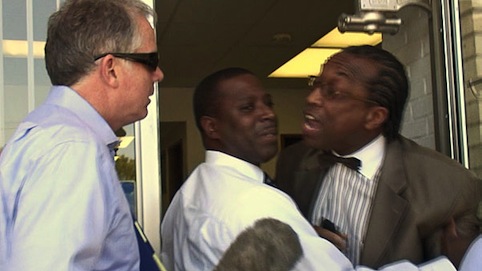 WFAA8 investigative reporter Brett Shipp and Dallas County Commissioner John Wiley Price had a verbal and physical altercation Wednesday outside the embattled public official's office. WFAA8 photo
By ED BARK
WFAA8's continued investigation into questionable use of public money by Dallas County Commissioner John Wiley Price boiled over Wednesday when the embattled public official could be seen shoving reporter Brett Shipp while cameras rolled.
The Dallas-based station's coverage of the incident, by Shipp's investigative colleague, Byron Harris, also used subtitles to accompany audio in which Price allegedly later told Shipp, "I will split your neck. Back up."
Shipp then retorted, "Commissioner, are you gonna split my neck? You gonna split my neck, commissioner?" There was no response from Price.
Reached by phone Thursday, Shipp said, "I don't plan on filing (assault) charges. That's all I can really say. I have no intentions of filing charges."
Shipp, who has
won numerous prestigious national awards
for his reporting during a long career at WFAA8, said he continues to be "focused on this entire investigation, and I can't get off too much on what happened yesterday. I'm just trying to figure out where all the tentacles lead."
WFAA8 news director Michael Valentine said Thursday, "I have no comment on the incident."
Shipp and CBS11 reporter Bud Gillett both reported Wednesday on Dallas County Commissioner Maurine Dickey's efforts to locate unaccounted for satellite equipment purchased with county funds. Price, who is under investigation by the FBI after a raid on his offices earlier this year, reportedly was involved in what lately has become a mysterious 2005 purchase of the gear. The search led to Price's E. Langdon office, where Dickey was allowed in but the reporters weren't. Both Shipp and Gillett told Price that his office was a public place, not a private residence.
CBS11's
website account
of the altercation said that Price "pushed the door onto" Gillett, "swinging and slamming it several times to prevent him from accompanying Dickey inside."
But Shipp was the only reporter to receive hands-on treatment from Price. In the WFAA8 story reported by Harris, he said, "I've never seen him (Price) lose his cool. And clearly he lost his cool. And I was shocked that he did."
As previously noted in these spaces, Shipp sometimes can walk a fine line between grandstanding and doing what often can be a very tough job. Alleged wrongdoers generally don't like cameras in their faces. In a report last September on alleged illegal recruiting of a talented quarterback for Southlake Carroll's high-powered football program, Shipp could be seen
ducking an ice bag thrown at him
by the QB's angry father.
Shipp also had a companion story on alleged practice violations by defending 5A football champion Euless Trinity. But before the report aired, Shipp gloated on his Facebook page, "Tonight at 10 on News 8: Forget the QB. Southlake's coaches are in hot water. What's more, see what happens when they invite Number 1 ranked Trinity into the hot tub with them. Sniff, sniff!!!! Is that the smell of two cooked seasons?"
That post was removed after
unclebarky.com wrote about it
. And Shipp ended up going 1 for 2, with the Southlake Carroll quarterback ruled ineligible for last season while Euless Trinity was absolved of any wrongdoing.
Shipp declined to comment when asked asked Thursday about the contrasting perceptions of his work. Some see him as a self-important show-boater at times while others cite his dogged, award-winning investigative work as proof of his mettle. Throughout his career, he has never been afraid to confront the subjects of his investigations.
Asked where the Price altercation ranked in his long career of pushing for information, Shipp said, "I just probably shouldn't say anything. It's part of doing the job. I've got to stay focused on the investigation."
Here is the Byron Harris story on the Price-Shipp incident: