05/27/10 12:41 PM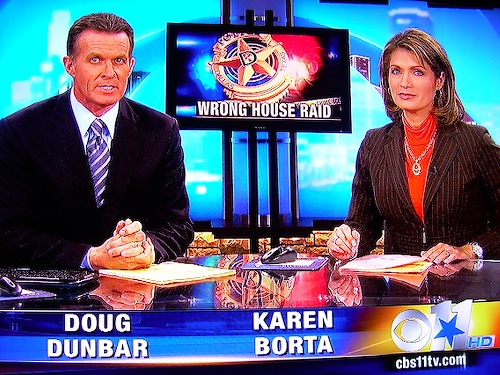 CBS11 swept a 10 p.m. "sweeps" for the first time ever. Photo: Ed Bark
By ED BARK
Party hats were acceptable news room attire at CBS11 Thursday.
For the first time since launching a 10 p.m. newscast in 1995, the CBS-owned station won a weeknight "sweeps" ratings period in both total viewers and 25-to-54-year-olds, the main advertiser target audience for news programming. CBS11 also added a win in the largely outmoded total household ratings, which are considered largely irrelevant by national networks and most local stations.
CBS11 also was the only one of four stations to show any year-to-year audience increases, but only with its 5 and 6 p.m. editions. The four-week Nielsen May "sweeps" ran from April 29th to May 26th. CBS11 again enjoyed an overall lead-in advantage at 10 p.m. from CBS prime-time programming. But its 9:45 to 10 p.m. audience windfalls were down significantly from a year ago.
The May 2009 late night news champ, WFAA8, fell to second in total viewers and third with 25-to-54-year-olds, behind NBC5. In the November sweeps (February's were skewed by NBC's Olympics overruns), CBS11 beat WFAA8 by a paper thin margin in total viewers at 10 p.m. while WFAA8 retained its 25-to-54 ratings crown.
The May 2010 ratings races were very close at 10 p.m., and exceedingly close in some measurements at both 6 a.m. and 6 p.m. So much so that our final report will extend those numbers to three decimal points rather than rounding them off to the nearest one-tenth of a point.
Also winning May sweeps golds were NBC5 in both 6 a.m. measurements and WFAA8 in total viewers at 5 and 6 p.m. Fox4 topped both early evening newscast ratings among 25-to-54-year-olds.
Reflecting the overall air tight results, WFAA8 bested CBS11 by just 68 total viewers at 6 p.m. In Nielsen rating points, that's a score of 1.832 to 1.831. Which basically is a tie.
CBS11 president and general manager Gary Schneider, in a telephone interview Thursday, said he's "not aware of" a more competitive newscast ratings competition anywhere else in the country. The biggest "blowout" in any of the four principal time periods was Fox4's slightly more than four-tenths of a rating point win over WFAA8 in the 6 p.m. battle for 25-to-54-year-olds.
Sweeping the marquee 10 p.m. newscast ratings for the first time obviously is cause for celebration at CBS11.
"We'll come up with something for all the employees at the station," Schneider said. "There really are a lot of smiles here. I'll probably have a big smile on my face for quite a while. In the late '90s, most of the other stations in this market didn't even have us tuned in in their newsrooms."
Meanwhile, WFAA8 was shut out in the 25-to-54 demographic, which station management says is the only news audience that really matters to advertisers. Fox4 was the only station to win two newscast competitions in this demographic.
Also of note: the 25-to-54 victories cited are for English-speaking newscasts. Univision's local 5 and 10 p.m. Spanish language newscast,
Noticias 23
, topped the 25-to-54 ratings in both of those time periods. Univision does not have local newscasts scheduled at 6 a.m. and 6 p.m.
Here are the May sweeps local newscast results, with May 2010 to May 2009 increases and mostly decreases in parentheses. (
The value of a single rating point has been adjusted upward during that time. In total viewers, the increase is from 66,430 to 67,863. In the 25-to-54 demographic, there's been a jump from 30,353 viewers in this age range to 30,690. That makes some of the sharp year-to-year decreases all the more alarming to station managers and news directors hoping to somehow stem the tide.
)
10 P.M.Total Viewers
CBS11 -- 195,242 (minus 43,906)
WFAA8 -- 190,695 (minus 68,382)
NBC5 -- 150,927 (minus 28,434)
Fox4 -- 106,409 (minus 33,094)
25-to-54-year-olds
CBS11 -- 79,242 (minus 17,888)
NBC5 -- 76,081 (minus 11,943)
WFAA8 -- 74,147 (minus 47,265)
Fox4 -- 59,999 (minus 21,954)
6 A.M.Total Viewers
NBC5 -- 105,663 (minus 47,126)
Fox4 -- 91,411 (minus 21,520)
WFAA8 -- 65,013 (minus 27,989)
CBS11 -- 47,301 (minus 12,486)
25-to-54-year-olds
NBC5 -- 63,651 (minus 36,514)
Fox4 -- 62,393 (minus 13,490)
WFAA8 -- 39,744 (minus 17,927)
CBS11 -- 23,662 (minus 15,797)
Note:
Interestingly, CBS11 had slightly more 25-to-54-year-old viewers than any rival station from 5 to 6 a.m. But its audience stayed flat from 6 to 7 a.m. while two stations -- Fox4 and NBC5 -- more than doubled their audience in this demographic. Schneider said that CBS11 tends to "skew a little bit more male" in the early mornings and needs to attract more women viewers to be competitive in the 6 a.m. hour.
6 P.M.Total Viewers
WFAA8 -- 124,325 (minus 35,107)
CBS11 -- 124,257 (plus 17,969)
NBC5 -- 108,513 (minus 24,347)
Fox4 -- 102,270 (minus 10,661)
25-to-54-year-olds
Fox4 -- 59,078 (minus 4,663)
WFAA8 -- 45,483 (minus 11,878)
CBS11 -- 40,419 (plus 10,066)
NBC5 -- 29,708 (minus 27,963)
5 P.M.Total Viewers
WFAA8 -- 113,535 (minus 12,682)
NBC5 -- 101,999 (minus 17,574)
Fox4 -- 84,625 (minus 15,020)
CBS11 -- 70,578 (plus 4,148)
25-to-54-year-olds
Fox4 -- 44,623 (minus 10,012)
WFAA8 -- 37,779 (minus 16,856)
NBC5 -- 26,700 (minus 30,971)
CBS11 -- 26,056 (plus 4,809)
In other May sweeps ratings results, Fox4's 9 p.m. newscast averaged 151,538 total viewers, a drop from 179,361 the previous May. CW33 had 32,981 viewers, down a bit from the 33,215 it averaged in May 2009.
TXA21's 7 and 8 p.m. local newscasts were barely visible, with just 13,369 and 10,722 viewers respectively. Those are also drops from a year ago.