This just in: A night in the lives of D-FW's late night newscasts (Wed., May 12)
05/13/10 01:13 PM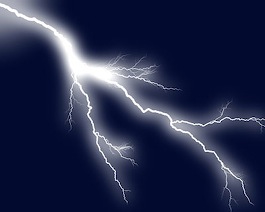 By ED BARK
Thursday dawned bright, rainless but (shudder) partly cloudy here at unclebarky.com central and remained that way throughout the morning.
But the sky fell Wednesday night at the start of all four major D-FW newscasts. They just can't help themselves.
Anchors marveled at the "lightning show" in parts of North Texas before weathercasters pounded home the fact that it very likely will rain this weekend. One wonders what people did in olden days -- oh, about five years ago -- when weather wasn't the hot commodity and sales tool it's become. Waiting all the way until the regularly scheduled weather segment must have been torturous. Now the threat of a shower qualifies as a top-of-the-newscast bulletin.
"A line of thunderstorms moving through North Texas isn't severe, but it is creating a lightning show out there," Fox4 anchor
Heather Hays
told viewers in the opening seconds of Wednesday's 9 p.m. edition.
"The storms are really just a preview of what's to come over the next few days," added co-anchor
Steve Eagar
before meteorologist
Dan Henry
stepped in to warn -- among other things -- that "an active period" of rain could befall parts of North Texas in the next few days.
NBC5 co-anchor
Meredith Land
gushed about "a real lightning show underway" before colleague
Brian Curtis
urged viewers to "take a look at this dramatic picture of lightning from one of our viewers."
Back to you, Meredith, who warned of "four volatile days of thunderstorms and heavy rain." Needless to say, "WE ARE on storm watch," proclaimed Curtis before turning it over to a relatively becalmed
David Finfrock
. North Texas is facing some "potentially" heavy rain, he said.
WFAA8 likewise led with the inclement weather warning, although anchors
John McCaa
and
Gloria Campos
failed to rhapsodize about it. Instead they quickly handed off to forecaster
Pete Delkus
, who of course was in full alert shirtsleeves. Our easily scared cat, Snickers,
again cowered at this sight
while her more sensible older sister, Cookie, gave a look that essentially said, "Don't worry, it's only Pete."
Delkus warned of "some turbulent weather in our forecast for the next four days."
On CBS11, co-anchor
Doug Dunbar
got pretty revved up.
"We have some strong storms moving through North Texas tonight," he told viewers at the start of the show. "Maybe you've
heard
some of them. Bolts of lightning lighting up the night sky in Fort Worth just a short time ago."
Weatherman
Larry Mowry
then moved in to talk about the "big lightning show from this storm that moved over Denton County." The viewing area likely will be "wet for a large portion of the weekend," he said.
Please resist the urge to stock up on canned goods or build an ark. Perhaps a hard rain's a gonna fall in due time. But we'll somehow all get through this together. Armageddon's not quite on the horizon yet. Honest.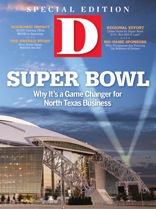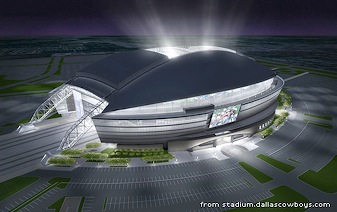 Meanwhile, other news eventually got into our pictures.
Wednesday's showcase piece came from longtime WFAA8 investigator
Byron Harris
, who tried hard to rain all over projections that next year's Super Bowl at Jerry's Palace in Arlington will do the area economy any good at all.
His principal naysayer was University of South Florida economist Philip Porter (the story incorrectly spelled his first name "Phillip"), who's studied the last 30 Super Bowls and determined that their overall value to a community is "negligible" at best.
"Even the strippers in the strip clubs come from out of the community during Super Bowl weekend to work," said Porter.
During a recent live interview with WFAA8 sports anchor
Dale Hansen
, Super Bowl Host Committee head Bill Lively projected $611 million in regional economic impact. But the study generating that figure came from Marketing Information Masters, Inc. of La Mesa, CA, whose listed address is a UPS store and whose suite number -- Suite 442 -- is a post office box, Harris discovered.
Its owner, Michael Casinelli, declined to be interviewed on camera and canceled a telephone interview, said Harris, who thereafter took obvious delight in referring to "Suite 442's predictions" -- which he shot down with corroborating quotes from USF's Porter.
In a brief interview with Lively, Harris asked the Super Bowl committee head if he knew that Information Masters' Casinelli isn't an economist.
"I know that, yes," he said.
Harris' report had some interesting information. But when all is said and done, isn't it still an overall plus to have the Super Bowl in North Texas? That aspect wasn't addressed at all. Maybe Hansen can go "Unplugged" anew and sound off on how he'd rather have the Super Bowl here than in economist Porter's home state of Florida.
Fox4's 9 p.m. newscast came and went without any stories of real import. Instead it was pockmarked with technical problems and uncommonly stuffed with basic rip 'n' read news briefs from around the country.
At the midway point, a commercial break ended with a long, silent picture of a map before anchor Eagar finally interjected to say, "A lot of lightning strikes moving across North Texas." More on that later, he added.
Later in the newscast, prolonged silent footage of cheerleaders jumping and tumbling led to consumer reporter
Steve Noviello's
"Deal or Dud" logo at the start of sports anchor
Mike Doocy's
segment. A light haw could be heard off-camera while Doocy imaginatively vamped, "In five days the Cowboys begin a series of organized team activities -- mini-camps essentially. Will they turn out to be deals or duds? That remains to be seen at this point. But in the meantime, some more fun on the golf course today as Jerry and the team host their annual golf tournament for Cowboys' sponsors."
Fox4 at least got the money quote -- from deservedly maligned wide receiver Roy Williams. The first round drafting of highly touted Dez Bryant is no threat at all because he'll still be the No. 1 guy, Williams said. NBC5 and CBS11 also showed Williams in the act of deluding himself. WFAA8's 10 p.m. newscast missed it, with sports reporter
Joe Trahan
instead concentrating on an assortment of lousy golf swings from Cowboys' players.
NBC5's lead story -- after the weather, of course -- came from night beat fixture
Scott Gordon
. He reported on the alleged sexual assault of a customer by the owner of Frisco's We Knead Bodies massage parlor.
The woman "told police she got a lot more than she wanted," said Gordon, who later noted that the unidentified complainant contacted NBC5 because she "wants everyone to hear her story. She says crimes like this will continue if women are too afraid to come forward."
The massage parlor owner's attorney is Peter A. Schulte, who's also representing former WFAA8 anchor
Brad Hawkins
after his recent arrest on charges of public lewdness in a Dallas park. In both cases, Schulte issued a statement saying that his clients are innocent until proven guilty and that the public should withhold opinion until "all the facts are known."
No other station reported the We Knead Bodies story Wednesday night and none have reported on Hawkins.
On CBS11, veteran reporter
Joel Thomas made a rare late night appearance to tell an extended and interesting story on the "Future of Faith" among 18-to-29-year-olds. A recent study, by Lifeway Christian Resources, found that 72 percent of persons in this age group consider themselves "more spiritual than religious." In other words, most of them are not regular churchgoers.

An assortment of ministers find this troubling, of course. Thomas noted that "Generation X" wasn't very religious either. But organized religion became more important to them later in life, even though they were slower in this respect than any previous generation, he said.

We'll close with the comedy stylings of WFAA8's Hansen, who seemed to be awaiting a rim shot Wednesday night.

Hansen first noted that Houston Texans linebacker Brian Cushing retained his AP defensive rookie of the year status on a re-vote after being suspended for failing a drug test. One voter who didn't vote for him the first time supported Cushing the second time.

"Really?!" Hansen said, leaning into the camera to the tune of mild off-camera chortles.

Hansen tried again after his brief on a Texas high school basketball star who was arrested after it turned out he was 22 instead of 16.

"They could make a TV show about this," Hansen deadpanned. "Call it Friday Night Lies."

This one brought a more audible Glo Camp cackle. Atta girl.

Stay dry during the cataclysmic weather to come.

Ten nights to go.