04/01/14 11:32 AM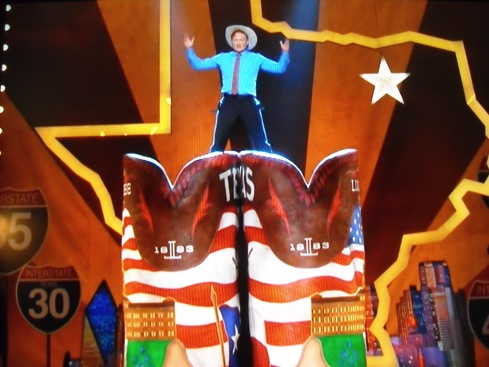 Conan O'Brien is master of domain in penthouse suite atop Big Tex's gaudy boots. This is how it looked on TV Monday night. Photos: Ed Bark
By ED BARK
@unclebarkycom on Twitter
Bursting with Texas -- and German -- flavor on opening night,
Conan
began doing Dallas just three weeks after
Jimmy Kimmel Live!
fired up its first of five shows from Austin.
But no, Jimmy Fallon's
Tonight Show
and David Letterman's
Late Show
are not coming soon -- if ever -- to the land of "Everything's bigger."
After letting loose with a mandatory "Yee hah!!!" Monday night, Conan O'Brien scored with an opening joke about his larger than life coif. "Finally I'm in a city where my hair is big enough to fit in," he said within the decidedly warm confines of the venerable Majestic Theater. How semi-stifling was it? During a commercial break, O'Brien fanned himself with a blue note card after doffing his suit coat. TV talk show environs tend to be cooled to near-meatlocker temperatures. This was a change of pace on a humid, windy day.
The Majestic seats roughly 1,700 people compared to the 2,400-seat capacity for Kimmel's shows at the sleeker Long Center for the Performing Arts. Kimmel also won the
battle of the backdrops
with a superbly rendered, neon-lit collage of Austin's long-lasting signature establishments.
The
Conan
treatment of Dallas' skyline, with a big state of Texas map almost dwarfing it, paled in comparison in both its color mix and overall impact. But O'Brien had the better comedic material, including a friendly dig at the "Keep Austin Weird" motto down south of Dallas. He prefers the Dallas code -- "Keep That Weird Shit in Austin." And yes, the "shit" remained intact during the TBS telecast at 10 p.m. Monday.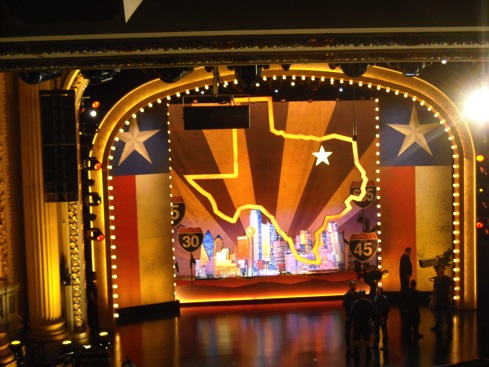 Before the show went on: a mezzanine view of Conan's set.
Monday's taping was a model of efficiency, with the Majestic doors closing at 4:30 p.m. and the cameras already rolling by 4:56 p.m.
That left minimal but suitable time for talented warmup man Jimmy Pardo (no relation to legendary announcer Don Pardo) to grease the audience with help from a stage manager.
"We need just a scooch more for Big Red," he said after the goosed audience reaction for sidekick Andy Richter seemed equally loud. "Otherwise he goes bananas backstage."
Pardo later praised the crowd as "a bunch of good, decent people, not morons watching Honey Boo Boo."
During his formative years as host of NBC's New York-based
Late Night
, O'Brien used to warm up the audience himself. His big finish was "Hunka Burnin' Love," with the studio audience whipped into a frenzy by then. But O'Brien later got out of that business, explaining he was expending too much energy in the warmup. Coincidentally or not, he also had become a much bigger star by then.
Conan
's head publicist said the entire 170-member crew for the show hits the road on occasions such as this. It remains a considerable logistical challenge for all concerned. Build a new set, tailor the material to the venue, shoot some little films in which the star gets out and about.
Monday's short film found O'Brien journeying to Johnson County in hopes of getting deputized by Sheriff Bob Alford, who played his part well. "You gotta eat the beans, wear the jeans, get in there," he said of the hands-on work expected of a budding deputy.
After shooting a number of innocent civilians during video training exercises, Conan of course got his star. Post-film, he rose on risers to the top of Big Tex's seemingly authentic boots, standing even taller in a cowboy hat during the night's most inspired and impressive sight gag. O'Brien had licked the boots earlier. "Tastes like freedom -- and lead paint," he enthused.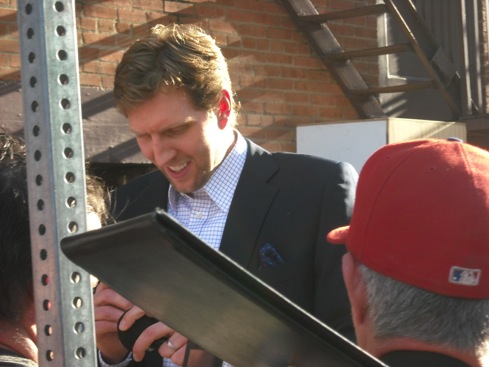 Dirk Nowitzki signs autographs after appearance on Monday's Conan.
Then along came Dirk Nowitzki -- and it got even better.
Relaxed and dapper in a dark suit and tieless window-paned dress shirt, Nowitzki popped in as an unannounced guest after O'Brien proclaimed himself "an expert on Texas." Richter then brought in Nowitzki to administer an honorary Texas citizenship test. "From a true Texan -- me," he said with solid comic timing.
Dirk reeled off a wide-ranging list of questions, including, "What is the leading cause of heart attacks in Dallas?"
"Tony Romo," Conan answered correctly, drawing one of the night's bigger laughs.
Nowitzki's off-court abilities have improved immeasurably over the years. On Monday night, his broad smile and winning delivery were the equivalent of the signature Dirk fadeaway one-legged jump shot. One ideally goes swish and the other was a slam dunk for Nowitzki during his extended appearance opposite a show biz veteran.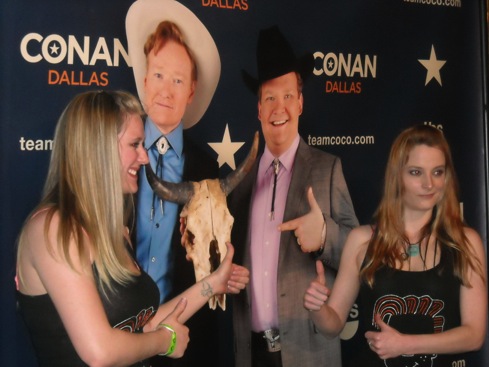 Anyone can be a poser in the Majestic Theater lobby.
Adam Sandler was the marquee announced guest and comedian Tig Notaro closed out the hour without getting enough time to really roll. Sandler has another movie coming, but not until May 23rd when he co-stars with Drew Barrymore in
Blended
. Yawn, can't wait. Sandler is 47 now, but still acting the infant. A short film in which he strived to share an orange soda with Conan (his California neighbor) had precious little fizz. Sandler did, however, clasp hands with three front row admirers before leaving during a commercial break. He gets points for that.
O'Brien occasionally waved to the crowd during down times, but mostly kept to himself. He did, however, stick around to sing "It's the end of the show song" for a few seconds after tape stopped rolling at 5:53 p.m. After a quick thanks to all, O'Brien left the stage with a pretty full night still ahead for one and all before
Conan
became a televised reality on TBS.
Three more shows are being taped at the Majestic this week. Here are the remaining announced guests.
Tuesday
-- actor Seth Rogen (who appeared on Kimmel's first show from Austin) and singer Phillip Phillips
Wednesday
-- actor Simon Helberg (
The Big Bang Theory
) and the Eli Young Band
Thursday
-- Charles Barkley and singer Lyle Lovett
Meanwhile, here are a couple of sights from the nearby "Cone Zone," located a couple of blocks from the Majestic at Main Street Garden.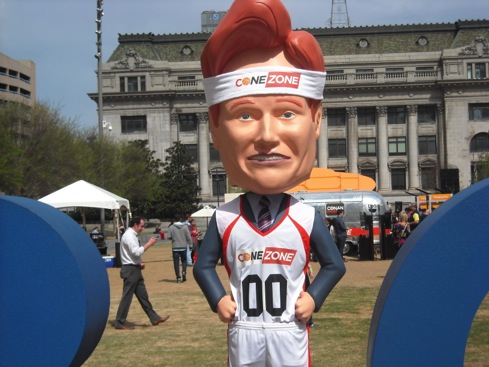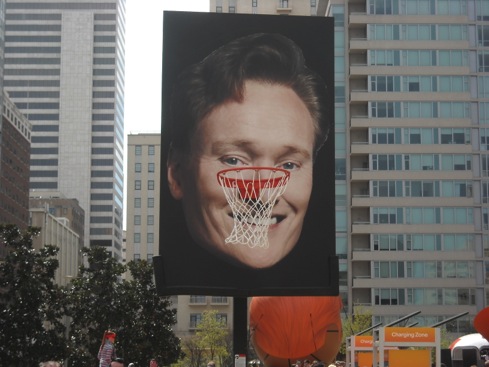 Email comments or questions to:
unclebarky@verizon.net