04/29/19 11:23 AM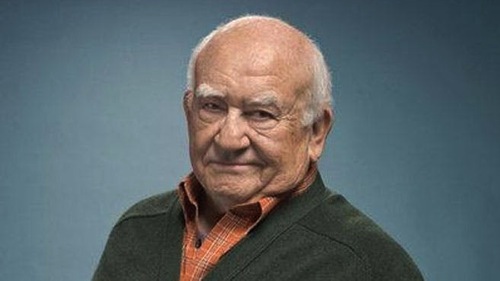 Ed Asner showed up as scheduled at the USA Film Festival despite recently fracturing his knee and nearing the age of 90.
By ED BARK
@unclebarkycom on Twitter
Tripping in a hotel and fracturing your knee is not a recommended activity for anyone.
Doing it at age 89 only worsens the blow. But indomitable Ed Asner showed up anyway Saturday night, honoring a commitment to appear and take questions at the USA Film Festival's screening of
Ed Asner: Onstage and Off
.
Asner, who has won more acting Emmys (seven) than any other male, was wheeled into Dallas' Angelika Film Center before walking on his own with aid of a cane to face a nearly packed house. "You guys drew the short straws, huh?" he joked after sustained applause.
First came a screening of the 88-minute tribute film, co-directed by Peter Jacobsen, who also was in attendance, and Warren Leming (laid up by recent back surgery).
Much of it is Asner talking about his upbringing, his craft and his political activism. There are no performance clips of the title subject because the filmmakers couldn't afford the rights fees, Jacobsen later told unclebarky.com. It's a $1,000 price tag per minute of footage, he said. And that was well beyond their budget.
Onstage and Off
otherwise includes flattering comments about Asner from actors Michael Shannon and Mike Farrell, director Oliver Stone, and daughter Liza Asner. The man himself is notably candid, admitting early in the film that as a high schooler in Kansas City, he once griped, "Boy, there sure are a lot of niggers in this town." One of his sisters angrily reproached him and he never used the racial slur again, Asner says.
The former two-term president of the Screen Actors Guild (1981-85) was in his last full season as the star of
Lou Grant
when elected. He soon very publicly clashed with the Reagan administration's policy in Central America, which climaxed with the scandalous
Iran-Contra affair
. CBS said the show's cancellation, at the end of the 1981-82 TV season, was due to declining ratings.
Asner continues to insist that the network "blacklisted" him because of his political views, with the film contending that
Lou Grant
ranked in the top 10 of the prime-time ratings for its closing episodes. But the official Nielsen ratings record shows that
Lou Grant
never ranked higher than 30th for a full season's worth of episodes. And that was in Season Two (1978-79) of its five-year run.
Asner won five of his Emmys as irascible Lou, two for the CBS drama and three as the same character on
The Mary Tyler Moore Show
. He had primarily been a dramatic actor until joining the ensemble of one of television's all-time classic comedies. In the first episode, his "You've got spunk. I hate spunk!" rejoinder to Moore's Mary Richards still resonates with both viewers and Asner himself.
"When the laugh came (during initial filming before a live studio audience), I felt as if I could command these 300 people to jump off a cliff," he recalled. "I had never felt such power."
His politics remain decidedly left of center, but Asner says that when he first headed West in 1961, he found conservative actors to be friendlier to him than his fellow liberals. "You can't taint them all with the same brush," Asner told the audience at the Angelika.
Other than heading the Screen Actors Guild, he has never run for political office. "I think an actor who speaks out commands greater attention than any politico," he said.
Two Democrats in the vicinity of his vintage, Joe Biden and Bernie Sanders, currently are leading a very crowded Democratic presidential field in various national polls. Asner didn't bite when asked his views on whether they should step aside to make room for younger candidates. "Anybody deserves a chance," he said. "I'd like to see 300 million people in the USA run for office."
He then volunteered his assessment of the current Oval Office occupant, Donald Trump.
"I'm appalled at Mr. Trump," Asner said. "But at the same time I can feel that his garishness is good strong medicine for American perfidy."
Further referring to Trump as "this dark angel who is the President," Asner said he hopes for a "peaceful ousting, rotten defeat at the polls" in the 2020 election.
He'll otherwise go on acting, next on Monday, April 29th in the Milwaukee stage premiere of
The Soap Myth
as Holocaust survivor Milton Saltzman.
He continues to be happiest "while I'm acting, doing other's bidding," Asner said. "I'm extremely bored when I'm not acting."
His two brothers and two sisters are now all deceased after Labe passed away in January of 2017.
"They keep beckoning me, but I refuse to come," Asner said. If all goes well, he'll turn 90 on November 15th.
Email comments or questions to:
unclebarky@verizon.net