Local Nielsen ratings snapshot (Tues., April 9) -- Dirk goes out on top
04/10/19 12:12 PM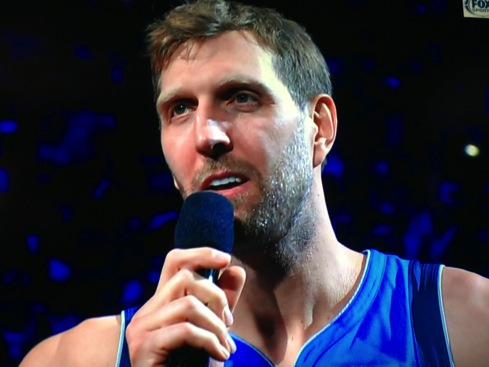 Dirk Nowitzki signed off Tuesday night, making every word count.
Photo: Ed Bark
By ED BARK
@unclebarkycom on Twitter
The game itself couldn't hope to outdraw CBS' powerful Tuesday night crime lineup, at least not in total viewers.
But Dirk Nowitzki's post-game farewell during an unforgettable ceremony won across the board in the D-FW Nielsen ratings. And the Dallas Mavericks' 120-109 win over the Phoenix Suns also was a big enough draw to beat all competing programming in the advertiser-prized 18-to-49-year-old demographic.
Let's break it down.
In the total viewers measurement, the game (which ended just before 10 p.m. on Fox Sports Southwest), drew an audience of 112,469. From 7 to 10 p.m., CBS"s trio of
NCIS
(309,289 viewers), the premiere of
The Code
(231,967) and
NCIS: New Orleans
(203,850) all scored higher while also winning their time slots.
But Dirk's goodbye, in which he officially announced his retirement, outpointed all competing programming in the full 10 to 10:45 p.m. slot with 161,674 viewers.
Among 18-to-49-year-olds, the game averaged 51,326 viewers before the big farewell for Dirk rose to 87,557 viewers. The best the broadcast networks could muster was 42,269 viewers for NBC's 8 p.m. episode of
The Village
.
The post-game ceremony was spiced with on-court appearances by the five players that Dirk had idolized before becoming an NBA player himself. Namely Larry Bird, Charles Barkley, Scottie Pippen, Shawn Kemp and Detlef Schrempf. That's a gathering for the ages, but the news of the night came when Dirk said, "This is my last home game." There had been little doubt it would be, but making it official provided a poignant punctuation.
Dirk also rose to the occasion with a season high 30 points, making him the oldest NBA player ever to hit the 30 mark. The Phoenix Suns' Jamal Crawford also made history by becoming the oldest player to score 50 points. Michael Jordan previously had held both records.
Dirk's last game as an NBA player will be on Wednesday, April 10th, with TXA21 carrying the game instead of FSS. The Mavericks will be playing the Spurs in San Antonio. That should be something, too.
OK, here are Tuesday's anti-climactic local news derby results.
CBS11 won in total viewers at 10 p.m. while Fox4 drew the most 25-to-54-year-olds (main advertiser target audience for news programming).
Fox4 continued its more than one year long winning streak by again sweeping the 6 a.m. competitions. The station also had the most 25-to-54-year-olds at 5 and 6 p.m. while NBC ran first at those hours in total viewers.
Email comments or questions to:
unclebarky@verizon.net