08/31/18 08:52 AM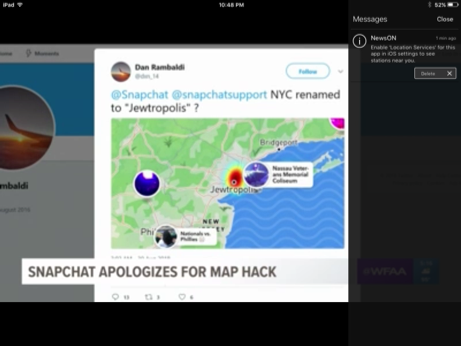 Reacting to feedback, TEGNA8 anchor Cynthia Izaguirre apologized on-air for "completely mis-timed laugh" in connection with this Snapchat graphic on Thursday's 5 p.m. newscast. Screenshot: Ed Bark
By ED BARK
@unclebarkycom on Twitter
So exactly what was TEGNA8 anchor Cynthia Izaguirre apologizing for?
On her Twitter account Thursday, Izaguirre responded to a follower by writing, "I'm not perfect and I proved it yet again today. That was a terrible misunderstanding and needed to be address right away."
The follower, Miranda Majusiak (@kelley_miranda), had referenced Izaguirre's "apology on the 6:00 news. While I missed the segment of the news you were referring to, I think it's awesome you corrected your mistake, on-air, and encouraged people to reach out to you."
Another follower, Gabe (@raiderduke505), also praised Izaguirre for her honesty and strength of character. "Even though I missed what happened," he added.
A number of other followers likewise saluted Izaguirre, who didn't specify what she regretted but said, "I just hate that it happened!"
Here's what happened, based on watching both the 5 and 6 p.m. TEGNA8 newscasts via the NewsOn app. (TEGNA8 remains the only D-FW participant, with Fox4, NBC5 and CBS11 still no-shows on a device that presents newscasts in their entirety from North Texas and other stations around the country.)
At the midway point of Thursday's 5 p.m. edition, co-anchor John McCaa read a short piece about a New York City "Map Hack" that led to an apology from Snapchat. TEGNA8 showed the offending graphic (pictured above) and McCaa said the word "Jewtropolis" (NYC's fake new name) before Izaguirre could be heard laughing loudly off-camera.
No further mention of this was made during the 5 p.m. program. But at the end of the 6 p.m. edition, Izaguirre told viewers that she had been "getting several tweets" about her on-air comportment. "I had a completely mis-timed laugh," she said. "That was
not
my intention and I am so sorry for anyone I might have offended. Keep tweeting me. I will tweet you back directly."
Izaguirre, who regularly is called "Izzy" on the air, also encouraged viewers to phone her directly at the station if they wanted to talk further.
Izaguirre deserves credit for publicly addressing this matter. On-air gaffes are by no means a pattern with her. But before she joined TEGNA8 in January 2007, Izaguirre went "viral" with a blooper during her stint at Albuquerque, New Mexico's KOAT-TV. Introducing an upcoming interview with a man who had recently climbed Mount Everest, Izaguirre said, "But -- he's gay. I mean, excuse me, he's blind."
Her flub has more than 10 million views on YouTube. And although former TEGNA8 president and general manager Mike Devlin initially chastised reporters for mentioning or linking to it, the station later did its own segment on the gaffe during the time Izaguirre was co-anchoring the station's
Daybreak
.,
Through no fault of her own, Izaguirre also made a mega-mistake in announcing the
wrong lottery numbers
in January 2016 for a Texas Powerball drawing with a jackpot of $500 million. "I want to apologize," she said 12 minutes after the incorrect numbers were displayed on-screen. "Our graphics system did not update the correct numbers at the top of the show."
(It turned out that TEGNA8 somehow had first put up the numbers from a March 22, 2014 drawing posted on the New York Lottery's Powerball site.)
It's true that one mark of true character is a willingness to admit one's mistakes. Izaguirre has never been hesitant to do that. And it goes a long way toward winning viewers over -- as long as it's not constant. In that respect, Thursday's misstep and Izaguirre's apology ended up receiving rave reviews from her Twitter followers.
"You're awesome, Cynthia! Your apology shows your utmost professionalism," enthused Terry (@Terrys508).
"Sigh and thank you," Izaguirre replied.