Shipp trying to get his game on again with new website aimed at righting perceived wrongs
08/15/18 03:54 PM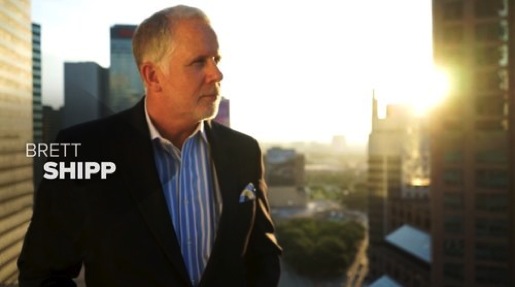 Ex-TEGNA8 investigator Brett Shipp as pictured on his new website.
By ED BARK
@unclebarkycom on Twitter
Former TEGNA8 investigative reporter Brett Shipp is hoping to reinvent his wheelhouse after leaving the Dallas-based station late last year to run unsuccessfully for Congress.
On his new website,
brettshippmedia.com
, Shipp positions himself as a much-lauded avenging angel who can put his experience and contacts to work for aggrieved citizens seeking "justice, equity, publicity and in some cases, sweet revenge."
"MY JOB IS TO INVESTIGATE, ADVOCATE, AND HELP COMMUNICATE YOUR STORY; NOT IN THE COURT OF LAW, BUT IN THE COURT OF PUBLIC OPINION," Shipp says in bold capital letters on his site's home page. He's charging a $250 "consultation fee" for starters in order to "assure my quick attention and dedication to your needs."
Shipp surprised many of his TEGNA8 colleagues and fellow local journalists by abruptly quitting the station in December to enter the Democratic primary in the 32nd congressional district, where Republican Pete Sessions is the incumbent. He was 59 at the time and had spent 22 years at TEGNA8, where Shipp and colleague Byron Harris (who retired in October 2015) won multiple prestigious national Peabody and duPont Columbia awards.
But in the March 6, 2018 primary, Shipp placed third and failed to make the Democratic runoff, which eventually was won by Colin Allred. He makes scant mention of his failed candidacy on brettshippmedia.com, noting a "brief run for Congress" before "I immediately began fielding requests from citizens to get back into the media world."
Shipp claims to "have access to all of the major local and national news outlets and a network of influential allies to make sure that your voice is heard. I've been covering news in North Texas for 25 years and have keys to the halls of power." He also notes the numerous latter day venues beyond local newscasts, radio stations or newspapers, including "Facebook, Twitter, Instagram, YouTube -- the list goes on and on. There's a new universe of media platforms starved for content."
Never shy about touting his accomplishments, Shipp tells prospective clients that "to this day I remain one of the most highly decorated local television reporters in the country." He also has sometimes taunted the subjects of his investigations. In 2010, Shipp's probe into Southlake Carroll's high-powered football program included his grandstanding promo in a Facebook post that was deleted after
unclebarky.com called attention to it
.
"Tonight at Ten on News 8: Forget the QB," Shipp had bragged. "Southlake's coaches are in hot water. What's more, see what happens when they invite Number 1 ranked Trinity into the hot tub with them. Sniff, sniff!!!! Is that the smell of two cooked seasons?"
"I have been accused of being an advocate and not a reporter," Shipp says on his new website. "My response? Damn right. In fact, engrave that on my tombstone, With the decline in investigative reporting in this country, there are fewer public advocates. That's where I come in. Who better to have on your side when you're under attack, in a fight or feel the deck is stacked against you?"
Shipp is by no means the only D-FW television journalist to fire up his own company in hopes of generating stories for consumption by various media outlets. David Margulies (TEGNA8), Susan Risdon (NBC5), Jeff Crilley (Fox4), Mike Androvett (NBC5) and Paul Adrian (Fox4) are among the many who are in business for themselves. Former TEGNA8 anchor-reporter Jeff Brady tried for a while to go the same route but eventually gave up and joined San Antonio's KENS-TV as a weeknight news anchor.
Videos of five investigations from his time at TEGNA8 are posted on brettshippmedia.com, in addition to one by former colleague Rebeca Lopez.
"I have made more alliances and helped more people achieve justice than perhaps any reporter in this city," Shipp says. "Of course, I have also probably made more enemies, too. I have never been afraid to step on the toes of powerful politicians and abusive corporations."
His most notable enemy is Dallas County Commissioner John Wiley Price, with whom Shipp has had both
verbal and physical altercations
over the years. When Shipp announced his congressional candidacy, Price said he had "an ice cube's chance in hell" of winning."
Shipp at times also doesn't like his own toes being stepped on. He has not talked to your friendly content provider since October of 2016, when he
strongly objected
to being accurately quoted while moderating a Dallas VideoFest event titled "How the News Got Made." Neither of Shipp's two remarks about TEGNA8 were played prominently in the story. One of them concerned sports anchor Dale Hansen's contributions to the Southern Methodist University "death penalty" investigation in 1987 and the other was on how he'd "get fired" by TEGNA8 if he disclosed his opinion on the quality of today's television news.
In an email sent two days after the story was posted, Shipp said, "You take a couple of throw away laugh lines at a happy film festival and maliciously sow enmity between me and my colleagues. You are a said, sick man. I truly feel sorry for you."
He refused to engage further on the matter, but promises to be his usual pit bull self in the interests of any clients that brettshippmedia obtains.
"No, not everybody likes me," Shipp says. "The crooks, the con-men, the people who abuse power. They run from me."
He'd like to keep it that way.
Email comments or questions to:
unclebarky@verizon.net