11/28/12 02:49 PM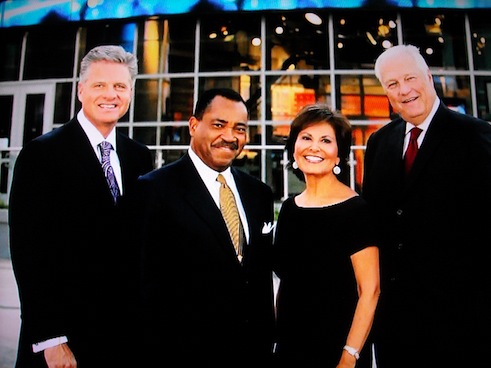 WFAA8's "We're No. 1" promo during Dancing with the Stars' fall season finale began with beaming anchor A-team of Pete Delkus, John McCaa, Gloria Campos, Dale Hansen. Photos: Ed Bark
By ED BARK
@unclebarkycom
During Tuesday night's
Dancing with the Stars
fall season finale on ABC, WFAA8 ran a curious promo touting itself as the No. 1 station during the just-concluded November "sweeps" ratings period.
Curious because, well, WFAA8 wasn't No. 1 in total viewers in
any
of the
four main local news competitions
-- 6 a.m. and 5, 6 and 10 p.m. And among 25-to-54-year-olds -- the main advertiser target audience for news programming -- WFAA8 ran first only at 10 p.m.
Still, here's what viewers were told, verbatim: "Thank you, North Texas, for making WFAA the most-watched news station in North Texas -- again. Your No. 1 choice for breaking news, up-to-the-minute weather and sports. We're proud to earn your trust every day. Thank you from your friends at WFAA."
Hmm, how could this be? It just doesn't sound quite right. So let's look at the exceedingly fine print accompanying this claim. It's frame-grabbed in close-up below. Otherwise it was basically invisible to viewers.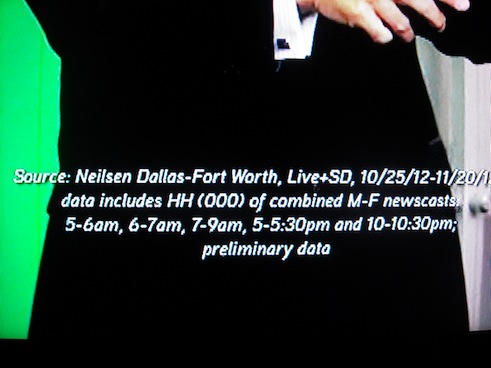 First of all, WFAA8 really should have learned to spell Nielsen at this point. It's not "Neilsen."
Second, HH stands for households. And it's long been an antiquated measurement, the equivalent of racing a covered wagon at NASCAR. Because
people
watch TV, not buildings.
A further example: WFAA8's own network, ABC, made no mention at all of household ratings in a Wednesday morning publicity release headlined, "ABC Wins in Adults 18-49 with its Best Tuesday Performance of the Season."
The network also cited
Dancing with the Stars
' win in total viewers. And it even lauded the performances of two holiday specials --
How the Grinch Stole Christmas/Shrek the Halls
-- among kids 2-11. But households? Bah, humbug!
OK, take another look at the above fine print. Notice that the combined data that WFAA8 used includes the 7 to 9 a.m. slot. There's one obvious problem with that. ABC's
Good Morning America
airs during those hours. And nowhere in WFAA8's promo did we see the beaming faces of George Stephanopolous or other members of the
GMA
crew.
Omitted, at least in the above fine print, are the numbers for WFAA8's 6 p.m. local newscast. But this likely is an inadvertent omission, because an earlier bar graph showing WFAA8's strength in overall HH numbers has a fine print attachment that includes the 6 p.m. news.
Still, why would WFAA8 use
GMA
to -- in effect -- fraudulently make its case. One reason is that
GMA
nipped Fox4's competing two-hour local segment of
Good Day
for the 7 to 9 a.m. time period.
But a more likely motive for including
GMA
is that it makes CBS11 look considerably worse in the overall HH totals. Why? because the 7 to 9 a.m. CBS network morning show continues to run a distant fourth behind
GMA
, Fox4's
Good Day
and NBC's
Today
.
Furthermore, CBS11 is the station that whipped WFAA8 in both households and total viewers in the marquee 10 p.m. sweeps competition. The station also eked out a win over WFAA8 at 6 p.m. in total viewers while tying for first place at that hour in households. And WFAA8 management DOES NOT LIKE THAT AT ALL. In that context, let's look at the bar graph WFAA8 put up last night.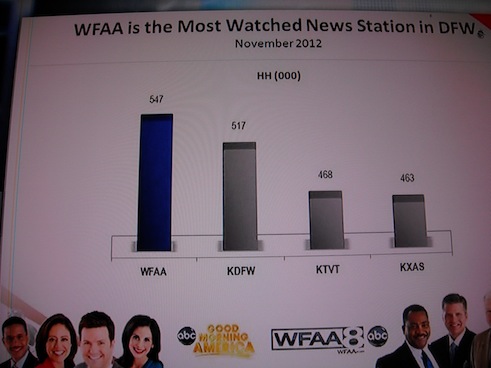 The graph says that WFAA's average households haul per weekday was 547,000. That's based on adding up the 5 to 7 a.m.
Daybreak
program,
GMA
(urp) and the 5, 6 and 10 p.m. local newscasts. KDFW (Fox4) is a competitive second while a distant third-place KTVT (CBS11) barely holds off KXAS (NBC5).
OK, what if
GMA
-- which WFAA8 in reality has nothing to do with -- were removed from this mix along with the 7 to 9 a.m. programs on rival stations?
WFAA8 would total 450,312 households, with CBS11 moving up to a fairly close second (429,608) while Fox4 (424,432) and NBC5 (388,200 trail). In short, it's a much closer race.
So why isn't WFAA8 using the modern-day total viewer Nielsens? Simple. Subtract the phony inclusion of
Good Morning America
along with the other 7 to 9 a.m. shows and WFAA8 would be in a statistical dead heat for first place with CBS11 in the total viewer Nielsens. And among advertiser-favored 25-to-54-year-olds, Fox 4 wins no matter what sleight of hand WFAA8 pulls.
Let me add that this story wasn't prompted by anyone. I saw the WFAA8 promo just like everyone else Tuesday night. And having followed the D-FW newscasts very closely for years, it simply didn't seem to compute.
Still, why go to all this trouble? Basically because local TV news operations keep telling you what truth-seekers they are. You can count on them to bring you the facts. They're in your corner. And all that other posturing.
But when it comes to playing ratings games, no station is more duplicitous than WFAA8. The Tuesday night promo proved that anew. And you should know this. Period. End of story.
unclebarky@verizon.net