This just in: a night in the lives of D-FW's late night newscasts (Tues., Nov. 13)
11/14/12 11:47 AM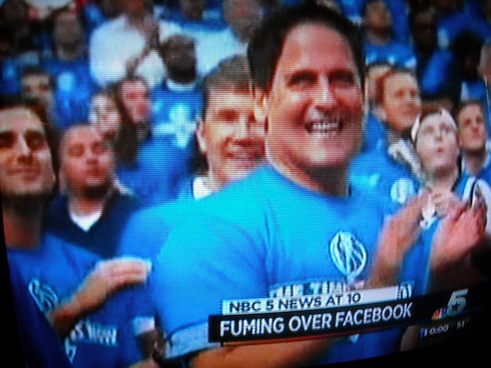 NBC5 tried to sell viewers on Mark Cuban's wrath. Photo: Ed Bark
By ED BARK
@unclebarkycom
A pair of "Who cares?" clinkers pockmarked Tuesday's D-FW late nighters.
Both got prominent play anyway down the backstretch of the November "sweeps" ratings period, which ends on the Wednesday before Thanksgiving.
On NBC5, co-anchor
Brian Curtis
teased, "You have to hear why billionaire Mark Cuban is so fired up."
After a top-of-the-newscast weather alert -- it will be chilly again early Wednesday -- longtime Night Ranger
Scott Gordon
documented Cuban's displeasure with an alleged Facebook plan to charge him $3,000 to reach one millions purveyors of his Dallas Mavericks' fan page. Or something like that.
Cubes didn't respond to an interview request, but NBC5 offered up a tweet in which he said, "FB is blowing it? This is the first step. The Mavs are considering moving to Tumblr or to new Myspace as primary site." Wow, talk about your cataclysmic events.
Facebook tweeted back: "To be clear -- we did not change news feed so we could charge to promote posts." And so on.
The resourceful Gordon has been pounding the after-dark pavement for NBC5 since television's Paleolithic Age. And there's no one better at hammering home a crime report. He occasionally gets stuck with stuff like this, though. And in reality, who among us is the least bit concerned about Cuban possibly having to part with the pocket change that $3,000 represents to him? For that matter, the guy gets "fired up" with the regularity of a clock striking midnight.
Over on CBS11, investigative reporter
Ginger Allen
tried to stir up taxpayer outrage over what co-anchor
Karen Borta
termed "rock star parking" for prominent Tarrant County judge Glen Whitley. He's inherited the free on-street parking space previously reserved for the late Tom Vandergriff, a North Texas legend whose achievements included bringing the Rangers to Arlington. Vandergriff got the gratis downtown Fort Worth parking spot during his declining years, when health problems made it difficult for him to get around in his position as a Tarrant County judge.
Allen, to her credit, interviewed Whitley, who seemed like a reasonable guy. He said the parking space is a perk that enables him to attend numerous off-site meetings without wasting additional time. Allen also noted that County Commissioner J.D. Johnson gets a free spot for his once-a-week meetings in downtown Fort Worth. Johnson has health problems, Allen reported. And in reality, the taxpayer tab for his free parking is minimal, she said.
"But the folks we talked to say it's not the cost, it's the principal," Allen told viewers. Actually she talked to just one folk on camera, an elderly lady named Earline Cooper who gets around with help from a walker. Someone who has a good job "shouldn't expect benefits," she said.
After the report, Allen told CBS11's news anchors that more eye-opening information on parking meter revenues is on the station's website. Viewers shouldn't have to look further for basic information that her on-air investigation could and should have included. But I looked anyway. And a short paragraph buried within the text of Allen's report says that an average of $660 a year is collected from each of Fort worth's 2,500 parking meters. But in "high traffic areas," that can increase to $1,500 a meter.
Allen's story singled out just one such meter being used for free at least five days a week. This is a hardly the stuff of a taxpayer revolt, but certainly worth some taxpayer yawns. Trumped-up, heavily promoted investigations unfortunately are all too common in ratings sweeps periods. This one easily could serve as one of many Exhibit A's in high and college journalism classes.
Fox4's 9 p.m. news furnished the night's best collection of worthy stories.
There's nothing new, for instance, about robberies caught on surveillance cameras. But this one was exceptional. Reporter
Natalie Solis
led the newscast with a piece on 25-year-old T Mobile store manager Rene Grimes, who was beset by two gun-wielding thugs intent on seizing cell phones. Television is largely all about pictures. And the vivid unfolding of this robbery, caught from start to stop, showed Grimes' grace under extreme pressure. At one point she literally threw cell phones at the robbers in hopes of both getting them out of the store and protecting her employees and customers from any harm. She then briefly chased after the two robbers, who remain at large.
"I don't want this to happen to anybody else," Grimes told Solis.
The story clearly showed Grimes viewing the surveillance video with Solis. But co-anchor
Steve Eagar, in his followup Q&A, nonetheless asked Solis, "Has she seen the video?"

Pay closer attention, Steve. Instead anchors regularly rely on pre-scripted questions under such circumstances. They're usually questions that should have been answered during the report itself -- and sometimes are. But anchor "involvement" is seen as a selling point to viewers. So these oft-extraneous exchanges probably aren't about to change any time soon.

Fox4 also had an interesting story by Dionne Anglin. She reported on North Texas youth pastor Leon Reyes' ongoing 30-day effort to live as a homeless person in order to both walk in their shoes and call attention to their everyday wants and needs. Reyes, now on Day 13, otherwise lives in Southlake with his wife and their child.

"I'd learn enough in the first night, I think," Eagar said while bantering with co-anchor Clarice Tinsley.

The previous practice of Fox4 anchors doing extended in-studio interviews with newsmakers appears to be on hold for now. Some of these worked very well, others fell flat. The upside is more air time for reporters in the field, allowing them to expand rather than contract. A downside can be those aforementioned anchor-reporter Q&A's.

Tinsley, lately filling in for regular 9 p.m. anchor Heather Hays, also would be wise to temper her cheerleading and keep at least a little distance.

"Leon, you rock," she said of the minister immersed in the homeless life. "You did an awesome job, Rene," she said of the T Mobile manager. After 34 years in this market, shouldn't the dean of D-FW news anchors know better than this? But no.

WFAA8 had a mostly forgettable newscast Tuesday night, save for early morning anchor Cynthia Izaguirre's extended and affecting "Then and Now" report on twin boys who were born four months early and spent 199 days in the hospital under mostly life and death circumstances.

Jake and Josh are 10 years old now. Both bear the scars of their surgeries, but are otherwise active and in relatively good health.

"R-e-e-e-eally happy, to make a long story short," Jake said. "Really happy. To be here."

And that seems like a good way to wrap up Tuesday.
unclebarky@verizon.net