05/30/12 04:15 PM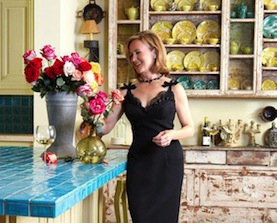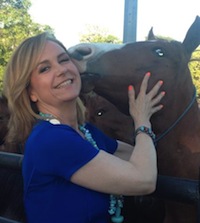 Jane McGarry has new cover/profile photos on her Facebook page.
By ED BARK
@unclebarkycom
Readers of unclebarky.com and anchor Jane McGarry's Facebook friends keep inquiring about her status
following a DWI arrest
early this month.
McGarry remains mum -- verbally at least. And NBC5 spokesman Brian Hocker said via email Wednesday that there's nothing new on the McGarry front after the Fort Worth-based station took her off the air indefinitely a day after the incident. She's now in her fourth week of not co-anchoring weekday 5 p.m. newscasts and not soloing on the 6:30 p.m. newscast for NBC5's 5.2 digital channel.
But in a perhaps symbolic gesture, the 30-year NBC5 veteran lately has removed her anchor-standing-next-to-a-green-screen pose at the top of
her Facebook page
and replaced it with the above two photos.
Is she newly determined to keep smelling the roses and maintaining an upbeat demeanor during this difficult time? Might she be putting NBC5 behind her and moving on? Or is Jane just being Jane again while expressing full confidence that she'll be back on the air again?
Some of McGarry's Facebook loyalists are getting a tad impatient.
Says Stoney Reynolds: "HELLO . . . . . EVERYONE WANTS YOU BACK!!! WATCHA WAITIN FOR?!?!?"
Others continue to offer unswerving support. Says Lynn Smith Diaz: "I have officially boycotted Channel 5 completely till I see your sweet face back on my TV or at least hear what's going on & that you're okay & coming back soon."
Others say she should just jump ship, as if that's easy as pie. Says Darla King Martinez: "Jane, it would be sooo cool if you said f the douchebags and went to work for Ch. 8 . . . . just my thoughts. :)"
And David Kelley is
still
championing a silly
Dallas Morning News
online anchor popularity poll posted on May 8th to take advantage of McGarry's suspension. "The contest is still open . . . keep voting!" he implores.
For the record, McGarry's NBC5 colleague, Meredith Land, still holds the top spot with 38.23 percent of the vote while McGarry is a close second at 36.04 percent. Meanwhile, the
DMN
's across-the-street Belo corporate cousin, WFAA8, barely registers with anchors John McCaa (2.7%), Gloria Campos (1.91%) and Cynthia Izaguirre (.82%), who's on maternity leave.
This is the same poll, though, that lists WFAA8 medical reporter Janet St. James as an anchor (she's only an occasional fill-in), misspells Fox4 anchor Steve Eagar's name (it's not "Eager") and leaves out the ongoing hottest and most heavily promoted anchor in the D-FW market, Ron Corning of WFAA8's fast-rising
Daybreak
. Among other gaffes and omissions.
But back to McGarry, who also has changed her
Twitter page photo
from the NBC5 anchoring pose to the one with her happily in the company of an affectionate horse. She otherwise hasn't tweeted since May 5th after firing off 13 tweets the previous day.
And that's all we've got for now.