NBC5's McGarry off the air indefinitely after station "confirms" her DWI arrest
05/07/12 04:59 PM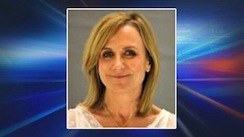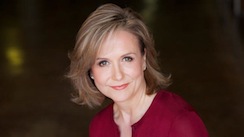 Anchor Jane McGarry in police mug shot and NBC5 glam shot
By ED BARK
@unclebarkycom
NBC5 belatedly "confirmed" longtime anchor Jane McGarry's DWI arrest on its
nbcdfw web site
late Monday afternoon after the news and the official police report were publicized a day earlier on a variety of outlets.
McGarry will "remain off the air as the company looks into the matter," the brief post said below a giant-sized picture of the veteran anchor. NBC5 also reported the arrest and its ramifications on the air for the first time Monday. On the station's 5 p.m. newscast, co-anchor Marc Fein basically read the text of the web account while 6 and 10 p.m. co-anchor Meredith Land sat in for McGarry.
McGarry also anchors the 6:30 p.m. "Nonstop Nightly" on the station's digital 5.2 channel.
As posted
earlier on unclebarky.com
, McGarry joined KXAS-TV in 1982, long before it became NBC5 as one of NBC Universal's owned-and-operated stations. From April 1992 until July 2009, she teamed with former NBC5 newsman Mike Snyder on the station's weekday 10 p.m. newscast.
McGarry so far has been silent on the arrest, and hung up her cell phone (figuratively) when reached Sunday night by unclebarky.com. But her
Facebook Fan page
has loaded up with comments in support of her, with a handful of naysayers lately weighing in.
Comments also are piling up fast on NBC5's website, with Karen Dvorak contending that McGarry's arrest should not be considered news.
"Why did 5 broadcast this?" she wrote. "This is not news and she has the right to privacy. More and more it seems to think it is Star magazine. Shame on you for putting this on your broadcast. She has a family and this is a personal family matter. If she violated her contract then take that up with her, don't put it on the air."
The Dallas Morning News
' "crime blog" first reported McGarry's arrest, with Belo-owned cousin WFAA8 quickly joining in both online and on the air Sunday. CBS11 had news of McGarry's arrest on its 10 p.m. Sunday newscast, but so far has not put anything on its website.
Among D-FW's four major TV news providers, only Fox4 so far has not reported McGarry's arrest either on the air or on its website.
Meanwhile, NBC5 led its Monday 4 and 5 p.m. newscasts with yet another extended chapter in the "Divorce Drama" between Deion and Pilar Sanders. Viewers got the brief news of McGarry's arrest at the 5:10 p.m. mark. Also on the 4 p.m. edition, NBC5's Amanda Guerra reported live from the scene of the two-part finale of NBC's
The Voice
, which will end its second season on Tuesday.
Co-anchor Brian Curtis happily noted that he'll be joining Guerra in Hollywood on Tuesday. Glad they've got their priorities straight. You can't make this stuff up.